Background.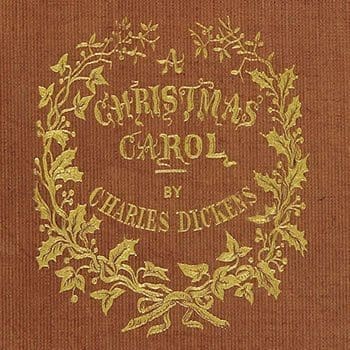 A Christmas Carol is a novella, or short story, written by Charles Dickens and first published in the Christmas of 1843. The allegorical tale tells the story of the transformation of the mean-spirited Ebenezer Scrooge through the visits of the spirit of his former business partner and three ghosts over the course of a Christmas Eve night. It remains a much-loved traditional Christmas tale.
Context.
This quote is said by Ebenezer Scrooge to the ghost of Jacob Marley. While he is preparing to go to bed on Christmas Eve, Ebenezer Scrooge is visited by the ghost of his business partner, Jacob Marley, who had died seven years earlier on the same day.

Scroooge is clearly frightened by the visit as Marley's voice disturbed the very marrow in his bones. However, Scrooge, in his characteristic hard attitude, dismisses the sight of the ghost with this light-hearted response, although Scrooge is described as not much in the habit of cracking jokes.
By commenting to Marley that you may be an undigested bit of beef, Scrooge is assuming that the vision he is witnessing may be as a result of the food he has eaten. This follows the belief that eating certain foods prior to bedtime may lead to a person getting nightmares or having vivid dreams during the night.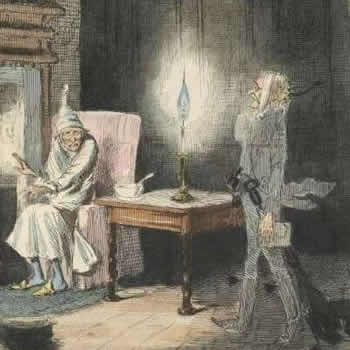 ---
Symbolism in A Christmas Carol: Food.
Food is used within A Christmas Carol to highlight individual characteristics and complement some of the themes that run through the story, such as Christmas and the importance of family. At the start of the novella, imagery of food is used to show characteristics of the protagonist Ebenezer Scrooge as a closed, self-isolated character when he is described as being as solitary as an oyster. On Christmas Day morning, Scrooge is shown city streets full of delicious food prepared for the festive period. Charles Dickens pays detailed attention to describing some of the food and often adds humour to the depictions, almost giving them their own personality such as great, round, pot-bellied baskets of chestnuts, shaped like the waistcoats of jolly old gentlemen, and ruddy, brown-faced, broad-girthed Spanish Onions, shining in the fatness of their growth like Spanish Friars. We read of the Cratchit family sitting down to a small roast goose dinner on Christmas Day. Goose was a cheaper meat than Turkey, reflecting the poverty of the family. The meat is eked out by apple-sauce and mashed potatoes, reflecting the Cratchit's making do with cheap accompaniments. Poor households did not have their own ovens so the goose is cooked in the ovens of a local bakers and a clothes-washing pot is used to cook the small pudding for a large family, causing the cloth to have a smell like a washing-day! Bob Cratchit makes a festive punch-type drink of a hot mixture in a jug with gin and lemons, gin being a cheap alcoholic ingredient to add. Despite the meagre meal the dinner at the Cratchit's shows Christmas tradition of bringing the family together and the emotional warmth within the household. After he is visited by the spirits of his former business partner, Jacob Marley and three ghosts, we see Scrooge, a changed man, purchasing a large turkey for the Cratchits, symbolising his transformation from miserly to a generous character.
---
Ebenezer Scrooge.
Ebenezer Scrooge is one of the most famous characters created by Charles Dickens and arguably one of the most famous in English literature. The protagonist of A Christmas Carol, Scrooge is the cold-hearted and mean-spirited accountant. His business partner, the equally mean Jacob Marley, died seven years previous and he lives alone, having never married. Through a visit one Christmas Eve by the ghost of Marley and three subsequent spirits, Scrooge is awakened to his meanness and the impact it has on others.

Source.
Taken from the following passage of Stave 1 (Marley's Ghost) of A Christmas Carol:
"You don't believe in me," observed the Ghost.

"I don't," said Scrooge.

"What evidence would you have of my reality beyond that of your senses?"

"I don't know," said Scrooge.

"Why do you doubt your senses?"

"Because," said Scrooge, "a little thing affects them. A slight disorder of the stomach makes them cheats. You may be an undigested bit of beef, a blot of mustard, a crumb of cheese, a fragment of an underdone potato. There's more of gravy than of grave about you, whatever you are!"

Scrooge was not much in the habit of cracking jokes, nor did he feel, in his heart, by any means waggish then. The truth is, that he tried to be smart, as a means of distracting his own attention, and keeping down his terror; for the spectre's voice disturbed the very marrow in his bones.
Have Your Say.
Give your view on 'You may be an undigested bit of beef' with a rating and help us compile the very best Charles Dickens quotations.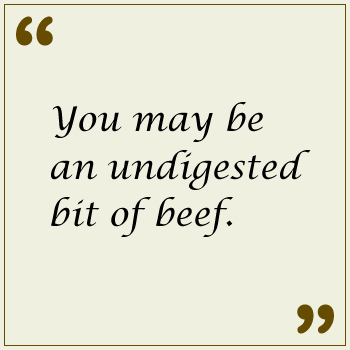 Related.
If you like this, we think you might also be interested in these related quotations:
Resources.
We have made our A Christmas Carol quotation slides (seen at the top of each quotation page) available to download for academic or other non-commercial purposes. Available as GIF images, the files can be used for presentation slides, flashcards, handouts etc. Dimensions are 1500 by 850 pixels. We make them free to download and use on the understanding they are not then sold or used for commercial purposes (and a credit to our site would be nice!).
Discover more.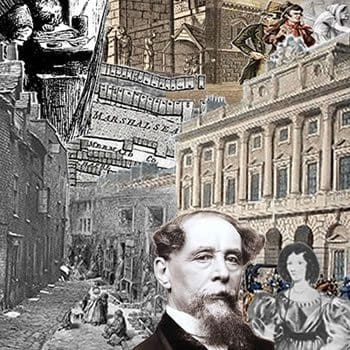 ---