Background.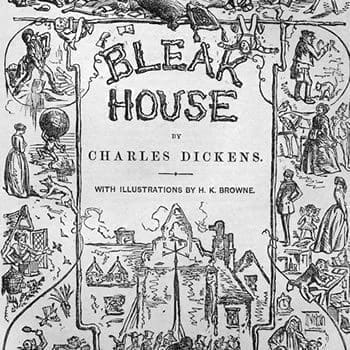 'You had better be sure that you wish to say nothing more to me, this being the last time you will have the opportunity' is a quotation from Bleak House (Chapter 33).
Bleak House was the ninth novel by Charles Dickens, intended to illustrate the evils caused by long, drawn-out legal cases in the Court of Chancery. Serialised between 1852 – 1853, the story unravels through the use of double narration, in part from the perspective of a third-person narrator and in part from the first-person point of view of the main protagonist, Esther Summerson.
Context.
This quotation is said by the character Lady Honoria Dedlock to the clumsy legal assistant William Guppy, a clerk at the law firm of Kenge and Carboys.
In Chapter 33 of Bleak House, Mr. Guppy has visited Lady Dedlock at her London house to inform her that he hasn't been able to obtain compromising letters about Lady Dedlock's past that were in the possession of Mr. Krook before his recent death. The letters will reveal Lady Dedlocks relationship with Captain Hawdon (who later goes under the name of Nemo) and the child she had out of wedlock that her husband (Sir Leicester Dedlock) is unaware of.
After Guppy tells Lady Dedlock of his failure, she asks if that is all is has to say. When he says he thinks so, Lady Dedlock, clearly unhappy with his services, rebukes him with this sentence. The conversation is then brought to an abrupt halt by the entrance of Mr. Tulkinghorn, lawyer to Sir Leicester Dedlock. He is suspicious of Guppy's visit.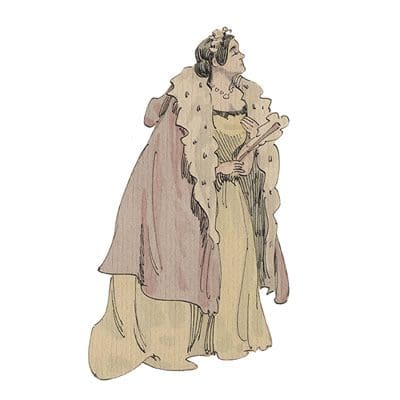 Lady Honoria Dedlock.
Mistress of Chesney Wold. The revelation of her past drives much of the plot. Before her marriage, Lady Dedlock had an affair with another man and bore his child. Lady Dedlock discovers the child's identity (Esther Summerson), and because she has revealed that she had a secret predating her marriage, she has attracted the noxious curiosity of Mr Tulkinghorn, who feels bound by his ties to his client, Sir Leicester, to pry out her secret. At the end of the novel, Lady Dedlock dies, disgraced in her own mind and convinced that her husband can never forgive her moral failings.
In the 2005 BBC television adaptation of Bleak House, Lady Dedlock was played by American actress Gillian Anderson. In 2006 she won Best Actress at the Broadcasting Press Guild Awards for her performance (ahead of fellow nominee Anna Maxwell Martin who played Esther Summerson). She was also nominated for a 2006 Primetime Emmy Award in the category Lead Actress in a Miniseries or Movie, and Best Performance by an Actress in a Miniseries or a Motion Picture Made for Television at the 2007 Golden Globes for the role.
Source.
Taken from the following passage in Chapter 33 (Interlopers) of Bleak House:
Mr. Guppy looks into the shade in all directions, discovering everywhere a certain charred and whitened little heap of coal or wood. Presently he hears a rustling. Is it—? No, it's no ghost, but fair flesh and blood, most brilliantly dressed.

"I have to beg your ladyship's pardon," Mr. Guppy stammers, very downcast. "This is an inconvenient time—"

"I told you, you could come at any time." She takes a chair, looking straight at him as on the last occasion.

"Thank your ladyship. Your ladyship is very affable."

"You can sit down." There is not much affability in her tone.

"I don't know, your ladyship, that it's worth while my sitting down and detaining you, for I—I have not got the letters that I mentioned when I had the honour of waiting on your ladyship."

"Have you come merely to say so?"

"Merely to say so, your ladyship." Mr. Guppy besides being depressed, disappointed, and uneasy, is put at a further disadvantage by the splendour and beauty of her appearance.

She knows its influence perfectly, has studied it too well to miss a grain of its effect on any one. As she looks at him so steadily and coldly, he not only feels conscious that he has no guide in the least perception of what is really the complexion of her thoughts, but also that he is being every moment, as it were, removed further and further from her.

She will not speak, it is plain. So he must.

"In short, your ladyship," says Mr. Guppy like a meanly penitent thief, "the person I was to have had the letters of, has come to a sudden end, and—" He stops. Lady Dedlock calmly finishes the sentence.

"And the letters are destroyed with the person?"

Mr. Guppy would say no if he could—as he is unable to hide.

"I believe so, your ladyship."

If he could see the least sparkle of relief in her face now? No, he could see no such thing, even if that brave outside did not utterly put him away, and he were not looking beyond it and about it.

He falters an awkward excuse or two for his failure.

"Is this all you have to say?" inquires Lady Dedlock, having heard him out—or as nearly out as he can stumble.

Mr. Guppy thinks that's all.

"You had better be sure that you wish to say nothing more to me, this being the last time you will have the opportunity."

Mr. Guppy is quite sure. And indeed he has no such wish at present, by any means.

"That is enough. I will dispense with excuses. Good evening to you!" And she rings for Mercury to show the young man of the name of Guppy out.

But in that house, in that same moment, there happens to be an old man of the name of Tulkinghorn. And that old man, coming with his quiet footstep to the library, has his hand at that moment on the handle of the door—comes in—and comes face to face with the young man as he is leaving the room.
Have Your Say.
Give your view on 'You had better be sure that you wish to say nothing more to me, this being the last time you will have the opportunity' with a rating and help us compile the very best Charles Dickens quotations.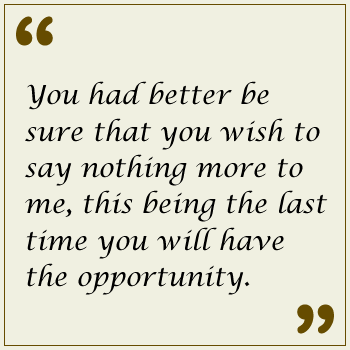 Related.
If you like this, we think you might also be interested in these related quotations: