Background.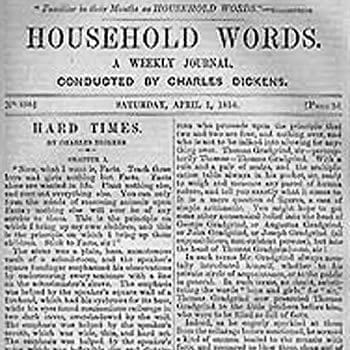 Hard Times – For These Times (more commonly now known as Hard Times) is the tenth novel by Charles Dickens. It first appeared in weekly parts, published in Household Words, from April to August 1854. The shortest of Dickens' novels, the story is set in the fictitious northern English industrial mill-town of Coketown.
Context.
Quotation said by the character Josiah Bounderby, who is talking to Stephen Blackpool. In Book 1, Chapter 11 (No Way Out) of Hard Times, Blackpool has paid a visit to the house of factory owner Bounderby to ask for advice about his unhappy marriage. He wishes to divorce his alcoholic wife, who is holding his life back, and start a new relationship with his patient and caring co-worker Rachael.
At the time the only way of obtaining a full divorce that allowed re-marriage was by a Private Act of Parliament. Bounderby tells Blackpool 'it's not for you at all', going on to explain the complicated legal process and huge financial cost ('from a thousand to fifteen hundred pound … perhaps twice the money') to obtain one. Blackpool is despondent at the answer, repeatedly muttering 'tis a muddle' and saying he might as well be dead.
A pompous and arrogant man, the middle-class Bounderby expects his worker Blackpool to know his place by not questioning the rules or institutions. He retorts with this quotation, a reference to the 'contract' Blackpool made in the Anglican Church with his solemnisation of marriage and words he pledged—dating back to the Book of Common Prayer of the mid-sixteenth-century—, namely 'to have and to hold from this day forward, for better, for worse, for richer, for poorer, in sickness, and in health, to love and to cherish, till death us depart'.
Later in Hard Times, Bounderby is the subject of his own unhappy marriage after the much-younger Louisa Gradgrind is pressured into marrying him.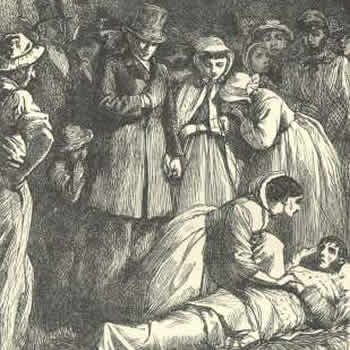 Theme Analysis: Unhappy Marriages.
Charles Dickens included topical social issues in his works and one such theme in Hard Times was unhappy marriages. Both Stephen Blackpool and Louisa Gradgrind are trapped in unhappy marriages. In the early years of Queen Victoria's reign, there was a growing movement for reform of divorce law. At the time the only way of obtaining a full divorce that allowed re-marriage was by a Private Act of Parliament. Between 1700 and 1857 there were just 314 such Acts, most initiated by a husband wanting to leave their wife. Those at the lower end of the social spectrum were stuck in unhappy marriages leading to abuse, infidelity and desertion. Court proceedings and workhouse reports are littered with reports of women abandoned by their husbands who simply fled to set up a new life. The character Stephen Blackpool is kind-hearted and good-natured. He doesn't want to simply abandon his drunken wife, even though he has strong affections for co-worker Rachael, and seeks answers to find a proper way to obtain a divorce. The clamour for reform at this time culminated in the setting up of a Royal Commission at the beginning of the 1850's to look at the issue. In 1853 it recommended the transferral of divorce proceedings from Parliament to a civil court, proposals that were carried out in the Matrimonial Causes Act of 1857. However, the grounds for divorce remained substantially the same, with adultery remaining the sole ground for divorce, although wives could now allege cruelty and desertion, in addition to the husband's adultery, in order to obtain a divorce.
We have most of us read the story of Stephen Blackpool—the story of a hard-working, right-minded man, chained for life to a degraded being, whose presence pollutes his home, whose drunken waste brings famine to his threshold, and whose companionship, if endured, would go far to destroy his mind—and all this because the mole-eyed legislators have the audacity to refuse what, above all other things, the people have a right to demand, viz. to be placed, in this one matter at least, upon an equality with the rich, and, upon showing sufficient cause, receive a liberation—from otherwise a life of misery-in the shape of a cheap divorce.

Nichols' Monthly. A Magazine of Social Science and Progressive Literature. 1855.
Source.
Taken from the following passage in Book 1, Chapter 11 (No Way Out) of Hard Times:
Now, a' God's name,' said Stephen Blackpool, 'show me the law to help me!'

'Hem! There's a sanctity in this relation of life,' said Mr. Bounderby, 'and—and—it must be kept up.'

'No no, dunnot say that, sir. 'Tan't kep' up that way. Not that way. 'Tis kep' down that way. I'm a weaver, I were in a fact'ry when a chilt, but I ha' gotten een to see wi' and eern to year wi'. I read in th' papers every 'Sizes, every Sessions—and you read too—I know it!—with dismay—how th' supposed unpossibility o' ever getting unchained from one another, at any price, on any terms, brings blood upon this land, and brings many common married fok to battle, murder, and sudden death. Let us ha' this, right understood. Mine's a grievous case, an' I want—if yo will be so good—t' know the law that helps me.'

'Now, I tell you what!' said Mr. Bounderby, putting his hands in his pockets. 'There is such a law.'

Stephen, subsiding into his quiet manner, and never wandering in his attention, gave a nod.

'But it's not for you at all. It costs money. It costs a mint of money.'

'How much might that be?' Stephen calmly asked.

'Why, you'd have to go to Doctors' Commons with a suit, and you'd have to go to a court of Common Law with a suit, and you'd have to go to the House of Lords with a suit, and you'd have to get an Act of Parliament to enable you to marry again, and it would cost you (if it was a case of very plain sailing), I suppose from a thousand to fifteen hundred pound,' said Mr. Bounderby. 'Perhaps twice the money.'

'There's no other law?'

'Certainly not.'

'Why then, sir,' said Stephen, turning white, and motioning with that right hand of his, as if he gave everything to the four winds, ''tis a muddle. 'Tis just a muddle a'toogether, an' the sooner I am dead, the better.'

(Mrs. Sparsit again dejected by the impiety of the people.)

'Pooh, pooh! Don't you talk nonsense, my good fellow,' said Mr. Bounderby, 'about things you don't understand; and don't you call the Institutions of your country a muddle, or you'll get yourself into a real muddle one of these fine mornings. The institutions of your country are not your piece-work, and the only thing you have got to do, is, to mind your piece-work. You didn't take your wife for fast and for loose; but for better for worse. If she has turned out worse—why, all we have got to say is, she might have turned out better.'

''Tis a muddle,' said Stephen, shaking his head as he moved to the door. ''Tis a' a muddle!'
Characters.
Stephen Blackpool.
One of Charles Dickens's more tragic characters, Stephen Blackpool is a worker at one of Josiah Bounderby's factories in the filthy mill-town of Coketown. Stephen is aged 40 but is nicknamed 'old Stephen' due to his looks from a hard life. He married 19 years previously but is now estranged from his wife due to her drunken behaviour, although she reappears in his life from time to time. Stephen is unable to divorce his wife due to the cost involved, despite being the burden she brings to him. He forms a close bond with Rachael, a co-worker, whom he wishes to marry. After a dispute with Bounderby, he is dismissed from his work and, shunned by his former fellow workers, is forced to look for work elsewhere. While absent from Coketown, he is wrongly accused of robbing Bounderby's bank. On his way back to vindicate himself, a fall down an abandoned mine-shaft has tragic consequences.
Josiah Bounderby.
Factory-owner Josiah Bounderby is a business associate of Mr. Gradgrind. Given to boasting about being a self-made man, he employs many of the other central characters of the novel. He has risen to a position of power and wealth from humble origins (though not as humble as he claims). Bounderby marries Mr. Gradgrind's daughter Louisa, some 30 years his junior, in what turns out to be a loveless marriage. They have no children. Bounderby is callous, self-centred and ultimately revealed to be a liar and fraud.
Have Your Say.
Give your view on 'You didn't take your wife for fast and for loose; but for better for worse' with a rating and help us compile the very best Charles Dickens quotations.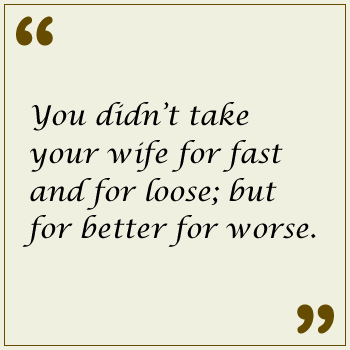 Related.
If you like this, we think you might also be interested in these related quotations: