Background.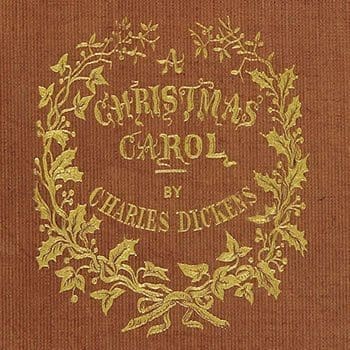 'Wonderful party, wonderful games, wonderful unanimity, won-der-ful happiness!' is a quotation from A Christmas Carol (Stave 5).
A Christmas Carol is a novella, or short story, written by Charles Dickens and first published in the Christmas of 1843. The allegorical tale tells the story of the transformation of the mean-spirited Ebenezer Scrooge through the visits of the spirit of his former business partner and three ghosts over the course of a Christmas Eve night. It remains a much-loved traditional Christmas tale.
Context.
This quotation is a description of Christmas festivities described towards the end of A Christmas Carol. After emerging from a night when Ebenezer Scrooge is visited by the spirits of his former business partner, Jacob Marley and three ghosts, Scrooge is relieved to wake and find his nightmare is over, and emerges with a newly found passion for life and resolve to do good.
Scrooge visits his nephew Fred's family festive dinner. The visit is a complete contrast to Scrooge's attitude at the beginning of the story, where we saw him reject the dinner invite. Scrooge's redemption has not just an effect on him, but on those around him, as demonstrated in this warm description of Fred's family Christmas party.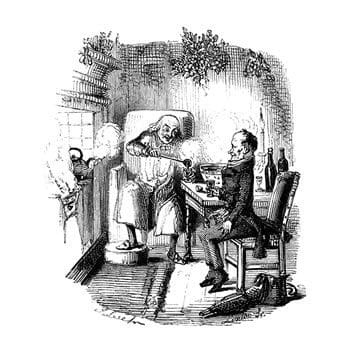 Literary Technique.
This is an example of the literary techniques Charles Dickens uses in his works, here using repetition. Repetition is a technique involving the repeating of a word, phrase or statement, often several times within a passage of text. It adds to emphasise and develop a certain idea. In this quotation, the word wonderful is repeated four times within the sentence to emphasise the joy that the Christmas party at Fred's house brings. Dickens also divides the final use of the word into its three syllables to stress the importance of the word at a time when stories were often read aloud to an audience in small family gatherings.
Themes in A Christmas Carol: Christmas.
As reflected in the title the theme of Christmas is central to the novella A Christmas Carol. Christmas is a traditional Christian celebration of the birth of Christ. Occurring around the Winter Solstice (the longest night of the year) has led to traditions from other cultures and religions being incorporated over time including Pagan, Roman and Greek. Dickens incorporates a number of these traditions into A Christmas Carol, such as the bringing together of family and friends, feasting of food, gathering around a fire, the singing of carols, the figure of Saint Nicholas (also known as Santa Claus/Father Christmas), the giving of presents and attending church. At the start of the story we see the miserly misanthropic character Ebenezer Scrooge reject many of these traditions. He represents the opposite of human traits we associate with Christmas such as generosity and compassion. Through his transformation, towards the end of the story we can see Scrooge adopt the spirit of Christmas such as happiness, generosity and kindness.
Themes in A Christmas Carol: Family.
Family is a central theme that runs through the Charles Dickens novella A Christmas Carol. The story was written with Christian traditions of family in mind and written at a time when large families were common. The happiness of the family unit is complemented by imagery and symbolism such as fires and feasting, traditional elements associated with a family Christmas. At the start of the story we see the misanthropic Ebenezer Scrooge reject family when he dismisses an invitation to celebrate Christmas at a dinner with his nephew Fred's family, telling him to ternly, keep Christmas in your own way, and let me keep it in mine. He is also reluctant to let Bob Cratchit have Christmas day off to spend with his family, calling it a poor excuse for picking a man's pocket every twenty-fifth of December! Through the visions shown to Scrooge by the ghosts of Christmas Past and Christmas Present we see scenes of families enjoying Christmas. Cratchit family, despite being poor and having a disabled son Tiny Tim, show the importance of family values and how happiness comes with having those you care about with you. Tiny Tim is far from a burden to his family, witnessed by the love that his parents and siblings show for him. By the end of the story, the newly redeemed Scrooge realises the importance of family, buying a big turkey for the Cratchits and paying a visit to Fred and his family, where he is welcomed with joy and without recrimination and where the family enjoy wonderful party, wonderful games, wonderful unanimity, won-der-ful happiness!
Source.
Taken from the following passage in Stave 5 (The End Of It) of A Christmas Carol:
He passed the door a dozen times, before he had the courage to go up and knock. But he made a dash, and did it:

"Is your master at home, my dear?" said Scrooge to the girl. Nice girl! Very.

"Yes, sir."

"Where is he, my love?" said Scrooge.

"He's in the dining-room, sir, along with mistress. I'll show you up-stairs, if you please."

"Thank'ee. He knows me," said Scrooge, with his hand already on the dining-room lock. "I'll go in here, my dear."

He turned it gently, and sidled his face in, round the door. They were looking at the table (which was spread out in great array); for these young housekeepers are always nervous on such points, and like to see that everything is right.

"Fred!" said Scrooge.

Dear heart alive, how his niece by marriage started! Scrooge had forgotten, for the moment, about her sitting in the corner with the footstool, or he wouldn't have done it, on any account.

"Why bless my soul!" cried Fred, "who's that?"

"It's I. Your uncle Scrooge. I have come to dinner. Will you let me in, Fred?"

Let him in! It is a mercy he didn't shake his arm off. He was at home in five minutes. Nothing could be heartier. His niece looked just the same. So did Topper when he came. So did the plump sister when she came. So did every one when they came. Wonderful party, wonderful games, wonderful unanimity, won-der-ful happiness!

But he was early at the office next morning. Oh, he was early there. If he could only be there first, and catch Bob Cratchit coming late! That was the thing he had set his heart upon.
Characters.
Ebenezer Scrooge.
Ebenezer Scrooge is one of the most famous characters created by Charles Dickens and arguably one of the most famous in English literature. The protagonist of A Christmas Carol, Scrooge is a cold-hearted and mean-spirited accountant. His business partner, the equally mean Jacob Marley, died seven years previous and he lives alone, having never married. Through a visit one Christmas Eve by the ghost of Marley and three subsequent spirits, Scrooge is awakened to his meanness and the impact it has on others.
The term Scrooge has entered the English Language to represent a mean person, known as a literary neologism. Neologisms are relatively recent terms, words, or phrases in the process of entering common use. Other examples of Dickens's neologisms include butterfingers (to mean a clumsy person) and doormat (a metaphor for taking advantage of a person).
In screen adaptations of A Christmas Carol, the character of Ebenezer Scrooge has been played by actors that include Alastair Sim (1951 film), Albert Finney (1970 musical film), Michael Hordern (1977 TV Movie), George C. Scott (1984 TV Movie), Michael Caine (1992 musical fantasy film), Patrick Stewart (1999 TV Movie) and Guy Pearce (2019 TV Mini-Series). Michael Hordern had previously appeared alongside Alastair Sim in the 1951 film (titled Scrooge), this time playing the character of Jacob Marley.
Fred.
Fred is the nephew of Ebenezer Scrooge, the son of his beloved but now dead little sister, Fran. He is Scrooge's only living relative and also the only person who attempts to pull him out of the miserable isolated world he lives in. Fred is the antithesis of Scrooge in appearance and spirit. He visits his uncle on Christmas Eve and invites him to a family dinner. Scrooge mocks Fred's celebration of Christmas: "What reason have you to be merry? You're poor enough", says Scrooge to his nephew. To which Scrooge's nephew replies: "What reason have you to be morose? You're rich enough"..A jovial character, Fred refuses to let Scrooge's miserly attitude dampen his sprits despite his uncle's rebuttals.

Have Your Say.
Give your view on 'Wonderful party, wonderful games, wonderful unanimity, won-der-ful happiness!' with a rating and help us compile the very best Charles Dickens quotations.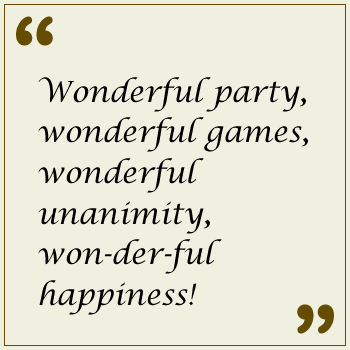 Related.
If you like this, we think you might also be interested in these related quotations: