Background.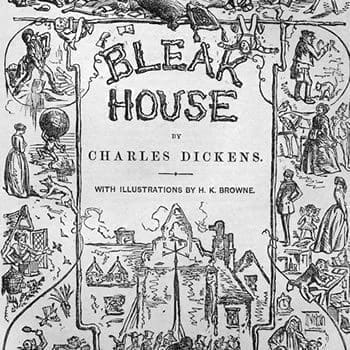 Bleak House was the ninth novel by Charles Dickens, intended to illustrate the evils caused by long, drawn-out legal cases in the Court of Chancery. Serialised between 1852 – 1853, the story unravels through the use of double narration, in part from the perspective of a third-person narrator and in part from the first-person point of view of the main protagonist, Esther Summerson.
Context.
Description of Matthew Bagnet. Bagnet is a bassoon player in a theatre orchestra and proprietor of a musical instrument shop.
Source.
Taken from the following passage in Chapter 27 (More Old Soldiers Than One) of Bleak House:
Mr. George is becoming thoughtful, sitting before the fire in the whitewashed room, which has a sanded floor and a barrack smell and contains nothing superfluous and has not a visible speck of dirt or dust in it, from the faces of Quebec and Malta to the bright tin pots and pannikins upon the dresser shelves—Mr. George is becoming thoughtful, sitting here while Mrs. Bagnet is busy, when Mr. Bagnet and young Woolwich opportunely come home. Mr. Bagnet is an ex-artilleryman, tall and upright, with shaggy eyebrows and whiskers like the fibres of a coco-nut, not a hair upon his head, and a torrid complexion. His voice, short, deep, and resonant, is not at all unlike the tones of the instrument to which he is devoted. Indeed there may be generally observed in him an unbending, unyielding, brass-bound air, as if he were himself the bassoon of the human orchestra. Young Woolwich is the type and model of a young drummer.
Have Your Say.
Give your view on 'Whiskers like the fibres of a coco-nut' with a rating and help us compile the very best Charles Dickens quotations.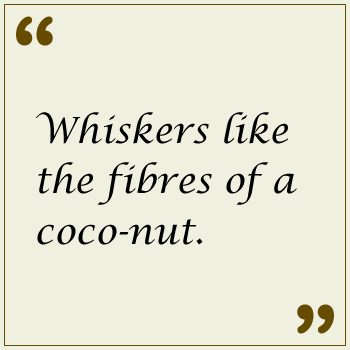 Related.
If you like this, we think you might also be interested in these related quotations: