Background.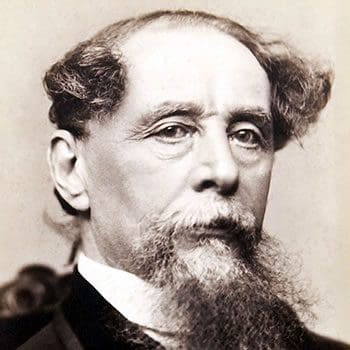 'Whatever brings a public man and his public face to face, on terms of mutual confidence and respect, is a good thing' is a quotation from a speech by the nineteenth century author and social critic Charles Dickens.
The speech, given on Thursday, 29 April 1858, was delivered before the start of a series of commercial readings.
Context.
This quotation is taken from a short address given as a prelude to a reading Charles Dickens made on the evening of Thursday, 29 April 1858 held at St. Martin's Hall in the Covent Garden area of London. The performance was the first time Dickens had read to a paying public audience for his own monetary benefit and kicked off a series of paid-for London readings by the author that Spring.
Previously Dickens had been known for reading to audiences for charitable purposes, which had begun in December 1853 when he gave three public readings of A Christmas Carol at Birmingham Town Hall in aid of the Birmingham and Midland Institute. Over the subsequent five years, many requests for the popular author to appear were made by numerous charitable institutions across the country.
The increasing demands on Dickens time forced him to consider turning public reading into a career alongside his writings. These proved extremely popular and profitable and continued from 1858 right up to just before the time of his death in 1870. Dickens still continued to read for charitable institutions and even donated the proceeds from some of his own public readings to help charitable causes seeking funds.
On the first, Dickens short speech on 29 April came before he read The Cricket on the Hearth. Dickens had been originally advertised to read this and two other of his Christmas short stories at St. Martin's Hall (The Chimes on 6 May and A Christmas Carol on 13 May). The performances were sold-out with queues for tickets and the success led Dickens to extend the readings over the subsequent three months.
Dickens first run of commercial readings at St. Martin's Hall ended up with 17 performances between 29 April – 22 July at the venue. After the run, Dickens undertook a national reading tour, which included travelling to Ireland, before finishing the year back at St. Martin's Hall where he gave further readings over the Christmas period.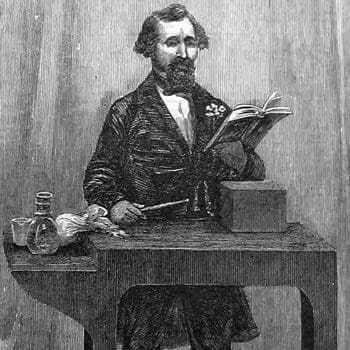 Source.
Taken from the following speech given by Charles Dickens on Thursday, 29 April 1858. The speech was reproduced in a number of newspapers at the time.
Ladies and Gentlemen,-

It may perhaps be known to you that for a few years past I have been accustomed occasionally to read some of my shorter books to various audiences, in aid of a variety of good objects, and at some charge to myself both in time and money. It having at length become impossible in any reason to comply with these always accentuating demands, I have had definitively to choose between now and then reading on my own account as one of my recognised occupations, or not reading at all. I have had little or no difficulty in deciding on the former course. The reasons that have led me to it-besides the consideration that it necessitates no departure whatever from the chosen pursuit of may life-are threefold.

Firstly. I have satisfied myself that it can involve no possible compromise of the credit and independence of literature.

Secondly. I have long held the opinion, and have long acted on the opinion, that in these times whatever brings a public man and his public face to face, on terms of mutual confidence and respect, is a good thing.

Thirdly, I have had a pretty large experience of the interest my hearers are so generous as to take in there occasions, and of the delight they give to me as a tried means of strengthening those relations, I may almost say of personal friendship, which it is my great privilege and pride, as it is my great responsibility, to hold with a multitude of persons who will never hear my voice or see my face.

Thus it is that I come, quite naturally, to be here among you at this time. And thus it is that I proceed to read this little book, quite as composedly as I might proceed to write it, or to publish it in any other way.
Contemporary Reports.
The following are some of the newspaper reports and commentary published following Dickens first commercial reading on 29 April 1858.
Last evening the vast area of St. Martin's Hall, Long-acre, was crammed with a delighted audience who had assembled there to give a greeting worthy of him, to the greatest of English Humourists. It was not by any means, of course, the first of Mr. Dickens's public readings, but it was the first of all his public readings—for Himself! Hitherto his kindly voice having bean raised exclusively in this way for the advantage of others—for the benefit of mechanics' institutions, in behalf of hospitals and other eleemosynary establishments, and as upon the last occasion, even at the behest of little ailing children. At last, after having won "golden opinions"—poured then invariably in affluent abundance and with a lavish and emptied hand into coffers thus generously, and one might almost say magically, replenished for the means for effecting all this, remember, was simply the Reading of a book years ago printed off by thousands and tens of thousands, and known almost by heart long since by nearly every one, who yet went to hear it read once more by its delightful writer—after reading thus solely for the advantage of others, Mr. Dickens has at length begun to read for his own in like manner. Yesterday witnessed the inauguration of what we are half-disposed to designate a new epoch in his public career.

The Sun (London). Friday, 30 April 1858.
Last night Mr. Charles Dickens read the "Cricket on the Hearth," in the presence of the largest audience that ever filled St. Martin's-hall. It was not only, we believe, the first time that he has read this particular book to a London public, but it was the first occasion on which he gave any reading unconnected with some charitable object, and for his own peculiar benefit and advantage …

… From first to last, the audience sat in a state of rapt attention, broken only by bursts of laughter and applause. It is needless to say that the reading was a most entire and perfect success. We know we best express our own feelings, and we feel sure those of the public, when we say, that at St. Martin's-hall, last night, there was no public entertainment, but a very large family party, gathered round the kindest, the dearest, the best of their friends.

The Daily News (London). Friday, 30 April 1858.
Charles Dickens's "readings" come in as an important addition to the non-theatrical amusements of the day. On Thursday he commenced the experiment of using his elocutionary powers for his own benefit, and so numerous was the throng assembled at the doors of St. Martin's hall that hundreds were sent back long before the "reading" commenced …

… Mr. Dickens's elocutionary performance is altogether peculiar to himself. It is not mere reading, it is not quite acting, but it partakes the attributes of both.

The Times. Monday, May 3 1858.
Mr, Charles Dickens has at length adopted the occupation of professional reader before the public, and resolved to take his stand in a recognised position, rather than expend his time as an amateur contributor to charitable funds, with no fixed value on his labours beyond the thanks of presidents and the applause of the public. In taking this step, all reasonable people will think that he acts wisely. Why should a man possessing his great literary talents, besides producing works that give pleasure and instruction, after continually racking his brains to invent and write his books, be required to read them in town or country to compensate for the neglect of the public in giving proper support to those charitable institutions which seem to have been gradually establishing a claim upon his time, talents, and generosity to fill their failing coffers? Without presuming to interpret this proceeding on the part of Mr. Charles Dickens as an absolute refusal to employ his acknowledged abilities in future for the assistance of any charitable purpose whatsoever, it at the least puts an average and tangible value on those abilities, and instead of rendering it difficult, if not impossible, to refuse application and entreaty, enforced by an appeal to established precedent, leaves him at liberty to act on such occasions as his good sense and warm feelings may decide; and in coming to that decision the public, we believe, may rest assured that a tender sympathy with the wants and sufferings of his fellow creatures will exercise a large and powerful influence over the motives which may guide him in any course he may think proper to adopt.

The Standard (London). Thursday, 6 May 1858.
The first commercial readings at St. Martin's Hall.
Charles Dickens began the first commercial performances of his reading career with 17 performances between 29 April – 22 July, held at St. Martin's Hall in the Covent Garden area of London.
---
Have Your Say.
Give your view on 'Whatever brings a public man and his public face to face, on terms of mutual confidence and respect, is a good thing' with a rating and help us compile the very best Charles Dickens quotations.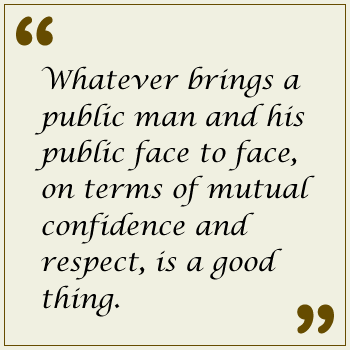 Related.
If you like this, we think you might also be interested in these related quotations: