Background.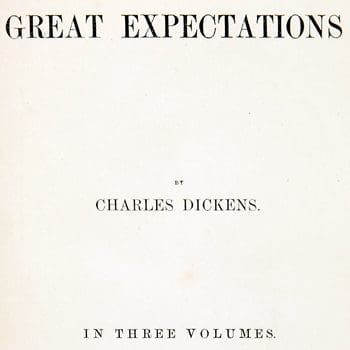 Context.
This quotation is said by Pip, the first-person narrator of Great Expectations, describing his emotions of guilt on a Christmas Day when he was aged around seven years old. Pip is wracked with guilt after taking some food and a file from home earlier that day which he gave to an escaped prisoner waiting for him on the nearby marshes. The prisoner had terrorised Pip into getting the items for him the previous day, whilst Pip was visiting family graves at the local churchyard.
Throughout Chapters 3 and 4 of Great Expectations, Pip is filled with guilt for stealing the items, worried that he will be discovered by his foster parents, his violent sister Mrs. Joe, and her kind blacksmith husband Joe Gargery. This quotation comes just as Pip and Joe are about to set off for a Christmas Day service at the local church.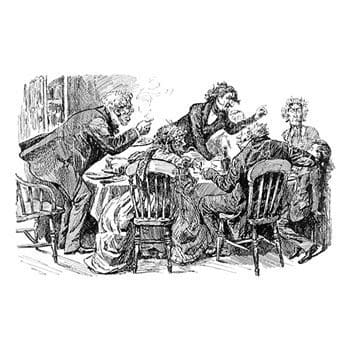 Chapter Summary.
Great Expectations Chapter 4.
Chapter 3 of Great Expectations concluded with Pip slipping off from meeting the escaped prisoner on the marshes and delivering food and a file to him. Chapter 4 begins with Pip back at home, wracked with guilt, and expecting to find a constable waiting for him but no one appears to have noticed the 'robbery'. Mrs. Joe asks Pip where he has been and he tells her he went to hear Carols. Preparations are being made for the Christmas Day dinner, consisting of 'pickled pork and greens, and a pair of roast stuffed fowls', along with a 'handsome mince-pie'. Pip and Joe visit Church, where Pip feels even more guilt, returning to find the dinner table prepared. The Gargery's are joined at the forge for Christmas dinner with Mr. Wopsle (the church clerk), Mr. Hubble (the wheelwright) and his wife, Mrs. Hubble, and Mr. Pumblechook (Joe's uncle and local seed merchant). Pip humourously describes some of the eccentric appearances and mannerisms of the guests. Sat down to dinner at a cramped kitchen table, the guests turn on Pip with their moralistic conversation so much that he compares himself to 'an unfortunate little bull in a Spanish arena'. At the end of the main course, Mrs. Joe suggests Pumblechook has a brandy. Pip, with worry, watches as he drinks it before jumping up out of his seat, and the house, in a coughing fit before shouting out 'Tar!'. Pip tells the reader that he topped up the brandy he took (to the escaped convict) with tar water. Pumblechook dismisses Mrs. Joe's worrying about how it got there, much to Pip's relief. Mrs. Joe suggests that her guests taste a savoury pork-pie, given by Pumblechook. Pip (who took the pie) can't bear his worry anymore and bolts for the door in fear of being discovered. As he does so, he runs right into a party of musket-carrying soldiers standing at the Gargery doorstep. Chapter 4 ends with one of the soldiers holding out a pair of handcuffs to a guilt-ridden Pip.
Source.
Taken from the following passage in Chapter 4 of Great Expectations:
My sister, having so much to do, was going to church vicariously, that is to say, Joe and I were going. In his working-clothes, Joe was a well-knit characteristic-looking blacksmith; in his holiday clothes, he was more like a scarecrow in good circumstances, than anything else. Nothing that he wore then fitted him or seemed to belong to him; and everything that he wore then grazed him. On the present festive occasion he emerged from his room, when the blithe bells were going, the picture of misery, in a full suit of Sunday penitentials. As to me, I think my sister must have had some general idea that I was a young offender whom an Accoucheur Policeman had taken up (on my birthday) and delivered over to her, to be dealt with according to the outraged majesty of the law. I was always treated as if I had insisted on being born in opposition to the dictates of reason, religion, and morality, and against the dissuading arguments of my best friends. Even when I was taken to have a new suit of clothes, the tailor had orders to make them like a kind of Reformatory, and on no account to let me have the free use of my limbs.

Joe and I going to church, therefore, must have been a moving spectacle for compassionate minds. Yet, what I suffered outside was nothing to what I underwent within. The terrors that had assailed me whenever Mrs. Joe had gone near the pantry, or out of the room, were only to be equalled by the remorse with which my mind dwelt on what my hands had done. Under the weight of my wicked secret, I pondered whether the Church would be powerful enough to shield me from the vengeance of the terrible young man, if I divulged to that establishment. I conceived the idea that the time when the banns were read and when the clergyman said, "Ye are now to declare it!" would be the time for me to rise and propose a private conference in the vestry. I am far from being sure that I might not have astonished our small congregation by resorting to this extreme measure, but for its being Christmas Day and no Sunday.

Mr. Wopsle, the clerk at church, was to dine with us; and Mr. Hubble the wheelwright and Mrs. Hubble; and Uncle Pumblechook (Joe's uncle, but Mrs. Joe appropriated him), who was a well-to-do cornchandler in the nearest town, and drove his own chaise-cart. The dinner hour was half-past one. When Joe and I got home, we found the table laid, and Mrs. Joe dressed, and the dinner dressing, and the front door unlocked (it never was at any other time) for the company to enter by, and everything most splendid. And still, not a word of the robbery.
Characters.
Philip Pirrip (Pip).
Philip Pirrip, called Pip, is the protagonist and narrator in Charles Dickens's novel Great Expectations. He is amongst the most popular characters in English literature. Pip narrates his story many years after the events of the novel take place, starting as a young orphan boy being raised by his sister and brother-in-law in the marshes of north Kent. The novel follows Pip's progress from childhood innocence to adulthood, where we see a financial and social rise. But these fortunes are offset by an emotional and moral deterioration, which forces Pip to recognise his negative expectations in a new self-awareness.
My father's family name being Pirrip, and my Christian name Philip, my infant tongue could make of both names nothing longer or more explicit than Pip. So, I called myself Pip, and came to be called Pip.

Opening lines of Great Expectations.
In screen adaptations of Great Expectations, the character of Pip has been played by such actors as Jack Pickford (1917 film), John Mills (1946 film), Michael York (1974 TV movie), Ioan Gruffudd (1999 TV movie), and Jeremy Irvine (2012 film).
Have Your Say.
Give your view on 'What I suffered outside was nothing to what I underwent within' with a rating and help us compile the very best Charles Dickens quotations.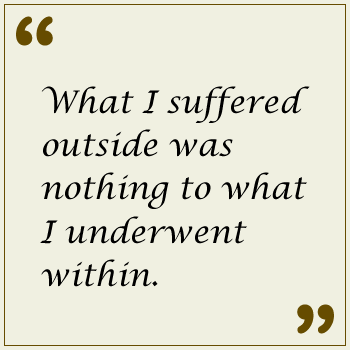 Related.
If you like this, we think you might also be interested in these related quotations: