Background.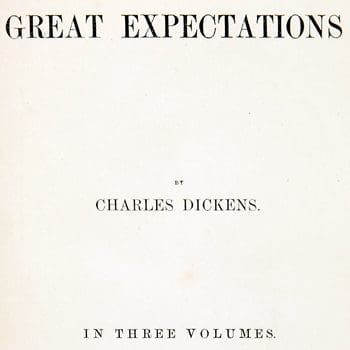 'We don't know what you have done, but we wouldn't have you starved to death for it' is a quotation from Great Expectations (Chapter 5).
Context.
This quotation is said by the character Joe Gargery towards the end of Chapter 5 of the novel Great Expectations. The quote shows the kind nature of Joe, who is showing humanity and compassion towards an escaped convict that has just admitted to stealing from him.
A party of soldiers, along with Joe, his step-brother Pip and the parish clerk Mr. Wopsle, have just chased down two convicts, Abel Magwitch and Compeyson, that have escaped from a nearby prison ship. Unbeknown to anyone else, Pip has encountered both of the fugitives before and has helped one, Magwitch, by stealing food and a file from home to give to him. He is wracked with guilt for doing so.
As he is being held, Magwitch notices Pip, who is clearly worried, and confesses out loud to a soldier that he stole the food and file from the blacksmiths. The soldier asks Joe Gargery if such items are missing and he confirms so. Joe then addresses the starving convict before turning to Pip, saying "God knows you're welcome to it,—so far as it was ever mine, we don't know what you have done, but we wouldn't have you starved to death for it, poor miserable fellow-creatur.—Would us, Pip?".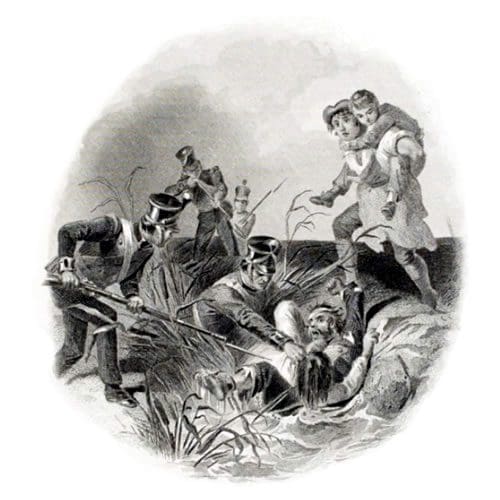 Chapter Summary.
Great Expectations Chapter 5.
Chapter 4 concluded with the arrival of a party of musket-carrying soldiers arriving at the Forge, as the Gargery's and guests are coming towards the end of their Christmas dinner. Chapter 5 continues with the Sergeant at the door, telling those inside that he needs a pair of handcuffs fixed by the blacksmith, and that the soldiers are pursuing two convicts 'pretty well known to be out on the marshes still'. Joe obliges by firing up the forge. After fixing the handcuffs, Joe, Pip and Mr. Wopsle join the soldiers on their manhunt. The party hear shouting from a ditch and rushing towards it find both convicts fighting in a ditch. The Sergeant rushes into the ditch telling them to surrender, joined soon after by fellow soldiers who drag both convicts apart from each other. Pip recognises them both from previous encounters but doesn't let on that he has met them. Pip refers to the convict he met at the church the previous day and brought food to as 'my convict'. Pip's convict tells the soldiers that instead of escaping himself, he remained to keep the other convict from getting away, telling them that 'he's a gentleman, if you please, this villain'. The other convict tells the soldiers that the other tried to murder him. The two convicts are escorted to a boat to be taken back to the prison hulk. Just before departing Pip's convict, having spotted Pip amongst the assembled crowd, confesses to the Sergeant that he stole food and a file from the Forge. Joe confirms that such items were taken. The chapter ends with the fugitives being taken across the water in a boat to be returned to the hulk, which Pip describes as being 'like a wicked Noah's ark'.
Later in the story, we learn that the convict Pip describes as 'my convict' is called Abel Magwitch, and that the other prisoner that he was fighting with was called Compeyson.
Source.
Taken from the following passage in Chapter 5 of Great Expectations:
My convict never looked at me, except that once. While we stood in the hut, he stood before the fire looking thoughtfully at it, or putting up his feet by turns upon the hob, and looking thoughtfully at them as if he pitied them for their recent adventures. Suddenly, he turned to the sergeant, and remarked,—

"I wish to say something respecting this escape. It may prevent some persons laying under suspicion alonger me."

"You can say what you like," returned the sergeant, standing coolly looking at him with his arms folded, "but you have no call to say it here. You'll have opportunity enough to say about it, and hear about it, before it's done with, you know."

"I know, but this is another pint, a separate matter. A man can't starve; at least I can't. I took some wittles, up at the willage over yonder,—where the church stands a'most out on the marshes."

"You mean stole," said the sergeant.

"And I'll tell you where from. From the blacksmith's."

"Halloa!" said the sergeant, staring at Joe.

"Halloa, Pip!" said Joe, staring at me.

"It was some broken wittles—that's what it was—and a dram of liquor, and a pie."

"Have you happened to miss such an article as a pie, blacksmith?" asked the sergeant, confidentially.

"My wife did, at the very moment when you came in. Don't you know, Pip?"

"So," said my convict, turning his eyes on Joe in a moody manner, and without the least glance at me,—"so you're the blacksmith, are you? Than I'm sorry to say, I've eat your pie."

"God knows you're welcome to it,—so far as it was ever mine," returned Joe, with a saving remembrance of Mrs. Joe. "We don't know what you have done, but we wouldn't have you starved to death for it, poor miserable fellow-creatur.—Would us, Pip?"

The something that I had noticed before, clicked in the man's throat again, and he turned his back. The boat had returned, and his guard were ready, so we followed him to the landing-place made of rough stakes and stones, and saw him put into the boat, which was rowed by a crew of convicts like himself. No one seemed surprised to see him, or interested in seeing him, or glad to see him, or sorry to see him, or spoke a word, except that somebody in the boat growled as if to dogs, "Give way, you!" which was the signal for the dip of the oars. By the light of the torches, we saw the black Hulk lying out a little way from the mud of the shore, like a wicked Noah's ark. Cribbed and barred and moored by massive rusty chains, the prison-ship seemed in my young eyes to be ironed like the prisoners. We saw the boat go alongside, and we saw him taken up the side and disappear. Then, the ends of the torches were flung hissing into the water, and went out, as if it were all over with him.
Characters.
Joe Gargery.
Joe is Pip's brother-in-law and the village blacksmith. He lives with his abusive and overbearing, abusive wife, simply known as 'Mrs. Joe'. Pip describes Joe as 'a fair man, with curls of flaxen hair on each side of his smooth face, and with eyes of such a very undecided blue that they seemed to have somehow got mixed with their own whites. He was a mild, good-natured, sweet-tempered, easy-going, foolish, dear fellow,—a sort of Hercules in strength, and also in weakness'.
The brawny smith, who could break a stone with his fist, and whose heart could not harm a fly, is a creation upon which Mr. Dickens has lingered with a loving hand. To set such figures before ten thousand thousand readers, is to do more good in the world than the world is apt to acknowledge.

Lloyd's Weekly Newspaper. Sunday, 21 July 1861. Comment on the character Joe Gargery.
In screen adaptations of Great Expectations, the character of Joe Gargery has been played by such actors as Bernard Miles (1946 film), Joss Ackland (1974 TV movie), John Rhys-Davies (1989 TV mini-series), Clive Russell (1999 TV movie), Shaun Dooley (2011 TV mini-series), and Jason Flemyng (2012 movie).
Abel Magwitch / Provis.
Like Pip, the convict Abel Magwitch is a character who follows a rags-to-riches story within Great Expectations. Originally incarcerated for his part in a plot to defraud Miss Havisham we first meet Magwitch after he escapes from a prison hulk and terrifies the young Pip whilst visiting the graves of his family in Kent churchyard. Magwitch is pursuing Compeyson, his accomplice in the fraud and who is treated more leniently. Pip aids Magwitch with food and tools, a gesture Magwitch will later handsomely repay. Magwitch is deported to Australia where he makes a fortune as a sheep farmer before returning, secretly, to England under the name Provis. In later life, Magwitch is revealed as a kinder man who has been helping Pip achieve his great expectations.
In screen adaptations of Great Expectations, the character of Abel Magwitch has been played by such actors as James Mason (1974 TV movie), Anthony Hopkins (1989 TV mini-series), Bernard Hill (1999 TV movie), Ray Winstone (2011-2012 TV-series) and Ralph Fiennes (2012 film).
Have Your Say.
Give your view on 'We don't know what you have done, but we wouldn't have you starved to death for it' with a rating and help us compile the very best Charles Dickens quotations.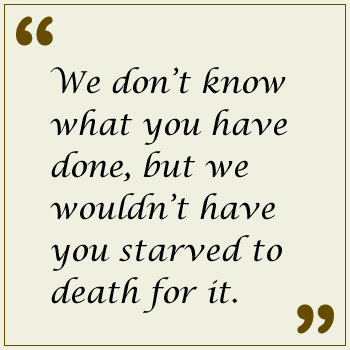 Related.
If you like this, we think you might also be interested in these related quotations: