Background.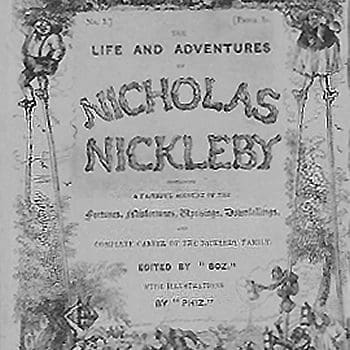 'There are only two styles of portrait painting; the serious and the smirk.' is a quotation from Nicholas Nickleby (Chapter 10).
The Life and Adventures of Nicholas Nickleby, more commonly referred to as Nicholas Nickleby, is the third novel by Charles Dickens, originally serialised between <a title="Dickens Timeline" href="http://thecircuml1838 and 1839.
Context.
Quotation said by the character Miss La Creevy who is painting a portrait of Kate Nickleby.
Taken from the following passage in Chapter 10 of Nicholas Nickleby:
On the second morning after the departure of Nicholas for Yorkshire, Kate Nickleby sat in a very faded chair raised upon a very dusty throne in Miss La Creevy's room, giving that lady a sitting for the portrait upon which she was engaged; and towards the full perfection of which, Miss La Creevy had had the street-door case brought upstairs, in order that she might be the better able to infuse into the counterfeit countenance of Miss Nickleby, a bright salmon flesh-tint which she had originally hit upon while executing the miniature of a young officer therein contained, and which bright salmon flesh-tint was considered, by Miss La Creevy's chief friends and patrons, to be quite a novelty in art: as indeed it was.

'I think I have caught it now,' said Miss La Creevy. 'The very shade! This will be the sweetest portrait I have ever done, certainly.'

'It will be your genius that makes it so, then, I am sure,' replied Kate, smiling.

'No, no, I won't allow that, my dear,' rejoined Miss La Creevy. 'It's a very nice subject—a very nice subject, indeed—though, of course, something depends upon the mode of treatment.'

'And not a little,' observed Kate.

'Why, my dear, you are right there,' said Miss La Creevy, 'in the main you are right there; though I don't allow that it is of such very great importance in the present case. Ah! The difficulties of Art, my dear, are great.'

'They must be, I have no doubt,' said Kate, humouring her good-natured little friend.

'They are beyond anything you can form the faintest conception of,' replied Miss La Creevy. 'What with bringing out eyes with all one's power, and keeping down noses with all one's force, and adding to heads, and taking away teeth altogether, you have no idea of the trouble one little miniature is.'

'The remuneration can scarcely repay you,' said Kate.

'Why, it does not, and that's the truth,' answered Miss La Creevy; 'and then people are so dissatisfied and unreasonable, that, nine times out of ten, there's no pleasure in painting them. Sometimes they say, "Oh, how very serious you have made me look, Miss La Creevy!" and at others, "La, Miss La Creevy, how very smirking!" when the very essence of a good portrait is, that it must be either serious or smirking, or it's no portrait at all.'

'Indeed!' said Kate, laughing.

'Certainly, my dear; because the sitters are always either the one or the other,' replied Miss La Creevy. 'Look at the Royal Academy! All those beautiful shiny portraits of gentlemen in black velvet waistcoats, with their fists doubled up on round tables, or marble slabs, are serious, you know; and all the ladies who are playing with little parasols, or little dogs, or little children—it's the same rule in art, only varying the objects—are smirking. In fact,' said Miss La Creevy, sinking her voice to a confidential whisper, 'there are only two styles of portrait painting; the serious and the smirk; and we always use the serious for professional people (except actors sometimes), and the smirk for private ladies and gentlemen who don't care so much about looking clever.'

Kate seemed highly amused by this information, and Miss La Creevy went on painting and talking, with immovable complacency.
Have Your Say.
Give your view on 'There are only two styles of portrait painting; the serious and the smirk.' with a rating and help us compile the very best Charles Dickens quotations.
Related.
If you like this, we think you might also be interested in these related quotations: