Introduction.
Yarmouth, more commonly referred to as Great Yarmouth, is a coastal town in the county of Norfolk, England. It is located at the mouth of the River Yare, 20 miles (30 km) east of the city of Norwich. The nineteenth-century author Charles Dickens visited Yarmouth in 1849 and set the town as a key location in his partly autobiographical novel David Copperfield, published the following year.
---
1849 Visit.
On Sunday, 7th January 1849, Charles Dickens and two close friends, the illustrator John Leech and fellow writer Mark Lemon, embarked on a short break to the East Anglia region of England. It was a month before Charles Dickens's 37th birthday he was by then a very famous author both in the United Kingdom and internationally with literary successes including The Pickwick Papers, Oliver Twist, and A Christmas Carol. His wife, Catherine, remained at their London home heavily pregnant with their eighth child, Henry Fielding Dickens (who was born just over a week later).
Dickens, Leech and Lemon first visited the city of Norwich, before going on to see nearby Stanfield Hall, the scene of a recent notorious double-murder. In a case that gripped Victorian society, less than six weeks earlier Norfolk farmer James Bloomfield Rush had murdered his landlord Isaac Jermy (who was also the Recorder of Norwich) and his son at their ancient manor home of Stanfield Hall.
After the visits to Norwich and Stanfield Hall, the three travellers departed for Yarmouth where they stayed at the Royal Hotel on the town's Parade for two nights.
Dickens liked to take long walks for recreation particularly at seaside resorts and during the visit to Yarmouth he walked to Lowestoft and back on the following day, before returning to the Royal Hotel.
The three returned to London, via Cambridge, on Tuesday, 9 January. Although a short visit, Yarmouth would leave Dickens with a lot of inspiration for his writing. At the time, Dickens was about to embark on writing his eighth novel, David Copperfield, which would be published in monthly parts between May 1849 and November 1850.
---
Inspiration for David Copperfield.
Charles Dickens used Yarmouth as a key location in his novel David Copperfield (the first part of which would come out four months after his visit to the town). In the story, the character Clara Peggotty describes the town as "the finest place in the universe".
During his walk to Lowestoft, Dickens saw signs to the Suffolk village of Blundeston, which would become the inspiration for Blundestone, the birthplace of the main character, David Copperfield.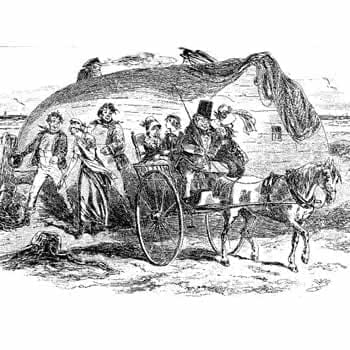 it was well known … that Yarmouth was, upon the whole, the finest place in the universe


David Copperfield, Chapter 3.
---
Legacy.
A number of roads in Yarmouth reflect Dickens's association with the town, including Copperfield Avenue, Dickens Avenue, Micawber Avenue and Peggotty Road. The Royal Hotel still stands (at 4, Marine Parade). A property named Dickens Court can be found in nearby Blundeston village.
---
Locations.
---