Introduction.
Yarmouth, more commonly referred to as Great Yarmouth, is a coastal town in the county of Norfolk, England. It is located at the mouth of the River Yare, 20 miles (30 km) east of Norwich. The Victorian author Charles Dickens visited Yarmouth in 1849 and set the town as a key location in his partly autobiographical novel David Copperfield, published the following year.
---
1849 Visit.
On Sunday 7th January 1849, Charles Dickens and two close friends, the illustrator John Leech and fellow writer Mark Lemon, embarked on a short break to East Anglia. After visiting the city of Norwich they went to see nearby Stanfield Hall, the scene of a recent notorious murder.
After the visit, the three travellers departed for Yarmouth where they stayed at the Royal Hotel on the town's Parade for two nights. Dickens liked to take long walks for recreation particularly at seaside resorts and during the visit to Yarmouth he walked to Lowestoft and back on the following day, before returning to the Royal Hotel. The three returned to London on 9 January. Although a short visit, Yarmouth would leave Dickens with a lot of inspiration for his writing.
---
Inspiration for David Copperfield.
Charles Dickens used Yarmouth as a key location in his novel David Copperfield. In the story, the character Clara Peggotty describes the town as "the finest place in the universe".
During his walk to Lowestoft, Dickens saw signs to the Suffolk village of Blundeston, which would become the inspiration for Blundestone, the birthplace of the main character, David Copperfield.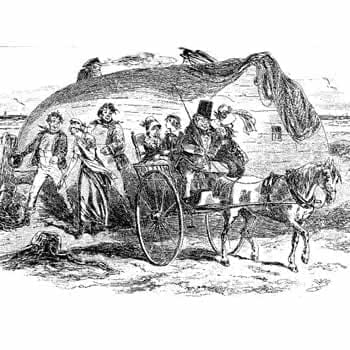 it was well known … that Yarmouth was, upon the whole, the finest place in the universe


David Copperfield, Chapter 3.
---
Legacy.
A number of roads in Yarmouth reflect Dickens's association with the town, including Copperfield Avenue, Dickens Avenue, Micawber Avenue and Peggotty Road. The Royal Hotel still stands (at 4, Marine Parade). A property named Dickens Court can be found in nearby Blundeston village.
---
Locations.
---
Click on the links below to visit open these websites for more information about locations mentioned on this page:
---