The Free Trade Hall in Peter Street, Manchester, England, was a public hall constructed between 1853–56 on St Peter's Fields, the site of the Peterloo Massacre and is now a hotel.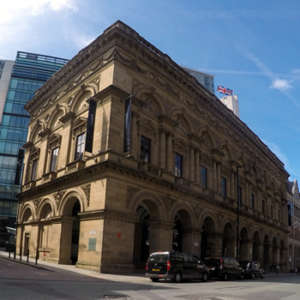 The hall was built to commemorate the repeal of the Corn Laws in 1846. The architect was Edward Walters. The hall was owned by the Manchester Corporation. It was bombed in the Manchester Blitz and its interior rebuilt.
Charles Dickens and the Manchester Free Trade Hall.
In the summer of 1857, Charles Dickens gave readings of his work here including A Christmas Carol.
In August 1857, Charles Dickens put on, and performed in Wilkie Collins's play The Frozen Deep. These performances, in aid of the widow of the dramatist and writer Douglas Jerrold, were given on 21, 22 and 24 August and attended by thousands.
On December 3, 1858, Charles Dickens attended the annual meeting of the Institutional Association of Lancashire and Cheshire at the hall, where he also gave a speech and presented prizes.
In February 1867, Charles Dickens gave a reading of some of his works at the hall. A review was published in the Manchester Guardian on 4 February 1867.
The Free Trade Hall was built next to the Theatre Royal, where Charles Dickens had appeared as a performer in July 1847 in an amateur benefit performance of the 1598 play Every Man In His Humour.
Location.
The Free Trade Hall was converted into a hotel, opened in 2004.