In 1824, when Charles Dickens was just 12, he was sent to work at Warren's Blacking Factory, a warehouse beside the Thames which made boot polish. His primary role there was to stick labels onto the jars of polish.
In a letter sent to one of his closest friends, John Forster, Dickens describes his time at the factory and how he used the name of one of his friends there in a later novel.
The blacking warehouse was the last house on the left-hand side of the way, at old Hungerford Stairs. It was a crazy, tumble-down old house, abutting of course on the river, and literally overrun with rats. Its wainscotted rooms and its rotten floors and staircase, and the old grey rats swarming down in the cellars, and the sound of their squeaking and scuffling coming up the stairs at all times, and the dirt and decay of the place, rise up visibly before me, as if I were there again. The countinghouse was on the first floor, looking over the coal-barges and the river. There was a recess in it, in which I was to sit and work. My work was to cover the pots of paste-blacking: first with a piece of oilpaper, and then with a piece of blue paper, to tie them round with a string; and then to clip the paper close and neat all round, until it looked as smart as a pot of ointment from an apothecary's shop. When a certain number of grosses of pots had attained this pitch of perfection, I was to paste on each a printed label; and then go on again with more pots.

Two or three other boys were kept at similar duty downstairs on similar wages. One of them came up, in a ragged apron and a paper cap, on the first Monday morning, to show me the trick of using the string and tying the knot. His name was Bob Fagin; and I took the liberty of using his name long afterwards, in Oliver Twist.
---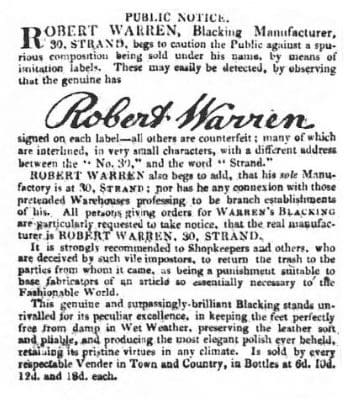 A newspaper advertisement for Warren's Blacking from February 1824, the time Charles Dickens started working for the company. Although produced in London, Warren's blacking was sold nationwide, at a time before trains and when distribution would have been largely by horse and cart.
As one of the most popular brands of blacking polish, counterfeit versions of Warren's were frequent so advertisements often warned of this. In 1827, the company had to take out an injunction against one producer who labelled their own blacking polish as "30", clearly attempting to copy the "30 Strand" address of the Warren's factory that appeared on bottles.
---
Feelings of abandonment.
Being sent to work at the factory when he should have been in education had a profound effect on Dickens. He thought his parents had given up on him and his future, particularly as his elder sister had been sent to a prestigious music school, the Royal Academy of Music. He described his feelings vividly in a letter to his friend John Forster:
It is wonderful to me how I could have been so easily cast away at such an age. It is wonderful to me that, even after my descent into the poor little drudge I had been since we came to London, no one had compassion enough on me—a child of singular abilities: quick eager, delicate, and soon hurt, bodily or mentally—to suggest that something might have been spared, as certainly it might have been to place me at any common school. Our friends, I take it, were tired out. No one made any sign. My father and mother were quite satisfied. They could hardly have been more so, if I had been twenty years of age, distinguished at a grammar school, and going to Cambridge.
---
Legacy.
Despite the fame during his lifetime, Charles Dickens did not reveal to his readership that he had been sent to work at Warren's. The true story only emerged when one of his closest friends, John Forster published a biography of Dickens shortly after his death, in which he included Dickens own letters about the experience.
Dickens often used his experiences in his own works and his time at Warren's was used in the novel David Copperfield when the young boy David is sent to work at Murdstone and Grinby's warehouse. Readers at the time did not know that David Copperfield was a semi-autobiographical work. Also in that novel, the Micawber family take temporary lodging in a "little, dirty, tumble-down public-house" at Hungerford Stairs before emigrating to Australia.
Dickens also made a number of references to feelings of abandonment as a child in other works.
---
Locations.
Warren's Blacking Factory was situated at 30 Hungerford Stairs, just off the Strand in London. A ferry operated at the stairs until 1845 when a footbridge was built. This was replaced in 1863 by a railway bridge.
No trace of the factory remains as the area has long been redeveloped. It is now occupied by Charring Cross Station.
---
Further Reading.
Click here to read quotations by Charles Dickens on the theme of abandonment.
---