Newgate was a notorious London prison, originally built into one of the old gates in the medieval city's wall. It started as a prison in the 12th-century, when rooms above the gatehouse were used to confine petty criminals. The purchase of surrounding land allowed gradually larger premises to be established. The prison was destroyed in the Great Fire of 1666 and rebuilt. It was destroyed again during the Gordon Riots of 1780 and again rebuilt almost immediately.
In 1783, the site of London's gallows was moved from Tyburn to Newgate. Public executions outside Newgate, by this time, London's main prison, continued to draw large crowds, from this time until 1868, when executions were moved to gallows inside a shed within the prison walls.
In 1902, the prison was torn down and in its place now stands the Central Criminal Court, more commonly referred to as the Old Bailey, which opened in 1907.
Charles Dickens and Newgate.
The Victorian writer and social critic Charles Dickens visited Newgate and used the infamous prison in a number of his works. He also witnessed at least one public execution there.

In the sketch 1834 The Old Bailey (renamed Criminal Courts for inclusion in Sketches by Boz), Dickens describes Newgate.
How dreadful its rough heavy walls, and low massive doors, appeared to us – the latter looking as if they were made for the express purpose of letting people in, and never letting them out again.

Criminal Courts.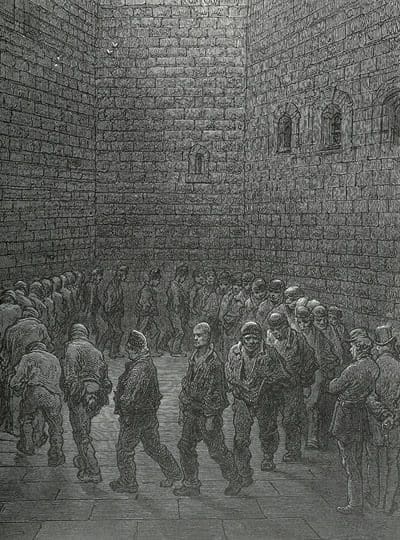 In the 1836 sketch A Visit to Newgate (written for inclusion in the collected work Sketches by Boz), Dickens described a visit to the prison.

In the novel Oliver Twist, Oliver visits Fagin in Newgate and witnesses his hanging.

In Barnaby Rudge, Hugh, Dennis, and Barnaby are imprisoned at Newgate in cells refitted after the prison was burned in the riots.

In Great Expectations, Wemmick and Pip visit the prison while Pip is awaiting the arrival in London of Estella.

On 6 July 1840 Charles Dickens, along with his friend and fellow writer William Makepeace Thackeray, attended the public hanging of François Benjamin Courvoisier outside Newgate prison. A crowd of around 40,000 witnessed the execution. Courvoisier was a Swiss-born valet who was convicted for murdering his employer Lord William Russell at 14 Norfolk Street, Park Lane (now Dunraven Street, Mayfair), in London. Two weeks later, Thackeray wrote the essay On going to see a man hanged about his experiences of the occasion.
---
Location.
London's Central Criminal Court (more commonly referred to today as the Old Bailey), was built on the site of the former prison.
---
Further Reading on The Circumlocution Office.