The modern circus was developed in England by Philip Astley (1742-1814), a former Sergeant Major in the Fifteenth Light Dragoon Regiment and an outstanding horse trainer.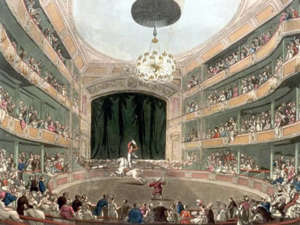 Astley opened an amphitheatre in the Waterloo area of south London in 1773. A popular attraction in the city, Astley's Circus continued on the site until 1893.
Charles Dickens and Astley's Circus.
Charles Dickens was known to have visited Astley's Circus and was a huge admirer. He wrote about the circus at least three times in his works including a sketch in Sketches by Boz, (Scenes, Chapter 11) about the theatre, describing an evening at Astley's in The Old Curiosity Shop (Chapter 39) and a reference to the circus in Hard Times (Book 3, Chapter 7.).
Location.
Astley's Amphitheatre was located on Westminster Bridge Road in Lambeth. Any trace of the building has long since gone.