In June 1865 the Victorian writer Charles Dickens was involved in a train crash as he was travelling back from France with his lover Ellen Ternan and her mother. Dickens helped tend to survivors of the crash, which killed 10 people.
Staplehurst rail crash.
The Staplehurst rail crash was a derailment near Staplehurst, Kent on 9 June 1865 at 3:13 pm. The South Eastern Railway Folkestone to London boat train derailed while crossing the Beult viaduct, a short crossing over a mainly shallow river between Headcron and Staplehurst. A length of track had been removed during engineering works, causing a number of carriages to fall around 10 ft. (3m) into the mud and water below. The accident killed ten passengers and injured over forty.
In a subsequent Board of Trade report it was found that a man had been placed with a red flag 554 yards (507 m) away but the regulations required him to be 1,000 yards (910 m) away and the train had insufficient time to stop. The track was also supposed to be removed when no train was due; however, on 9 June the foreman had misread his timetable as to the schedule that day.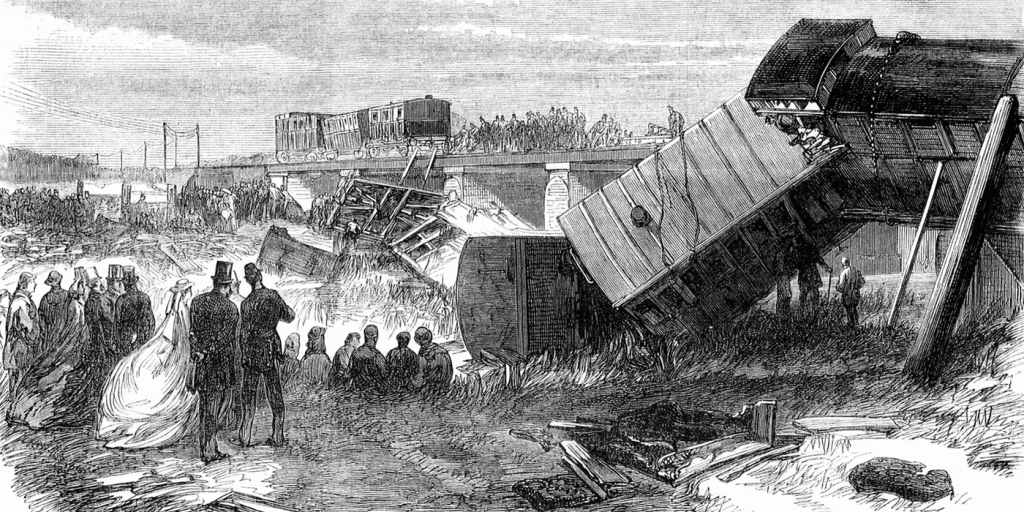 Charles Dickens involvement.
Charles Dickens was travelling with Ellen Ternan and her mother, Frances in a first class carriage, which did not completely fall into the river bed and survived the derailment. He climbed out of the compartment through the window, rescued the Ternan's and, with his flask of brandy and his hat full of water, tended to the victims, some of whom died while he was with them. Before he left with other survivors in an emergency train to London, he retrieved the manuscript of the episode of Our Mutual Friend that he was working on.
An insight into Dickens experience of the crash can be seen in a letter he wrote the following day to his Doctor, Francis Carr Beard, asking for some medicine. Dickens wrote it from the Covent Garden office of his periodical the All the Year Round:
Saturday Tenth June 1865

My dear Frank Beard

I was in the terrible accident yesterday, and worked some hours among the dying and dead.

I was in the carriage that did not go down, but hung in the air over the side of the broken bridge, I was not touched – scarcely shaken. But the terrific nature of the scene makes me think that i should be the better for a gentle composing draught or two.

I must away to Gad's [Dickens' home at Gads Hill, Kent] directly to quiet their minds. John would get made and would bring down any prescription you might let him have here. Don't come to me at Gad's yourself, unless you can stay all night and be comfortable. in that case, do.

Ever Yours

C.D.

(I can't sign my flourish to day!)
The experience affected Dickens greatly; he lost his voice for two weeks and he was two and a half pages short for the sixteenth episode, published in August 1865. Dickens acknowledged the incident in the novel's postscript:
On Friday the Ninth of June in the present year, Mr and Mrs Boffin (in their manuscript dress of receiving Mr and Mrs Lammle at breakfast) were on the South-Eastern Railway with me, in a terribly destructive accident. When I had done what I could to help others, I climbed back into my carriage — nearly turned over a viaduct, and caught aslant upon the turn — to extricate the worthy couple. They were much soiled, but otherwise unhurt. […] I remember with devout thankfulness that I can never be much nearer parting company with my readers for ever than I was then, until there shall be written against my life, the two words with which I have this day closed this book: — THE END.
After the crash, Charles Dickens was nervous when travelling by train, using alternative means when available. He died five years to the day after the accident; his son said that 'he had never fully recovered'.
Locations.