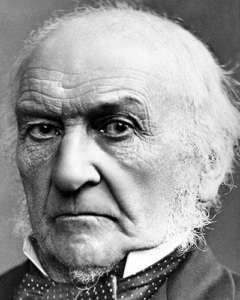 William Gladstone, was a British Liberal politician. In a career lasting over sixty years, he served as Prime Minister four separate times. One of the dominant political figures of the Victorian era and a passionate campaigner on a huge variety of issues, including home rule for Ireland.
Early Life.
William Ewart Gladstone was born on 29 December 1809 in Liverpool, the son of a prosperous merchant. He was educated at Eton and Oxford University and was elected to parliament in 1832, as a Tory. He made his mark from the start and held junior offices in Robert Peel's government of 1834 – 1835. Although he was slowly moving towards liberalism, in 1843 Gladstone entered Peel's Conservative cabinet. When the Conservatives split in 1846, Gladstone followed Peel in becoming a Liberal-Conservative. Between 1846 and 1859 Gladstone was politically isolated, although he held some cabinet posts, including chancellor of the exchequer, a position he would ultimately hold three times.
Liberal Party.
In 1859, he joined the Liberals, becoming their leader in 1867 and the following year, prime minister for the first time. His government created a national elementary programme and made major reforms in the justice system and the civil service. Ireland was always a focus for Gladstone. In 1869 he disestablished the Irish Protestant church and passed an Irish Land Act to rein-in unfair landlords. A heavy defeat in the 1874 general election led to Gladstone's arch-rival Benjamin Disraeli becoming Conservative prime minister, and Gladstone retired as Liberal leader. He remained a formidable government opponent, attacking the Conservatives over their failure to respond to Turkish brutality in the Balkans – the 'Eastern Crisis'.
In 1880, Gladstone became prime minister for the second time, combining this with the office of chancellor for two years. His failure to rescue General Charles Gordon from Khartoum and slow reaction to other imperial issues cost him dear, and in 1885 the government's budget was defeated, prompting him to resign.
Gladstone's third (1886) and fourth (1892 – 1894) terms as prime minister were dominated by his crusade for home rule in Ireland. The years he was out of office were devoted to the issue as well. His first home rule bill in 1886 split the Liberal Party and was rejected. In 1893, another home rule bill was rejected by the House of Lords. Gladstone found himself increasingly at odds with his cabinet and, in 1894, he resigned. He died of cancer on 19 May 1898 and was buried in Westminster Abbey.
Further Reading.
Click here to view the Wikipedia entry for William Gladstone.