Origins.
In 1601 the Elizabethan Poor Law Act was passed, making the relief of poverty the responsibility of each local parish. The cost of poor relief had increased hugely during the time of the French Wars (1793-1815) and attitudes towards the poor had hardened. Poverty increased widely as the war put a stranglehold on cheap imports, especially grain.
In 1816 a Parliamentary Select Committee into the operation of the Poor Laws was set up. Many landowners wanted the government to undertake a reform of the poor laws in order to reduce the levels of relief they had to provide. In the 1820s a number of reforms were made to reduce the cost of poor relief. This included a number of 'workhouses', built as an alternative to giving outdoor poverty relief. Those needing help would have to enter a workhouse to qualify for poor relief, but conditions were deliberately harsh, the routines were monotonous and families were separated.
Conditions.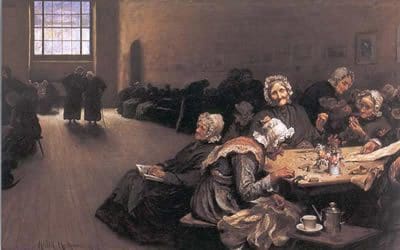 Workhouses were intended to discourage people from applying for poor relief and did so in a manner that was cruel and what today would be seen as inhuman. The infirm and the able-bodied were housed separately and given very basic and monotonous food such as gruel (a watery porridge), or bread and cheese. All inmates had to wear the rough workhouse uniform and sleep in communal dormitories, with supervised baths were given once a week.
The able-bodied were given hard work tasks which included breaking stones apart, crushing bones (to make fertiliser) or the collecting of oakum (by picking apart old ropes). The elderly and infirm sat around in the day-rooms or sick-wards with little opportunity for visitors. Parents were only allowed limited contact time with their children. If the intention of the workhouses was to discourage people from applying for poor relief and it was remarkably successful but created an underclass of the sick and infirm who were forced into them.
By the 1850s, the majority of those forced into the workhouse were not the work-shy, but the old, the infirm, the orphaned, unmarried mothers, and the physically or mentally ill.