Born into a wealthy connected family, Florence Nightingale (1820 – 1910) shunned her intended middle class upbringing for a career in nursing, becoming superintendent of a hospital for gentlewomen in Harley Street, in 1853.
Sidney Herbert, the war minister during the Crimean War, already knew Nightingale, and asked her to oversee a team of nurses in the military hospitals in Turkey. In 1854 she led an expedition of 38 women to take over the management of the barrack hospital at Scutari where she observed the disastrous sanitary conditions.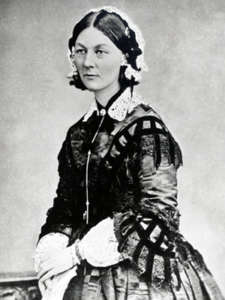 Florence Nightingale returned to England in 1856, following the end of the Crimean War, establishing the Nightingale Training School for nurses at St Thomas' Hospital in London four years later. Once the nurses were trained, they were sent to hospitals all over Britain, where they introduced the ideas they had learned, and established nursing training on the Nightingale model. Nightingale's theories, published in Notes on Nursing (1860), were hugely influential and her concerns for sanitation, military health and hospital planning established practices which are still in existence today.