Monarchy.
(1819 – 1901) was the Queen of the United Kingdom from 1837 until her death in 1901, and after whom the Victorian Era is named. During her reign she saw a huge expansion of the British Empire. In 1876 she also became Empress of India. Victoria married her first cousin, Prince Albert of Saxe-Coburg and Gotha, in 1840. They had nine children who married into royal and noble families across the continent.
[/threecol_two]
[threecol_one_last]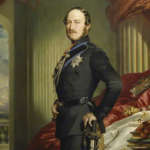 (1819 – 1861) Prince Albert of Saxe-Coburg and Gotha was the husband and consort of Queen Victoria. Victoria depended on his support and guidance. When Albert died at the age of just 42 it plunged the Queen into deep mourning.
[/threecol_one_last]
Engineering.
(1819 – 1891) Civil engineer who created a sewer network for London, instrumental in relieving the city from cholera epidemics.
[/threecol_one]
(1806 – 1859) One of the most influential civil engineers during the Victorian Era. Brunel built the Great Western Railway running from London to Bristol and developed powerful steam ships.
[/threecol_one]
[threecol_one_last]
(1781 – 1848) Called the Father of the railways, Stephenson, built the world's first railways (including Manchester, Liverpool line) and changing the face of Victorian society.
[/threecol_one_last]
Science.
(1791 – 1871) Mathematician, philosopher, inventor and mechanical engineer. Babbage is credited with inventing the first mechanical computer that eventually led to more complex electronic designs and originated the concept of a digital programmable computer.
[/threecol_one]
(1809 – 1882) English naturalist and geologist, best known for his contributions to evolutionary theory. Darwin published his theory of evolution with compelling evidence in his 1859 book On the Origin of Species.
[/threecol_one]
[threecol_one_last]
(1804 – 1892) was an English biologist, comparative anatomist and paleontologist. Despite being a controversial figure, Owen is generally considered to have been an outstanding naturalist with a remarkable gift for interpreting fossils.
[/threecol_one_last]
Medicine.
(1836 – 1917) Pioneering physician and political campaigner. The first Englishwoman to qualify as a doctor, she went on to open a school of medicine for women and helped pave the way for women's medical education in Britain.
[/threecol_one]
(1827 – 1912) British surgeon and a pioneer of antiseptic surgery, who successfully introduced a process of sterilising surgical instruments and cleaning wounds, which led to a reduction in post-operative infections and made surgery safer for patients.
[/threecol_one]
[threecol_one_last]
(1820 -1910) Pioneering nurse who served as a nurse in the Crimean war and helped to raise standards of hospitals and the nursing profession.
[/threecol_one_last]
Social Reformers.
(1829 – 1912) Methodist minister. Founded the Salvation Army, a Christian organisation dedicated to reducing poverty and 'saving souls'. Deeply influenced by his wife Catherine Booth, on equal rights for men and women. Created a 'model' factory to help women afflicted at an east London match-factory.
[/threecol_one]
(1828 – 1906) Methodist minister and feminist. Campaigned for women's suffrage, the right of women to better education, the end of coverture in British law, abolition of child prostitution, and an end to human trafficking of young women and children into European prostitution.
[/threecol_one]
[threecol_one_last]
Octavia Hill
(1838-1912) Pioneer of social housing, aided by fellow reformer John Ruskin. Campaigned for availability of open spaces for poor people and helped to save London's Hampstead Heath and Parliament Hill Fields from development. One of the initial founders of the National Trust,
[/threecol_one_last]
John Stuart Mill
(1806–1873) Philosopher, political economist and civil servant. One of the most influential thinkers in the history of liberalism. Contributed widely to social theory, political theory and political economy. Proponent of utilitarianism. Campaigned for the emancipation of women.
[/threecol_one]
(1819 – 1900) Leading English art critic of the Victorian era, also an art patron, draughtsman, watercolourist, prominent social thinker and philanthropist.
[/threecol_one]
[threecol_one_last]
(1801 – 1885) Anthony Ashley Cooper, 7th Earl of Shaftesbury was an English politician, philanthropist and social reformer. Campaigns included the protection of children in factories and mines, chimney sweeps, public health legislation and the proper treatment of mentally ill people.
[/threecol_one_last]
Politics.
(1804 – 1881) British Prime Minister and close friend of Queen Victoria. Associated with 'One Nation' Conservatism and the expansion of the British Empire.
[/threecol_one]
(1809 – 1898) Liberal Prime Minister. He served as the Prime Minister on four occasions, and as Chancellor of Exchequer on 4 occasions. Considered to have the epitome of Victorian moral values.
[/threecol_one]
[threecol_one_last]
(1788 – 1850) Conservative British Prime Minister for two terms, probably best known for creating the police force during his term as Home Secretary (nicknamed the 'Peelers' after him).
[/threecol_one_last]