Background.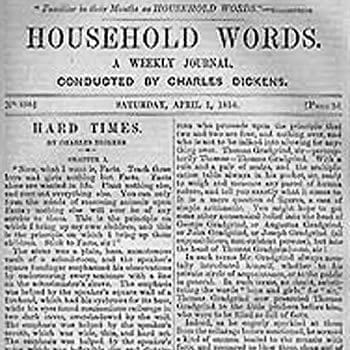 Hard Times – For These Times (more commonly now known as Hard Times) is the tenth novel by Charles Dickens. It first appeared in weekly parts, published in Household Words, from April to August 1854. The shortest of Dickens' novels, the story is set in the fictitious northern English industrial mill-town of Coketown.
Context.
Quotation said by Stephen Blackpool, the downtrodden mill worker in Coketown to Rachael, a co-worker and close friend who helps him during difficult times.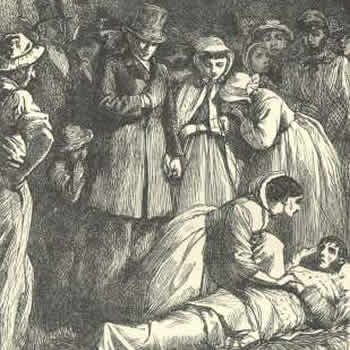 Source.
Taken from the following passage in Book 1, Chapter 13 (Rachael) of Hard Times:
The wind brought the sounds of the church clock to the window. They listened, and it struck three. Stephen looked at her, saw how pale she was, noted the disorder of her hair, and the red marks of fingers on her forehead, and felt assured that his senses of sight and hearing had been awake. She held the cup in her hand even now.

'I thought it must be near three,' she said, calmly pouring from the cup into the basin, and steeping the linen as before. 'I am thankful I stayed! 'Tis done now, when I have put this on. There! And now she's quiet again. The few drops in the basin I'll pour away, for 'tis bad stuff to leave about, though ever so little of it.' As she spoke, she drained the basin into the ashes of the fire, and broke the bottle on the hearth.

She had nothing to do, then, but to cover herself with her shawl before going out into the wind and rain.

'Thou'lt let me walk wi' thee at this hour, Rachael?'

'No, Stephen. 'Tis but a minute, and I'm home.'

'Thou'rt not fearfo';' he said it in a low voice, as they went out at the door; 'to leave me alone wi' her!'

As she looked at him, saying, 'Stephen?' he went down on his knee before her, on the poor mean stairs, and put an end of her shawl to his lips.

'Thou art an Angel. Bless thee, bless thee!'

'I am, as I have told thee, Stephen, thy poor friend. Angels are not like me. Between them, and a working woman fu' of faults, there is a deep gulf set. My little sister is among them, but she is changed.'

She raised her eyes for a moment as she said the words; and then they fell again, in all their gentleness and mildness, on his face.

'Thou changest me from bad to good. Thou mak'st me humbly wishfo' to be more like thee, and fearfo' to lose thee when this life is ower, and a' the muddle cleared awa'. Thou'rt an Angel; it may be, thou hast saved my soul alive!'

She looked at him, on his knee at her feet, with her shawl still in his hand, and the reproof on her lips died away when she saw the working of his face.

'I coom home desp'rate. I coom home wi'out a hope, and mad wi' thinking that when I said a word o' complaint I was reckoned a unreasonable Hand. I told thee I had had a fright. It were the Poison-bottle on table. I never hurt a livin' creetur; but happenin' so suddenly upon 't, I thowt, "How can I say what I might ha' done to myseln, or her, or both!"'

She put her two hands on his mouth, with a face of terror, to stop him from saying more. He caught them in his unoccupied hand, and holding them, and still clasping the border of her shawl, said hurriedly:

'But I see thee, Rachael, setten by the bed. I ha' seen thee, aw this night. In my troublous sleep I ha' known thee still to be there. Evermore I will see thee there. I nevermore will see her or think o' her, but thou shalt be beside her. I nevermore will see or think o' anything that angers me, but thou, so much better than me, shalt be by th' side on't. And so I will try t' look t' th' time, and so I will try t' trust t' th' time, when thou and me at last shall walk together far awa', beyond the deep gulf, in th' country where thy little sister is.'

He kissed the border of her shawl again, and let her go. She bade him good night in a broken voice, and went out into the street.
Characters.
Stephen Blackpool.
One of Charles Dickens's more tragic characters, Stephen Blackpool is a worker at one of Josiah Bounderby's factories in the filthy mill-town of Coketown. Stephen is aged 40 but is nicknamed 'old Stephen' due to his looks from a hard life. He married 19 years previously but is now estranged from his wife due to her drunken behaviour, although she reappears in his life from time to time. Stephen is unable to divorce his wife due to the cost involved, despite being the burden she brings to him. He forms a close bond with Rachael, a co-worker, whom he wishes to marry. After a dispute with Bounderby, he is dismissed from his work and, shunned by his former fellow workers, is forced to look for work elsewhere. While absent from Coketown, he is wrongly accused of robbing Bounderby's bank. On his way back to vindicate himself, a fall down an abandoned mine-shaft has tragic consequences.
Rachael.
Rachael is a worker at one of Josiah Bounderby's factories in the polluted mill-town of Coketown. She is close friends with co-worker Stephen Blackpool and helps him with his troubles, which include coping with the alcoholic and erratic wife he has separated from. Rachael is aged 35 and described as having a quiet oval face with very gentle eyes and shining black hair.
Theme Analysis: Unhappy Marriages.
Charles Dickens included topical social issues in his works and one such theme in Hard Times was unhappy marriages. Both Stephen Blackpool and Louisa Gradgrind are trapped in unhappy marriages. In the early years of Queen Victoria's reign, there was a growing movement for reform of divorce law. At the time the only way of obtaining a full divorce that allowed re-marriage was by a Private Act of Parliament. Between 1700 and 1857 there were just 314 such Acts, most initiated by a husband wanting to leave their wife. Those at the lower end of the social spectrum were stuck in unhappy marriages leading to abuse, infidelity and desertion. Court proceedings and workhouse reports are littered with reports of women abandoned by their husbands who simply fled to set up a new life. The character Stephen Blackpool is kind-hearted and good-natured. He doesn't want to simply abandon his drunken wife, even though he has strong affections for co-worker Rachael, and seeks answers to find a proper way to obtain a divorce. The clamour for reform at this time culminated in the setting up of a Royal Commission at the beginning of the 1850's to look at the issue. In 1853 it recommended the transferral of divorce proceedings from Parliament to a civil court, proposals that were carried out in the Matrimonial Causes Act of 1857. However, the grounds for divorce remained substantially the same, with adultery remaining the sole ground for divorce, although wives could now allege cruelty and desertion, in addition to the husband's adultery, in order to obtain a divorce.
Have Your Say.
Give your view on 'Thou changest me from bad to good' with a rating and help us compile the very best Charles Dickens quotations.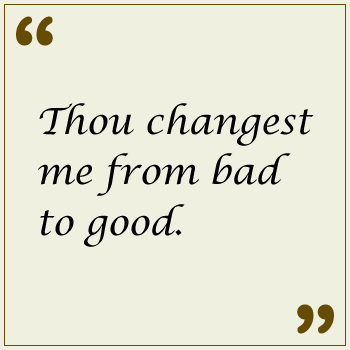 Related.
If you like this, we think you might also be interested in these related quotations: