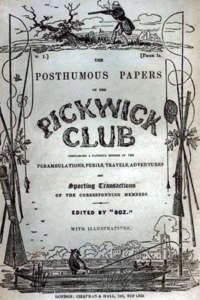 The Posthumous Papers of the Pickwick Club, more commonly now known as simply The Pickwick Papers was Charles Dickens's first novel, first published between 1836 and 1837.
Tragic Beginnings.
Following his success as an up-and-coming writer with Sketches by Boz, Charles Dickens was asked to contribute to a new project by the publishers Chapman and Hall. The firm had recently had success with the Squib Annual of Poetry, Politics, and Personalities by the illustrator Robert Seymour. Seymour had an idea for a new book based on the exploits of a group of cockney sportsman which he would illustrate and Dickens write some narrative. Dickens was interested but suggested that the characters be a group of men travelling the country on adventures and would appear in monthly episodes. Chapman and Hall like Dickens's idea and he wrote the first two installments which were illustrated by Seymour. However, by the third episode, said to be crushed that his original concept had not been adopted, Seymour committed suicide.
The Story.
Written for publication as a serial by Charles Dickens, The Pickwick Papers is a sequence of loosely-related adventures revolving around a small group of gentleman travelling southern England in the 1820's. The novel's main character, Samuel Pickwick, is a kind and wealthy old gentleman, and the founder and perpetual president of the Pickwick Club.
To extend his researches into the quaint and curious phenomena of life, he suggests that he and three other 'Pickwickians' (Nathaniel Winkle, Augustus Snodgrass, and Tracy Tupman) should make journeys to places remote from London and report on their findings to the other members of the club. Later on in the serial Charles Dickens introduced the character of the comic cockney Sam Weller as a personal servant to Samuel Pickwick, and with his own take on the adventures.
Publication.
The novel was published in one shilling installments of 19 issues over the 20 months between March 1836 and October 1837. The last was double-length and cost two shillings. The installments were first published in book form in 1837.
Personal circumstances.
The Pickwick Papers was started whilst Charles Dickens was living at Furnival's Inn and completed at Doughty Street. He also wrote parts whilst holidaying at lodgings in Broadstairs, Kent.
There was no edition produced in May 1837 after Dickens missed a deadline whilst mourning for his sister-in-law Mary Hogarth, who died suddenly at the family home at Doughty Street. He also missed an edition of Oliver Twist, which he was writing at the same time.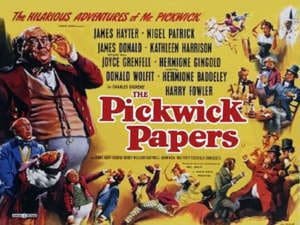 Read The Pickwick Papers.
You can read all of The Pickwick Papers on The Circumlocution Office.