Background.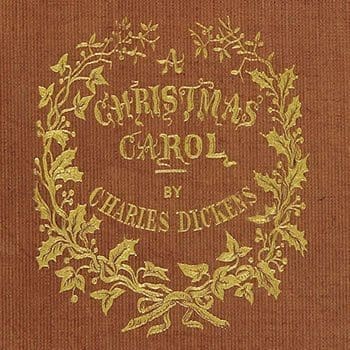 'The shouts of wonder and delight with which the development of every package was received!' is a quotation from A Christmas Carol (Stave 2).
A Christmas Carol is a novella, or short story, written by Charles Dickens and first published in the Christmas of 1843. The allegorical tale tells the story of the transformation of the mean-spirited Ebenezer Scrooge through the visits of the spirit of his former business partner and three ghosts over the course of a Christmas Eve night. It remains a much-loved traditional Christmas tale.
Context.
Quotation describing the joy of the receiving and opening of presents at Christmas time. The presents are being given out by the husband of the character Belle to their children, in a vision witnessed by Ebenezer Scrooge and the Ghost of Christmas Past.
In his youth, Scrooge was engaged to Belle, who broke off the relationship as Ebenezer became a meaner individual. In Stave 2 of A Christmas Carol, the Ghost of Christmas Past has transported Scrooge to relive this scene. Scrooge pleads to the ghost to show me no more! but the spirit pinioned him in both his arms and forces Scrooge to watch scenes of how Belle's life has turned out without Scrooge. Belle is now grown-up and married with children. It is Christmas and she has just been joyfully playing with her daughter and sons, who were boisterously running around, when her husband returns with brown-paper parcels, gifts for the children at this festive time.
Scrooge sees the joy this traditional act of giving at this time of the year brings to the children, part of the theme of Christmas that runs through the novella.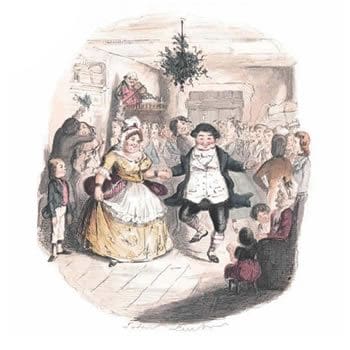 Themes in A Christmas Carol: Christmas.
As reflected in the title the theme of Christmas is central to the novella A Christmas Carol. Christmas is a traditional Christian celebration of the birth of Christ. Occurring around the Winter Solstice (the longest night of the year) has led to traditions from other cultures and religions being incorporated over time including Pagan, Roman and Greek. Dickens incorporates a number of these traditions into A Christmas Carol, such as the bringing together of family and friends, feasting of food, gathering around a fire, the singing of carols, the figure of Saint Nicholas (also known as Santa Claus/Father Christmas), the giving of presents and attending church. At the start of the story we see the miserly misanthropic character Ebenezer Scrooge reject many of these traditions. He represents the opposite of human traits we associate with Christmas such as generosity and compassion. Through his transformation, towards the end of the story we can see Scrooge adopt the spirit of Christmas such as happiness, generosity and kindness.
Source.
Taken from the following passage in Stave 2 (The First Of The Three Spirits) of A Christmas Carol:
They were in another scene and place; a room, not very large or handsome, but full of comfort. Near to the winter fire sat a beautiful young girl, so like that last that Scrooge believed it was the same, until he saw her, now a comely matron, sitting opposite her daughter. The noise in this room was perfectly tumultuous, for there were more children there, than Scrooge in his agitated state of mind could count; and, unlike the celebrated herd in the poem, they were not forty children conducting themselves like one, but every child was conducting itself like forty. The consequences were uproarious beyond belief; but no one seemed to care; on the contrary, the mother and daughter laughed heartily, and enjoyed it very much; and the latter, soon beginning to mingle in the sports, got pillaged by the young brigands most ruthlessly. What would I not have given to be one of them! Though I never could have been so rude, no, no! I wouldn't for the wealth of all the world have crushed that braided hair, and torn it down; and for the precious little shoe, I wouldn't have plucked it off, God bless my soul! to save my life. As to measuring her waist in sport, as they did, bold young brood, I couldn't have done it; I should have expected my arm to have grown round it for a punishment, and never come straight again. And yet I should have dearly liked, I own, to have touched her lips; to have questioned her, that she might have opened them; to have looked upon the lashes of her downcast eyes, and never raised a blush; to have let loose waves of hair, an inch of which would be a keepsake beyond price: in short, I should have liked, I do confess, to have had the lightest licence of a child, and yet to have been man enough to know its value.

But now a knocking at the door was heard, and such a rush immediately ensued that she with laughing face and plundered dress was borne towards it the centre of a flushed and boisterous group, just in time to greet the father, who came home attended by a man laden with Christmas toys and presents. Then the shouting and the struggling, and the onslaught that was made on the defenceless porter! The scaling him with chairs for ladders to dive into his pockets, despoil him of brown-paper parcels, hold on tight by his cravat, hug him round his neck, pommel his back, and kick his legs in irrepressible affection! The shouts of wonder and delight with which the development of every package was received! The terrible announcement that the baby had been taken in the act of putting a doll's frying-pan into his mouth, and was more than suspected of having swallowed a fictitious turkey, glued on a wooden platter! The immense relief of finding this a false alarm! The joy, and gratitude, and ecstasy! They are all indescribable alike. It is enough that by degrees the children and their emotions got out of the parlour, and by one stair at a time, up to the top of the house; where they went to bed, and so subsided.

And now Scrooge looked on more attentively than ever, when the master of the house, having his daughter leaning fondly on him, sat down with her and her mother at his own fireside; and when he thought that such another creature, quite as graceful and as full of promise, might have called him father, and been a spring-time in the haggard winter of his life, his sight grew very dim indeed.
Characters.
Ebenezer Scrooge.
Ebenezer Scrooge is one of the most famous characters created by Charles Dickens and arguably one of the most famous in English literature. The protagonist of A Christmas Carol, Scrooge is a cold-hearted and mean-spirited accountant. His business partner, the equally mean Jacob Marley, died seven years previous and he lives alone, having never married. Through a visit one Christmas Eve by the ghost of Marley and three subsequent spirits, Scrooge is awakened to his meanness and the impact it has on others.
The term Scrooge has entered the English Language to represent a mean person, known as a literary neologism. Neologisms are relatively recent terms, words, or phrases in the process of entering common use. Other examples of Dickens's neologisms include butterfingers (to mean a clumsy person) and doormat (a metaphor for taking advantage of a person).
In screen adaptations of A Christmas Carol, the character of Ebenezer Scrooge has been played by actors that include Alastair Sim (1951 film), Albert Finney (1970 musical film), Michael Hordern (1977 TV Movie), George C. Scott (1984 TV Movie), Michael Caine (1992 musical fantasy film), Patrick Stewart (1999 TV Movie) and Guy Pearce (2019 TV Mini-Series). Michael Hordern had previously appeared alongside Alastair Sim in the 1951 film (titled Scrooge), this time playing the character of Jacob Marley.
Belle.
Belle is a minor character in the novella A Christmas Carol, only appearing in the visions that are shown to Ebenezer Scrooge by the Ghost of Christmas Past (Stave 2). Scrooge was engaged to be married to Belle in his youth, but when his pursuit of money consumed him, Belle ended the relationship. Without Scrooge, Belle goes on to become a happily married woman with a number of children. In Stave 2 we witness the scene of Belle breaking up with Scrooge, and also of Belle as a married woman in a cozy house with children happily playing.
Have Your Say.
Give your view on 'The shouts of wonder and delight with which the development of every package was received!' with a rating and help us compile the very best Charles Dickens quotations.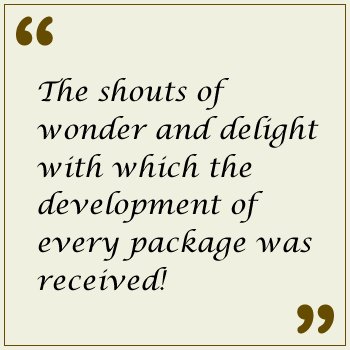 Related.
If you like this, we think you might also be interested in these related quotations: