Background.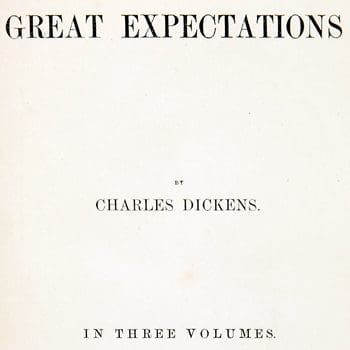 'The effort of resolution necessary to the achievement of this purpose I found to be quite awful' is a quotation from Great Expectations (Chapter 2).
Context.
This quotation is a description of Pip's emotions of guilt, expressed by him as the first-person narrator of Great Expectations. It is one of many feelings of guilt Pip express throughout the story.
Earlier that afternoon (Chapter 1), Pip was seized by the escaped convict Abel Magwitch whilst visiting the local churchyard and threatened. Magwitch has forced Pip to steal some provisions and a file from home and bring them to him the following morning.
In Chapter 2 of the novel, Pip is at the dinner table with his older sister Mrs. Joe Gargery and her husband. Mrs. Joe has prepared some bread and butter for everyone to eat. Pip plans to steal food from the pantry later for Magwitch. But fearful of not being able to steal unnoticed from the pantry, he decides to hide the bread and butter from the dinner table so that he may 'have something in reserve'. He tries to summon the courage to hide the bread and butter but is overcome with a sense of guilt and worry, made all the difficult because he normally has a friendly eating competition with Joe when they have eaten slices in the past.
Pip eventually manages to hide the bread, much to the consternation of Joe, who is worried about Pip bolting his food too fast. This incurs the wrath of Mrs. Joe, who administers tar-water to both of them.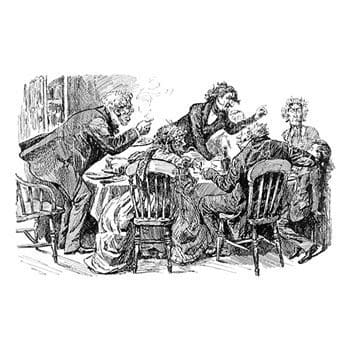 Chapter Summary.
Great Expectations Chapter 2.
Chapter 2 of Great Expectations begins with Pip, as narrator, expanding on the home-life he briefly introduced us to in the previous chapter. We learn his sister, Mrs. Joe Gargery, is much older than Pip, that she is 'not a good-looking woman', that she prides herself on having brought up Pip 'by hand', and that she possesses an angry temper. By contrast, Joe is a 'mild, good-natured, sweet-tempered, easy-going' man who displays kindness and concern towards Pip, although is emotionally weak, described as 'a sort of Hercules in strength, and also in weakness'. In the chapter, we witness a display of the emotional and physical abuse Mrs. Joe metes out to Pip and also to Joe.
The chapter goes on to continue the story of Pip returning home from his traumatic visit to the churchyard. He finds Joe alone, warning him that Mrs. Joe is out looking for him and is in a rage. Mrs. Joe angrily returns, using her cane (ironically called 'tickler') to draw out Pip from hiding behind a door before throwing him to the other side of the room, where Joe attempts to shield him from any further harm. She quizzes Pip on his whereabouts before the three sit down to dinner. Pip manages to hide bread down his trousers (to give to the hungry man he has just met in case he is unable to get any other food). Joe notices that the bread has apparently been eaten far too quickly, incurring the wrath of Mrs. Joe who doles out tar-water to Pip as medicine, before administering it to Joe as well.
Being Christmas Eve, Pip helps prepare the pudding but hears distant shots fired. Joe explains that the guns were a warning of another escaped convict from the nearby prison ships (hulks), coming after another escape the previous day. Mrs. Joe. resents Pip asking further questions, telling him to 'ask no questions, and you'll be told no lies', but he continues to ask about the prison ships before being told to go to bed. The next morning, Pip wakes early and steals some food from the pantry, including bread, cheese, brandy, and a pork pie. He also steals a file from Joe's forge. Pip runs off to meet the convict he knows will be expecting him to be at the old battery on the misty marshes.
Bringing someone up 'by hand' was a reference to raising a baby without breastfeeding (a risky practice at the time). However, Pip humorously repeats the term as a euphemism for Mrs. Joe's forceful manner, with her physical beatings and emotional bullying.
Source.
Taken from the following passage in Chapter 2 of Great Expectations:
My sister had a trenchant way of cutting our bread and butter for us, that never varied. First, with her left hand she jammed the loaf hard and fast against her bib,—where it sometimes got a pin into it, and sometimes a needle, which we afterwards got into our mouths. Then she took some butter (not too much) on a knife and spread it on the loaf, in an apothecary kind of way, as if she were making a plaster,—using both sides of the knife with a slapping dexterity, and trimming and moulding the butter off round the crust. Then, she gave the knife a final smart wipe on the edge of the plaster, and then sawed a very thick round off the loaf: which she finally, before separating from the loaf, hewed into two halves, of which Joe got one, and I the other.

On the present occasion, though I was hungry, I dared not eat my slice. I felt that I must have something in reserve for my dreadful acquaintance, and his ally the still more dreadful young man. I knew Mrs. Joe's housekeeping to be of the strictest kind, and that my larcenous researches might find nothing available in the safe. Therefore I resolved to put my hunk of bread and butter down the leg of my trousers.

The effort of resolution necessary to the achievement of this purpose I found to be quite awful. It was as if I had to make up my mind to leap from the top of a high house, or plunge into a great depth of water. And it was made the more difficult by the unconscious Joe. In our already-mentioned freemasonry as fellow-sufferers, and in his good-natured companionship with me, it was our evening habit to compare the way we bit through our slices, by silently holding them up to each other's admiration now and then,—which stimulated us to new exertions. To-night, Joe several times invited me, by the display of his fast diminishing slice, to enter upon our usual friendly competition; but he found me, each time, with my yellow mug of tea on one knee, and my untouched bread and butter on the other. At last, I desperately considered that the thing I contemplated must be done, and that it had best be done in the least improbable manner consistent with the circumstances. I took advantage of a moment when Joe had just looked at me, and got my bread and butter down my leg.

Joe was evidently made uncomfortable by what he supposed to be my loss of appetite, and took a thoughtful bite out of his slice, which he didn't seem to enjoy. He turned it about in his mouth much longer than usual, pondering over it a good deal, and after all gulped it down like a pill. He was about to take another bite, and had just got his head on one side for a good purchase on it, when his eye fell on me, and he saw that my bread and butter was gone.
Characters.
Philip Pirrip (Pip).
Philip Pirrip, called Pip, is the protagonist and narrator in Charles Dickens's novel Great Expectations. He is amongst the most popular characters in English literature. Pip narrates his story many years after the events of the novel take place, starting as a young orphan boy being raised by his sister and brother-in-law in the marshes of north Kent. The novel follows Pip's progress from childhood innocence to adulthood, where we see a financial and social rise. But these fortunes are offset by an emotional and moral deterioration, which forces Pip to recognise his negative expectations in a new self-awareness.
My father's family name being Pirrip, and my Christian name Philip, my infant tongue could make of both names nothing longer or more explicit than Pip. So, I called myself Pip, and came to be called Pip.

Opening lines of Great Expectations.
In screen adaptations of Great Expectations, the character of Pip has been played by such actors as Jack Pickford (1917 film), John Mills (1946 film), Michael York (1974 TV movie), Ioan Gruffudd (1999 TV movie), and Jeremy Irvine (2012 film).
Have Your Say.
Give your view on 'The effort of resolution necessary to the achievement of this purpose I found to be quite awful' with a rating and help us compile the very best Charles Dickens quotations.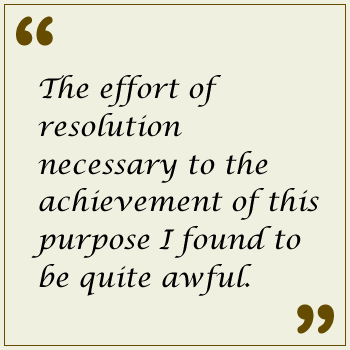 Related.
If you like this, we think you might also be interested in these related quotations: