Background.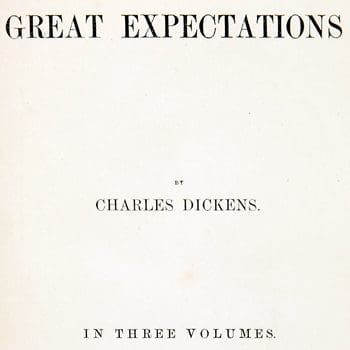 'Suffering has been stronger than all other teaching, and has taught me to understand what your heart used to be' is a quotation from Great Expectations (Chapter 59).
Context.
Quotation said by Estella to Pip, in the closing paragraphs of the novel Great Expectations. Estella is reflecting on her friendship with Pip.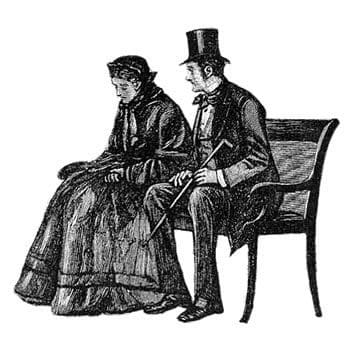 Source.
Taken from the following passage in Chapter 59 of Great Expectations:
Estella was the next to break the silence that ensued between us.

"I have very often hoped and intended to come back, but have been prevented by many circumstances. Poor, poor old place!"

The silvery mist was touched with the first rays of the moonlight, and the same rays touched the tears that dropped from her eyes. Not knowing that I saw them, and setting herself to get the better of them, she said quietly,—

"Were you wondering, as you walked along, how it came to be left in this condition?"

"Yes, Estella."

"The ground belongs to me. It is the only possession I have not relinquished. Everything else has gone from me, little by little, but I have kept this. It was the subject of the only determined resistance I made in all the wretched years."

"Is it to be built on?"

"At last, it is. I came here to take leave of it before its change. And you," she said, in a voice of touching interest to a wanderer,—"you live abroad still?"

"Still."

"And do well, I am sure?"

"I work pretty hard for a sufficient living, and therefore—yes, I do well."

"I have often thought of you," said Estella.

"Have you?"

"Of late, very often. There was a long hard time when I kept far from me the remembrance of what I had thrown away when I was quite ignorant of its worth. But since my duty has not been incompatible with the admission of that remembrance, I have given it a place in my heart."

"You have always held your place in my heart," I answered.

And we were silent again until she spoke.

"I little thought," said Estella, "that I should take leave of you in taking leave of this spot. I am very glad to do so."

"Glad to part again, Estella? To me, parting is a painful thing. To me, the remembrance of our last parting has been ever mournful and painful."

"But you said to me," returned Estella, very earnestly, "'God bless you, God forgive you!' And if you could say that to me then, you will not hesitate to say that to me now,—now, when suffering has been stronger than all other teaching, and has taught me to understand what your heart used to be. I have been bent and broken, but – I hope – into a better shape. Be as considerate and good to me as you were, and tell me we are friends."

"We are friends," said I, rising and bending over her, as she rose from the bench.

"And will continue friends apart," said Estella.

I took her hand in mine, and we went out of the ruined place; and, as the morning mists had risen long ago when I first left the forge, so the evening mists were rising now, and in all the broad expanse of tranquil light they showed to me, I saw no shadow of another parting from her.
Characters.
Estella.
Estella is Miss Havisham's beautiful young ward. Although she grows up not knowing who her real parents are, Pip later discovers she is the child of the convict Abel Magwitch and Molly (who becomes Mr. Jagger's housekeeper). Mr. Jaggers secures the child a good future by placing Estella with Miss Havisham. Miss Havisham instills bitterness towards men in Estella, who does not return Pip's, or any other boy's, affections towards her. Estella is chased by and marries the cruel Bentley Drummle, but is later widowed. She is eventually changed by her experiences and time which brings Pip back into her life.
Jean Simmons, the British actress, and singer who became a leading Hollywood star, had her breakthrough playing the young Estella in David Lean's 1946 film adaptation of Great Expectations, alongside John Mills who played Pip. Over forty years later Simmons appeared in another adaptation of the novel, this time playing the role of Miss Havisham in a 1989 TV mini-series.
In a 2012 screen adaptation of Great Expectations, directed by Mike Newell, the character of Estella was played by Holliday Grainger. Grainger has more recently gone on to star as Robin Ellacott in the TV crime drama series Strike (aired in North America as C.B. Strike) based on the novels by J.K. Rowling (under the pseudonym Robert Galbraith).
Philip Pirrip (Pip).
Philip Pirrip, called Pip, is the protagonist and narrator in Charles Dickens's novel Great Expectations. He is amongst the most popular characters in English literature. Pip narrates his story many years after the events of the novel take place, starting as a young orphan boy being raised by his sister and brother-in-law in the marshes of north Kent. The novel follows Pip's progress from childhood innocence to adulthood, where we see a financial and social rise. But these fortunes are offset by an emotional and moral deterioration, which forces Pip to recognise his negative expectations in a new self-awareness.
My father's family name being Pirrip, and my Christian name Philip, my infant tongue could make of both names nothing longer or more explicit than Pip. So, I called myself Pip, and came to be called Pip.

Opening lines of Great Expectations.
In screen adaptations of Great Expectations, the character of Pip has been played by such actors as Jack Pickford (1917 film), John Mills (1946 film), Michael York (1974 TV movie), Ioan Gruffudd (1999 TV movie), and Jeremy Irvine (2012 film).
Have Your Say.
Give your view on 'Suffering has been stronger than all other teaching, and has taught me to understand what your heart used to be' with a rating and help us compile the very best Charles Dickens quotations.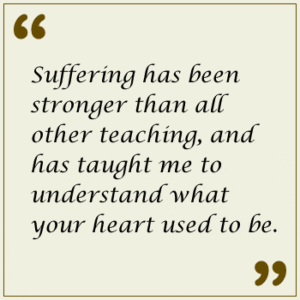 Related.
If you like this, we think you might also be interested in these related quotations: