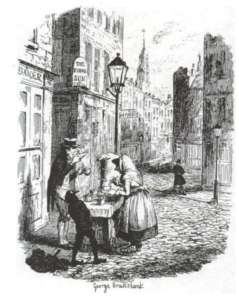 Sketches by "Boz," Illustrative of Every-day Life and Every-day People (commonly known as Sketches by Boz) is a collection of short pieces written by Charles Dickens and published as a book in 1836, with illustrations by George Cruikshank.
The 56 sketches concern London scenes and people, and the whole work is divided into four sections: Our Parish (7 sketches) Scenes (25 sketches), Characters (12 sketches) and Tales (12 sketches). The material in the first three sections consists of non-narrative pen-portraits, but the last section comprises fictional stories.
Publication.
The sketches were originally published in various newspapers and other periodicals between 1833 and 1836, including The Morning Chronicle, The Evening Chronicle, The Monthly Magazine, The Carlton Chronicle and Bell's Life in London.
The first edition of Sketches by Boz was published by John Macrone in two series. The first series was a two-volume set that was published in February 1836. This was just a month before the publication of the first parts of The Pickwick Papers (1836-37). The "Second Series" was published in August 1836. After Dickens became famous, he could buy out his agreements with Macrone.
John Macrone died unexpectedly on 9th September 1837, at age of 28. Dickens helped to publish a book along with contributions by George Cruikshank, Hablot Knight Browne and Henry Colburn. The book, called The Pic-Nic Papers helped raise funds for Macrone's widow and children.
He had a great idea of his own abilities, which must have been a great comfort to him, as no one else had.

Sentiment.
Whatever responsibility rests with me, I am content to bear, and ready to answer.

The Black Veil.
He had to pass the public-house. He lingered for an instant, walked past it, turned back again, lingered once more, and finally slunk in.

The Drunkard's Death.
The crowd were on the tiptoe of expectation.

The Prisoners' Van.
Carried to their respective abodes in a hackney-coach, and a state of insensibility, compounded of shrub, sherry, and excitement.

Miss Evans and the Eagle.
The intelligence spread rapidly from house to house.

The Four Sisters.
---