Background.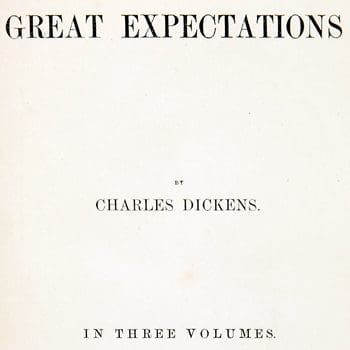 'She put the mug down on the stones of the yard, and gave me the bread and meat without looking at me, as insolently as if I were a dog in disgrace' is a quotation from Great Expectations (Chapter 8).
Context.
This quotation shows Estella's contempt towards Pip.
Pip, the narrator and main character of Great Expectations has started to pay visits to the house of the reclusive Miss Havisham. There, he meets Miss Havisham's ward Estella, who he thinks is 'very pretty and seemed very proud'. Estella is very condescending towards the young Pip who she views as just a common boy. This is demonstrated here when she treats Pip 'as if I were a dog in disgrace', placing a small mug of beer on the outside yard in front of him, and handing him food whilst looking away. The young Pip is so humiliated by Estella that he begins to cry, an emotion that Estella seems to enjoy causing.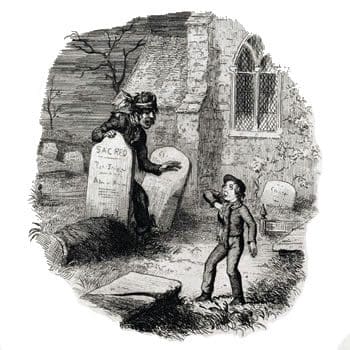 Canine Imagery in Great Expectations.
Images of animals appear throughout Great Expectations, often forming patterns or associations with particular characters, such as Mr. Pumblechook described as having 'a mouth like a fish' or the evil Bentley Drummle being nicknamed 'the Spider'. Two of the central characters in the novel, Abel Magwitch and Pip, have strong associations with canine (dog) imagery. Early on in the story, when Pip, as a child, stumbles upon the escaped prisoner Abel Magwitch in a churchyard (Chapter 1), Magwitch calls him "you young dog," whilst 'licking his lips'. When Pip returns to the marshes to bring Magwitch food (Chapter 3) he watches the starving convict eating which reminds him of 'a large dog of ours', going on to describe in more detail that 'he ate in a ravenous way that was very disagreeable, and all his actions were uncouth, noisy, and greedy … and as he turned his food in his mouth, and turned his head sideways to bring his strongest fangs to bear upon it, he looked terribly like a hungry old dog'. When Magwitch learns that Compeyson is following him (also Chapter 3) he threatens to 'pull him down, like a bloodhound', and when both escaped convicts are recaptured (Chapter 5), someone in the boat sent to collect them 'growled as if to dogs'. Pip's initial observation of Magwitch eating like a dog has a connection to himself when the imagery is used to highlight class discrimination. When Pip first visits Satis House, when he is provided food by Estella (Chapter 8), he too feels like a dog, describing the way she presents food to him 'as insolently as if I were a dog in disgrace'. When Pip returns home from the disappointing visit he includes dogs in invented stories to Joe Gargery about what he saw there, including a tale of four 'immense' dogs who 'fought for veal-cutlets out of a silver basket' (Chapter 9). Later in the story, as an adult, Pip will again witness Magwitch ravenously eating in a way that he compares to looking 'terribly like a hungry old dog' (Chapter 40).
Source.
Taken from the following passage in Chapter 8 of Great Expectations:
"You are to wait here, you boy," said Estella; and disappeared and closed the door.

I took the opportunity of being alone in the courtyard to look at my coarse hands and my common boots. My opinion of those accessories was not favourable. They had never troubled me before, but they troubled me now, as vulgar appendages. I determined to ask Joe why he had ever taught me to call those picture-cards Jacks, which ought to be called knaves. I wished Joe had been rather more genteelly brought up, and then I should have been so too.

She came back, with some bread and meat and a little mug of beer. She put the mug down on the stones of the yard, and gave me the bread and meat without looking at me, as insolently as if I were a dog in disgrace. I was so humiliated, hurt, spurned, offended, angry, sorry,—I cannot hit upon the right name for the smart—God knows what its name was,—that tears started to my eyes. The moment they sprang there, the girl looked at me with a quick delight in having been the cause of them. This gave me power to keep them back and to look at her: so, she gave a contemptuous toss—but with a sense, I thought, of having made too sure that I was so wounded—and left me.
Characters.
Estella.
Estella is Miss Havisham's beautiful young ward. Although she grows up not knowing who her real parents are, Pip later discovers she is the child of the convict Abel Magwitch and Molly (who becomes Mr. Jagger's housekeeper). Mr. Jaggers secures the child a good future by placing Estella with Miss Havisham. Miss Havisham instills bitterness towards men in Estella, who does not return Pip's, or any other boy's, affections towards her. Estella is chased by and marries the cruel Bentley Drummle, but is later widowed. She is eventually changed by her experiences and time which brings Pip back into her life.
Jean Simmons, the British actress, and singer who became a leading Hollywood star, had her breakthrough playing the young Estella in David Lean's 1946 film adaptation of Great Expectations, alongside John Mills who played Pip. Over forty years later Simmons appeared in another adaptation of the novel, this time playing the role of Miss Havisham in a 1989 TV mini-series.
In a 2012 screen adaptation of Great Expectations, directed by Mike Newell, the character of Estella was played by Holliday Grainger. Grainger has more recently gone on to star as Robin Ellacott in the TV crime drama series Strike (aired in North America as C.B. Strike) based on the novels by J.K. Rowling (under the pseudonym Robert Galbraith).
Philip Pirrip (Pip).
Philip Pirrip, called Pip, is the protagonist and narrator in Charles Dickens's novel Great Expectations. He is amongst the most popular characters in English literature. Pip narrates his story many years after the events of the novel take place, starting as a young orphan boy being raised by his sister and brother-in-law in the marshes of north Kent. The novel follows Pip's progress from childhood innocence to adulthood, where we see a financial and social rise. But these fortunes are offset by an emotional and moral deterioration, which forces Pip to recognise his negative expectations in a new self-awareness.
My father's family name being Pirrip, and my Christian name Philip, my infant tongue could make of both names nothing longer or more explicit than Pip. So, I called myself Pip, and came to be called Pip.

Opening lines of Great Expectations.
In screen adaptations of Great Expectations, the character of Pip has been played by such actors as Jack Pickford (1917 film), John Mills (1946 film), Michael York (1974 TV movie), Ioan Gruffudd (1999 TV movie), and Jeremy Irvine (2012 film).
Have Your Say.
Give your view on 'She put the mug down on the stones of the yard, and gave me the bread and meat without looking at me, as insolently as if I were a dog in disgrace' with a rating and help us compile the very best Charles Dickens quotations.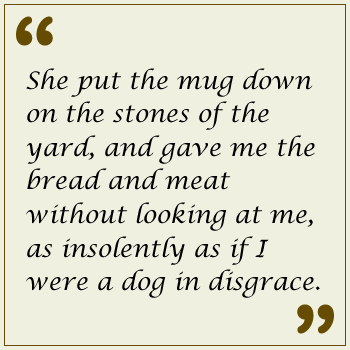 Related.
If you like this, we think you might also be interested in these related quotations: