Background.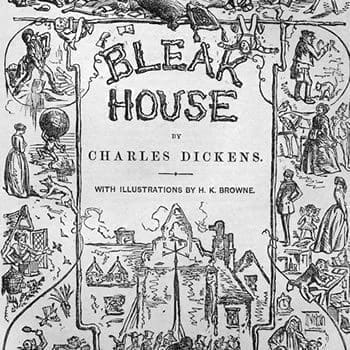 Bleak House was the ninth novel by Charles Dickens, intended to illustrate the evils caused by long, drawn-out legal cases in the Court of Chancery. Serialised between 1852 – 1853, the story unravels through the use of double narration, in part from the perspective of a third-person narrator and in part from the first-person point of view of the main protagonist, Esther Summerson.
Context.
This quotation is said by Joshua Smallweed, otherwise known as Grandfather Smallweed. Smallweed is paralysed and confined to a chair that must be carried about when he needs to leave his house. His disability affects his bones to which he has a constant need to ask for help in shaking him up, a reference to needing to be pulled up whilst in his chair so that he can sit up straight. Smallweed has a rude and cantankerous manner, which he passes on to those around him.
Source.
Taken from the following passage in Chapter 33 (Interlopers) of Bleak House:
Mrs. Smallweed instantly begins to shake her head and pipe up, "Seventy-six pound seven and sevenpence! Seventy-six thousand bags of money! Seventy-six hundred thousand million of parcels of bank-notes!"

"Will somebody give me a quart pot?" exclaims her exasperated husband, looking helplessly about him and finding no missile within his reach. "Will somebody obleege me with a spittoon? Will somebody hand me anything hard and bruising to pelt at her? You hag, you cat, you dog, you brimstone barker!" Here Mr. Smallweed, wrought up to the highest pitch by his own eloquence, actually throws Judy at her grandmother in default of anything else, by butting that young virgin at the old lady with such force as he can muster and then dropping into his chair in a heap.

"Shake me up, somebody, if you'll be so good," says the voice from within the faintly struggling bundle into which he has collapsed. "I have come to look after the property. Shake me up, and call in the police on duty at the next house to be explained to about the property. My solicitor will be here presently to protect the property. Transportation or the gallows for anybody who shall touch the property!" As his dutiful grandchildren set him up, panting, and putting him through the usual restorative process of shaking and punching, he still repeats like an echo, "The—the property! The property! Property!"

Mr. Weevle and Mr. Guppy look at each other, the former as having relinquished the whole affair, the latter with a discomfited countenance as having entertained some lingering expectations yet. But there is nothing to be done in opposition to the Smallweed interest. Mr. Tulkinghorn's clerk comes down from his official pew in the chambers to mention to the police that Mr. Tulkinghorn is answerable for its being all correct about the next of kin and that the papers and effects will be formally taken possession of in due time and course. Mr. Smallweed is at once permitted so far to assert his supremacy as to be carried on a visit of sentiment into the next house and upstairs into Miss Flite's deserted room, where he looks like a hideous bird of prey newly added to her aviary.
Characters.
Joshua Smallweed (Grandfather Smallweed).
Joshua Smallweed is an elderly miser, the husband of Mrs. Smallweed, and the grandfather of Bart Smallweed and Judy Smallweed. He is an invalid and is carried everywhere in a chair from his living room. He comes from a long line of men who worked as moneylenders and accountants and who were obsessed with wealth. Mr. Smallweed is a cruel elderly man, passing his hatred of the world onto others around such as the tormenting of his wife and manipulation of people for his own financial gain. Smallweed gloats over his successful exploitation of other people, which is usually be his excessive interest charges on loans dealt during some dubious business practices. 
In the 2005 BBC television adaptation of Bleak House, Joshua Smallweed was played by English actor Phil Davis.
Have Your Say.
Give your view on 'Shake me up, somebody, if you'll be so good' with a rating and help us compile the very best Charles Dickens quotations.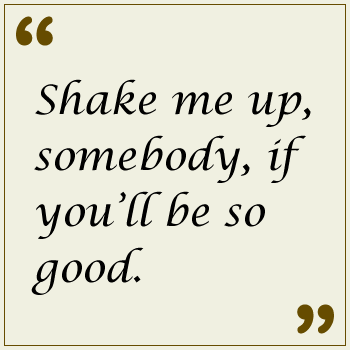 Related.
If you like this, we think you might also be interested in these related quotations: