Background.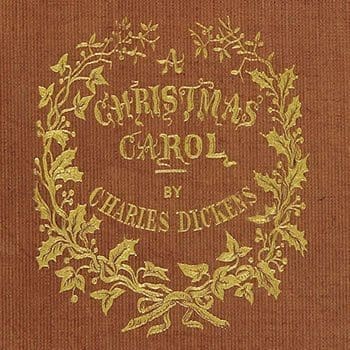 'I have seen your nobler aspirations fall off one by one, until the master-passion, Gain, engrosses you' is a quotation from A Christmas Carol (Stave 2).
A Christmas Carol is a novella, or short story, written by Charles Dickens and first published in the Christmas of 1843. The allegorical tale tells the story of the transformation of the mean-spirited Ebenezer Scrooge through the visits of the spirit of his former business partner and three ghosts over the course of a Christmas Eve night. It remains a much-loved traditional Christmas tale.
Context.
This quotation is said by the character Belle who is talking to Ebenezer Scrooge. In his youth, Scrooge was engaged to Belle.
In Stave 2 of A Christmas Carol the Ghost of Christmas Past transports Scrooge to a scene from the past in which we see Belle breaking off the engagement. Belle is critical of Scrooge for his love of money and complains that is he no longer the person that, when they got together, was poor and content to be so.
In this quote we see Belle critising Scrooge for the morals and ambitions he once had fall away as his desire for wealth has consumed him.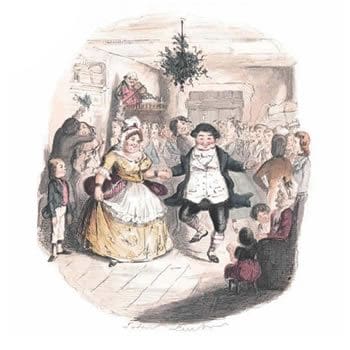 Source.
Taken from the following passage in Stave 2 (The First Of The Three Spirits) of A Christmas Carol:
"My time grows short," observed the Spirit. "Quick!"

This was not addressed to Scrooge, or to any one whom he could see, but it produced an immediate effect. For again Scrooge saw himself. He was older now; a man in the prime of life. His face had not the harsh and rigid lines of later years; but it had begun to wear the signs of care and avarice. There was an eager, greedy, restless motion in the eye, which showed the passion that had taken root, and where the shadow of the growing tree would fall.

He was not alone, but sat by the side of a fair young girl in a mourning-dress: in whose eyes there were tears, which sparkled in the light that shone out of the Ghost of Christmas Past.

"It matters little," she said, softly. "To you, very little. Another idol has displaced me; and if it can cheer and comfort you in time to come, as I would have tried to do, I have no just cause to grieve."

"What Idol has displaced you?" he rejoined.

"A golden one."

"This is the even-handed dealing of the world!" he said. "There is nothing on which it is so hard as poverty; and there is nothing it professes to condemn with such severity as the pursuit of wealth!"

"You fear the world too much," she answered, gently. "All your other hopes have merged into the hope of being beyond the chance of its sordid reproach. I have seen your nobler aspirations fall off one by one, until the master-passion, Gain, engrosses you. Have I not?"

"What then?" he retorted. "Even if I have grown so much wiser, what then? I am not changed towards you."

She shook her head.

"Am I?"

"Our contract is an old one. It was made when we were both poor and content to be so, until, in good season, we could improve our worldly fortune by our patient industry. You are changed. When it was made, you were another man."

"I was a boy," he said impatiently.

"Your own feeling tells you that you were not what you are," she returned. "I am. That which promised happiness when we were one in heart, is fraught with misery now that we are two. How often and how keenly I have thought of this, I will not say. It is enough that I have thought of it, and can release you."

"Have I ever sought release?"

"In words. No. Never."

"In what, then?"

"In a changed nature; in an altered spirit; in another atmosphere of life; another Hope as its great end. In everything that made my love of any worth or value in your sight. If this had never been between us," said the girl, looking mildly, but with steadiness, upon him; "tell me, would you seek me out and try to win me now? Ah, no!"

He seemed to yield to the justice of this supposition, in spite of himself. But he said with a struggle, "You think not."

"I would gladly think otherwise if I could," she answered, "Heaven knows! When I have learned a Truth like this, I know how strong and irresistible it must be. But if you were free to-day, to-morrow, yesterday, can even I believe that you would choose a dowerless girl—you who, in your very confidence with her, weigh everything by Gain: or, choosing her, if for a moment you were false enough to your one guiding principle to do so, do I not know that your repentance and regret would surely follow? I do; and I release you. With a full heart, for the love of him you once were."
Characters.
Belle.
Belle is a minor character in the novella A Christmas Carol, only appearing in the visions that are shown to Ebenezer Scrooge by the Ghost of Christmas Past (Stave 2). Scrooge was engaged to be married to Belle in his youth, but when his pursuit of money consumed him, Belle ended the relationship. Without Scrooge, Belle goes on to become a happily married woman with a number of children. In Stave 2 we witness the scene of Belle breaking up with Scrooge, and also of Belle as a married woman in a cozy house with children happily playing.
Ebenezer Scrooge.
Ebenezer Scrooge is one of the most famous characters created by Charles Dickens and arguably one of the most famous in English literature. The protagonist of A Christmas Carol, Scrooge is a cold-hearted and mean-spirited accountant. His business partner, the equally mean Jacob Marley, died seven years previous and he lives alone, having never married. Through a visit one Christmas Eve by the ghost of Marley and three subsequent spirits, Scrooge is awakened to his meanness and the impact it has on others.
The term Scrooge has entered the English Language to represent a mean person, known as a literary neologism. Neologisms are relatively recent terms, words, or phrases in the process of entering common use. Other examples of Dickens's neologisms include butterfingers (to mean a clumsy person) and doormat (a metaphor for taking advantage of a person).
In screen adaptations of A Christmas Carol, the character of Ebenezer Scrooge has been played by actors that include Alastair Sim (1951 film), Albert Finney (1970 musical film), Michael Hordern (1977 TV Movie), George C. Scott (1984 TV Movie), Michael Caine (1992 musical fantasy film), Patrick Stewart (1999 TV Movie) and Guy Pearce (2019 TV Mini-Series). Michael Hordern had previously appeared alongside Alastair Sim in the 1951 film (titled Scrooge), this time playing the character of Jacob Marley.
Have Your Say.
Give your view on 'I have seen your nobler aspirations fall off one by one, until the master-passion, Gain, engrosses you' with a rating and help us compile the very best Charles Dickens quotations.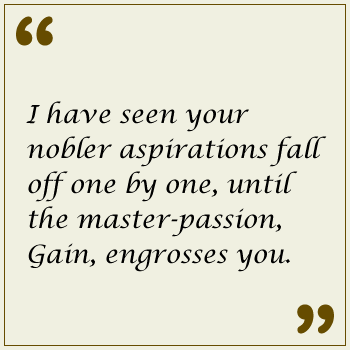 Related.
If you like this, we think you might also be interested in these related quotations: