Background.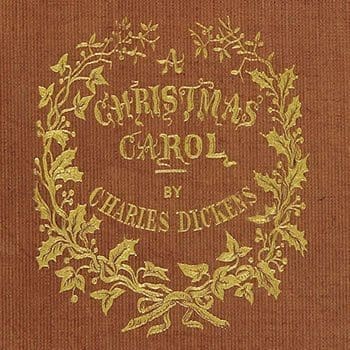 'Scrooge had a very small fire, but the clerk's fire was so very much smaller that it looked like one coal' is a quotation from A Christmas Carol (Stave 1).
A Christmas Carol is a novella, or short story, written by Charles Dickens and first published in the Christmas of 1843. The allegorical tale tells the story of the transformation of the mean-spirited Ebenezer Scrooge through the visits of the spirit of his former business partner and three ghosts over the course of a Christmas Eve night. It remains a much-loved traditional Christmas tale.
Context.
This quotation reflects the miserly attitude of the lead character Ebenezer Scrooge. It is Christmas Eve and a very cold day. We have already been told in the previous paragraph that it was cold, bleak, biting weather. Despite this, the mean-spirited Scrooge maintains only a small fire, and his clerk, Bob Cratchit's is even smaller, which Dickens humourously compares to being the size of a single lump of coal.
Cratchit is forced to wear extra clothing and even to try to warm himself on a candle due to mean-spirited Scrooge not wanting to part with his coal supplies (which Scrooge keeps in his own room, making it harder for Cratchit to add extra fuel).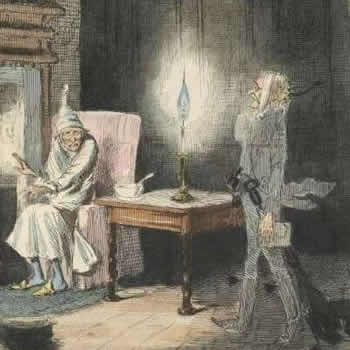 ---
Symbolism in A Christmas Carol: Fire.
Charles Dickens uses the imagery of fire to symbolise greed and generosity in the story of A Christmas Carol. Fuel was an expensive commodity for many at the time the novella was written so the amount burnt, reflected by the size of a fire, reflected the generosity of a character. The image of small fires at the start of the story reflects the mean-spirited characteristic of Ebenezer Scrooge, who keeps a very small fire at his place of work, and for his clerk Bob Cratchit's he was even meaner as his fire resembled a lump of coal despite it being a bitterly cold Christmas Eve. Scrooge keeps the fuel in his own room, frightening Cratchit into wearing extra clothing and trying to warm himself by a candle. When he gets home, Scrooge would rather save money and live in discomfort, keeping a very low fire for himself, described as nothing on such a bitter night to which he is forced to lean over just to extract the least sensation of warmth from such a handful of fuel. By contrast, scenes of happiness and generosity are represented by large fires, such as that of a party in a scene from the past held by Fezziwig, where fuel was heaped upon the fire, so much so that the generous host had a positive light appeared to issue from Fezziwig's calves which shone like moons. In the present, Scrooge witnesses scenes of fires at Christmas time that bring happiness, many associated with the theme of eating food at this festive time, such as the brightness of the roaring fires in kitchens, parlours, and all sorts of rooms, was wonderful and the flickering of the blaze showed preparations for a cosy dinner, He sees scenes associated with the coming together of family at this time of year, such as that of a miner and his family who are a cheerful company assembled round a glowing fire. Through Scrooge's transformation in this allegorical tale, we also see his attitude to using fuel change. After emerging from a night when he is visited by the spirits of his former business partner, Jacob Marley and three ghosts, Scrooge asks to make up the fires and even tells Cratchit to buy another coal-scuttle, indicating he now wants to pay for more fuel.
---
Source.
Taken from the following passage of Stave 1 (Marley's Ghost) of A Christmas Carol:
Once upon a time—of all the good days in the year, on Christmas Eve—old Scrooge sat busy in his counting-house. It was cold, bleak, biting weather: foggy withal: and he could hear the people in the court outside, go wheezing up and down, beating their hands upon their breasts, and stamping their feet upon the pavement stones to warm them. The city clocks had only just gone three, but it was quite dark already—it had not been light all day—and candles were flaring in the windows of the neighbouring offices, like ruddy smears upon the palpable brown air. The fog came pouring in at every chink and keyhole, and was so dense without, that although the court was of the narrowest, the houses opposite were mere phantoms. To see the dingy cloud come drooping down, obscuring everything, one might have thought that Nature lived hard by, and was brewing on a large scale.

The door of Scrooge's counting-house was open that he might keep his eye upon his clerk, who in a dismal little cell beyond, a sort of tank, was copying letters. Scrooge had a very small fire, but the clerk's fire was so very much smaller that it looked like one coal. But he couldn't replenish it, for Scrooge kept the coal-box in his own room; and so surely as the clerk came in with the shovel, the master predicted that it would be necessary for them to part. Wherefore the clerk put on his white comforter, and tried to warm himself at the candle; in which effort, not being a man of a strong imagination, he failed.
Characters.
Bob Cratchit.
The abused, underpaid clerk of Ebenezer Scrooge, Bob Cratchit is a kind but very poor man with a large family and a very sick son, Tim. He works for Scrooge, copying letters in a cold dismal room, so small it is described as a sort of tank. Bring wintertime, he is forced to try and stay warm with thick clothes and heat himself by the flame of a candle. He wears tattered clothes as he cannot afford a coat. Cratchit is treated poorly by Scrooge and given a weekly salary that is insufficient to provide his family with a proper Christmas dinner. Despite these circumstances, Bob Cratchit represents the opposite qualities of Scrooge including kindness, generosity and the love of his family members.
Ebenezer Scrooge.
Ebenezer Scrooge is one of the most famous characters created by Charles Dickens and arguably one of the most famous in English literature. The protagonist of A Christmas Carol, Scrooge is a cold-hearted and mean-spirited accountant. His business partner, the equally mean Jacob Marley, died seven years previous and he lives alone, having never married. Through a visit one Christmas Eve by the ghost of Marley and three subsequent spirits, Scrooge is awakened to his meanness and the impact it has on others.
The term Scrooge has entered the English Language to represent a mean person, known as a literary neologism. Neologisms are relatively recent terms, words, or phrases in the process of entering common use. Other examples of Dickens's neologisms include butterfingers (to mean a clumsy person) and doormat (a metaphor for taking advantage of a person).
In screen adaptations of A Christmas Carol, the character of Ebenezer Scrooge has been played by actors that include Alastair Sim (1951 film), Albert Finney (1970 musical film), Michael Hordern (1977 TV Movie), George C. Scott (1984 TV Movie), Michael Caine (1992 musical fantasy film), Patrick Stewart (1999 TV Movie) and Guy Pearce (2019 TV Mini-Series). Michael Hordern had previously appeared alongside Alastair Sim in the 1951 film (titled Scrooge), this time playing the character of Jacob Marley.
Have Your Say.
Give your view on 'Scrooge had a very small fire, but the clerk's fire was so very much smaller that it looked like one coal' with a rating and help us compile the very best Charles Dickens quotations.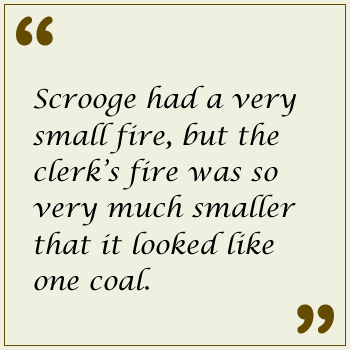 Related.
If you like this, we think you might also be interested in these related quotations: