Background.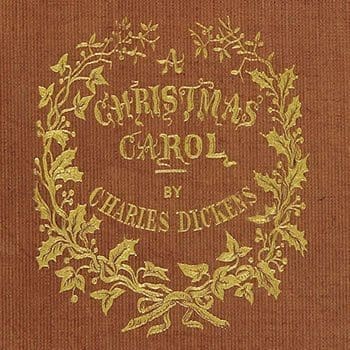 'Scrooge, having his key in the lock of the door, saw in the knocker, without its undergoing any intermediate process of change—not a knocker, but Marley's face' is a quotation from A Christmas Carol (Stave 1).
A Christmas Carol is a novella, or short story, written by Charles Dickens and first published in the Christmas of 1843. The allegorical tale tells the story of the transformation of the mean-spirited Ebenezer Scrooge through the visits of the spirit of his former business partner and three ghosts over the course of a Christmas Eve night. It remains a much-loved traditional Christmas tale.
Context.
This quote describes the appearance of the ghost of Jacob Marley on the door knocker of Ebenezer Scrooge's house as he returns home from working in his counting-house on Christmas night. Marley is the former business partner of Scrooge, who died seven years prior to the setting of A Christmas Carol, on the same day it is set, Christmas Eve.
The door knocker on Scrooge's house is typical of elaborate and artistic knockers that adorned the doors of wealthy people at the time. One of the most common such knocker, that can still be seen today on many doors of period houses, is the face of a lion. Scrooge is disturbed by the vision of Marley in the knocker, which in the poor light Dickens humourously describes as looking like a bad lobster in a dark cellar.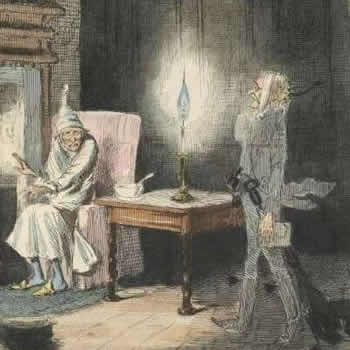 Source.
Taken from the following passage of Stave 1 (Marley's Ghost) of A Christmas Carol:
Now, it is a fact, that there was nothing at all particular about the knocker on the door, except that it was very large. It is also a fact, that Scrooge had seen it, night and morning, during his whole residence in that place; also that Scrooge had as little of what is called fancy about him as any man in the city of London, even including—which is a bold word—the corporation, aldermen, and livery. Let it also be borne in mind that Scrooge had not bestowed one thought on Marley, since his last mention of his seven years' dead partner that afternoon. And then let any man explain to me, if he can, how it happened that Scrooge, having his key in the lock of the door, saw in the knocker, without its undergoing any intermediate process of change—not a knocker, but Marley's face.


Marley's face. It was not in impenetrable shadow as the other objects in the yard were, but had a dismal light about it, like a bad lobster in a dark cellar. It was not angry or ferocious, but looked at Scrooge as Marley used to look: with ghostly spectacles turned up on its ghostly forehead. The hair was curiously stirred, as if by breath or hot air; and, though the eyes were wide open, they were perfectly motionless. That, and its livid colour, made it horrible; but its horror seemed to be in spite of the face and beyond its control, rather than a part of its own expression.


As Scrooge looked fixedly at this phenomenon, it was a knocker again.
Characters.
Jacob Marley.
In life, Jacob Marley was the business partner of Ebenezer Scrooge. Together, as the firm of Scrooge and Marley, they became successful yet hard-hearted bankers, with seats on the London Stock Exchange. Seven years to the day of his death, on a Christmas Eve, Marley's ghost visits Scrooge. Bound in chains and tormented, the ghost is doomed to wander the earth forever as punishment for his greed and selfishness when he was alive. Marley visits Scrooge to offer him redemption from his own fate, in the hope of changing his mean ways. He tells Scrooge that three spirits will visit that night.
Ebenezer Scrooge.
Ebenezer Scrooge is one of the most famous characters created by Charles Dickens and arguably one of the most famous in English literature. The protagonist of A Christmas Carol, Scrooge is a cold-hearted and mean-spirited accountant. His business partner, the equally mean Jacob Marley, died seven years previous and he lives alone, having never married. Through a visit one Christmas Eve by the ghost of Marley and three subsequent spirits, Scrooge is awakened to his meanness and the impact it has on others.
The term Scrooge has entered the English Language to represent a mean person, known as a literary neologism. Neologisms are relatively recent terms, words, or phrases in the process of entering common use. Other examples of Dickens's neologisms include butterfingers (to mean a clumsy person) and doormat (a metaphor for taking advantage of a person).
In screen adaptations of A Christmas Carol, the character of Ebenezer Scrooge has been played by actors that include Alastair Sim (1951 film), Albert Finney (1970 musical film), Michael Hordern (1977 TV Movie), George C. Scott (1984 TV Movie), Michael Caine (1992 musical fantasy film), Patrick Stewart (1999 TV Movie) and Guy Pearce (2019 TV Mini-Series). Michael Hordern had previously appeared alongside Alastair Sim in the 1951 film (titled Scrooge), this time playing the character of Jacob Marley.
Have Your Say.
Give your view on 'Scrooge, having his key in the lock of the door, saw in the knocker, without its undergoing any intermediate process of change—not a knocker, but Marley's face' with a rating and help us compile the very best Charles Dickens quotations.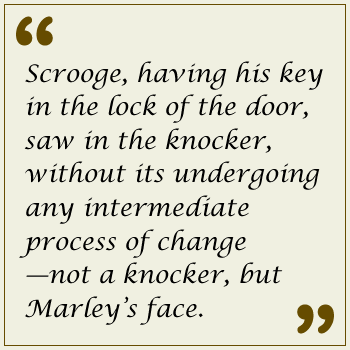 Related.
If you like this, we think you might also be interested in these related quotations: