Background.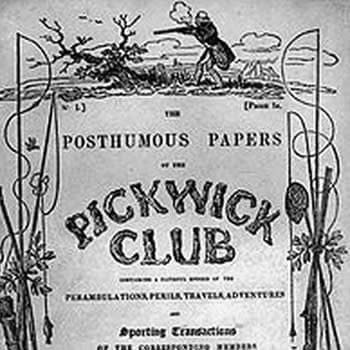 Context.
This quotation is a description of Messrs. Dodson and Fogg, the unscrupulous lawyers who handle Martha Bardell's lawsuit against Samuel Pickwick for Breach of Promise of Marriage. Widowed Mrs. Bardell has mistakenly thought Pickwick intended to marry her after a humourous incident Pickwick has just lost the case and been fined £750.
Taking someone to Court for for Breach of Promise of Marriage is an ancient common-law right of action for breaking a commitment to enter into matrimony. The law has been abolished in most countries. In the United Kingdom, actions for breach of promise of marriage were abolished by the Law Reform (Miscellaneous Provisions) Act 1970.
Chapter 34 of The Pickwick Papers revolves around the trial of the civil case between Mrs. Bardell and Samuel Pickwick.held at London's Guildhall. Mrs. Bardell is Mr. Pickwick's landlady and has wrongly assumed he has proposed to her and therefore sues for breach of promise, as was her right under common law of the time.
The misunderstanding between Bardell and Pickwick came about during a humourous incident in Chapter 12 of The Pickwick Papers in which Pickwick tries to explain to Mrs. Bardell, about hiring a valet, Sam Weller. Not explaining the situation clearly, Mrs. Bardell misunderstands, and believes Pickwick is proposing marriage to her. She is overcome and passes out in his arms, just as the three fellow Pickwickians, Tupman, Snodgrass, and Winkle, enter the room along with Mrs. Bardell's son, Tommy, who starts attacking Pickwick for hurting his mother.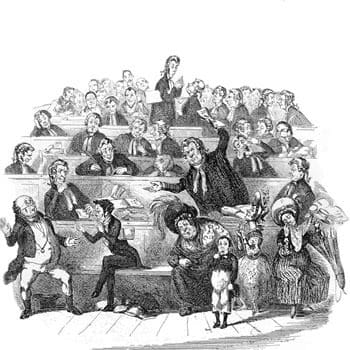 Samuel Pickwick.
The main protagonist and founder of the Pickwick Club. Following his description in the text, Pickwick is usually portrayed by illustrators as a round-faced, clean-shaven, portly gentleman wearing spectacles. The inspiration for Dickens for the character is believed to be based on a real-life landlord and coach operator of the White Hart Hotel in Bath, who he had undoubtedly met whilst travelling the country in his early career as a journalist.
Source.
Taken from the following passage of Chapter 34 (IS WHOLLY DEVOTED TO A FULL AND FAITHFUL REPORT OF THE MEMORABLE TRIAL OF BARDELL AGAINST PICKWICK) of The Pickwick Papers:
Mr. Justice Stareleigh summed up, in the old-established and most approved form. He read as much of his notes to the jury as he could decipher on so short a notice, and made running-comments on the evidence as he went along. If Mrs. Bardell were right, it was perfectly clear that Mr. Pickwick was wrong, and if they thought the evidence of Mrs. Cluppins worthy of credence they would believe it, and, if they didn't, why, they wouldn't. If they were satisfied that a breach of promise of marriage had been committed they would find for the plaintiff with such damages as they thought proper; and if, on the other hand, it appeared to them that no promise of marriage had ever been given, they would find for the defendant with no damages at all. The jury then retired to their private room to talk the matter over, and the judge retired to his private room, to refresh himself with a mutton chop and a glass of sherry. An anxious quarter of a hour elapsed; the jury came back; the judge was fetched in. Mr. Pickwick put on his spectacles, and gazed at the foreman with an agitated countenance and a quickly-beating heart.

'Gentlemen,' said the individual in black, 'are you all agreed upon your verdict?'

'We are,' replied the foreman.

'Do you find for the plaintiff, gentlemen, or for the defendant?' 'For the plaintiff.'

'With what damages, gentlemen?'

'Seven hundred and fifty pounds.'

Mr. Pickwick took off his spectacles, carefully wiped the glasses, folded them into their case, and put them in his pocket; then, having drawn on his gloves with great nicety, and stared at the foreman all the while, he mechanically followed Mr. Perker and the blue bag out of court.

They stopped in a side room while Perker paid the court fees; and here, Mr. Pickwick was joined by his friends. Here, too, he encountered Messrs. Dodson & Fogg, rubbing their hands with every token of outward satisfaction.

'Well, gentlemen,' said Mr. Pickwick.

'Well, Sir,' said Dodson, for self and partner.

'You imagine you'll get your costs, don't you, gentlemen?' said Mr. Pickwick.

Fogg said they thought it rather probable. Dodson smiled, and said they'd try.

'You may try, and try, and try again, Messrs. Dodson and Fogg,' said Mr. Pickwick vehemently,'but not one farthing of costs or damages do you ever get from me, if I spend the rest of my existence in a debtor's prison.'

'Ha! ha!' laughed Dodson. 'You'll think better of that, before next term, Mr. Pickwick.'

'He, he, he! We'll soon see about that, Mr. Pickwick,' grinned Fogg.

Speechless with indignation, Mr. Pickwick allowed himself to be led by his solicitor and friends to the door, and there assisted into a hackney-coach, which had been fetched for the purpose, by the ever-watchful Sam Weller.

Sam had put up the steps, and was preparing to jump upon the box, when he felt himself gently touched on the shoulder; and, looking round, his father stood before him. The old gentleman's countenance wore a mournful expression, as he shook his head gravely, and said, in warning accents—

'I know'd what 'ud come o' this here mode o' doin' bisness. Oh, Sammy, Sammy, vy worn't there a alleybi!'
Have Your Say.
Give your view on 'Rubbing their hands with every token of outward satisfaction' with a rating and help us compile the very best Charles Dickens quotations.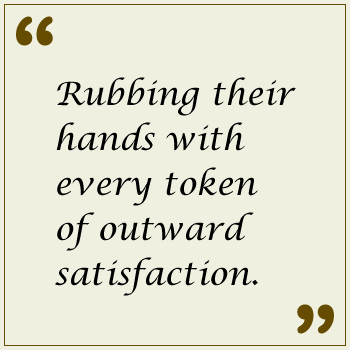 Related.
If you like this, we think you might also be interested in these related quotations: