Background.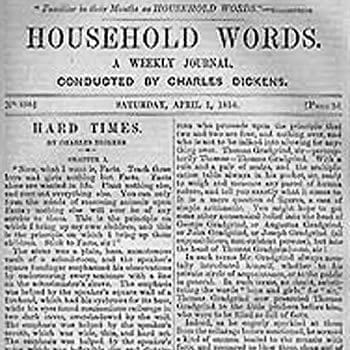 'Some persons hold that there is a wisdom of the Head, and that there is a wisdom of the Heart' is a quotation from Hard Times (Book 3, Chapter 1).
Hard Times – For These Times (more commonly now known as Hard Times) is the tenth novel by Charles Dickens. It first appeared in weekly parts, published in Household Words, from April to August 1854. The shortest of Dickens' novels, the story is set in the fictitious northern English industrial mill-town of Coketown.
Context.
Quotation said by Thomas Gradgrind speaking to his daughter, Louisa.
In the novel Hard Times, Thomas Gradgrind is a wealthy, retired merchant and schoolmaster in Coketown who later becomes a Member of Parliament. Louisa is Gradgrind's eldest daughter but in a loveless marriage (to Josiah Bounderby, 30 years her senior) and desperately unhappy. She lays the blame for this at her father and confronts him about his emotionless attitude to life, based on 'facts'. In this quote, Thomas Gradgrind seems to be acknowledging that this approach – thinking only with your head and not your heart – may have been wrong.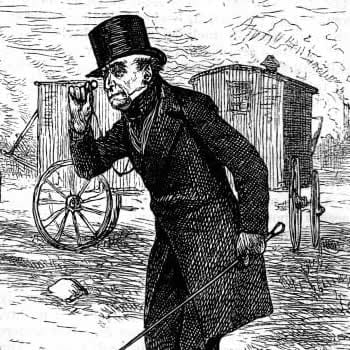 Source.
Taken from the following passage in Book 3, Chapter 1 (Another Thing Needful) of Hard Times:
'But,' said Mr. Gradgrind, slowly, and with hesitation, as well as with a wretched sense of happiness, 'if I see reason to mistrust myself for the past, Louisa, I should also mistrust myself for the present and the future. To speak unreservedly to you, I do. I am far from feeling convinced now, however differently I might have felt only this time yesterday, that I am fit for the trust you repose in me; that I know how to respond to the appeal you have come home to make to me; that I have the right instinct—supposing it for the moment to be some quality of that nature—how to help you, and to set you right, my child.'

She had turned upon her pillow, and lay with her face upon her arm, so that he could not see it. All her wildness and passion had subsided; but, though softened, she was not in tears. Her father was changed in nothing so much as in the respect that he would have been glad to see her in tears.

'Some persons hold,' he pursued, still hesitating, 'that there is a wisdom of the Head, and that there is a wisdom of the Heart. I have not supposed so; but, as I have said, I mistrust myself now. I have supposed the head to be all-sufficient. It may not be all-sufficient; how can I venture this morning to say it is! If that other kind of wisdom should be what I have neglected, and should be the instinct that is wanted, Louisa—'

He suggested it very doubtfully, as if he were half unwilling to admit it even now. She made him no answer, lying before him on her bed, still half-dressed, much as he had seen her lying on the floor of his room last night.
Characters.
Thomas Gradgrind.
Thomas Gradgrind is the notorious school board Superintendent in Charles Dickens's novel Hard Times who is dedicated to the pursuit of profitable enterprise. His name is now used generically to refer to someone who is hard and only concerned with cold facts and numbers. He is an intense follower of Utilitarian ideas. Gradgrind's obsession with facts and lack of empathy blight the lives of his two oldest children, Louisa and Thomas Jnr. He rises to becomes Coketown's Member of Parliament. When his sees his children's lives fall into disarray he changes his ways.
On screen, the role of Thomas Gradgrind has been played by such actors as Patrick Allen (1977 TV Mini Series) and Bob Peck (1994 TV Mini Series).
Theme Analysis: Utilitarianism.
In his portrayal of Thomas Gradgrind, Charles Dickens was parodying followers of utilitarian ideas. Utilitarianism had been pioneered by English philosopher Jeremy Bentham (1748 – 1832). In short, utilitarianism seeks the maximisation of pleasure and the minimisation of pain for the greater good. However, the methods in which this is achieved does not necessarily lead to these outcomes at an individual level. In the character of Gradgrind, Dickens highlights his belief that utilitarianism can be seen as selfish, with its rather mechanical approach to weighing up actions. When the lives of two of his own children fall apart, Thomas Gradgrind sees the error of this philosophy. As a result of the characteristics of Thomas Gradgrind, the term Gradgrindian has entered the English language to describe someone having a soulless devotion to facts and figures.
Have Your Say.
Give your view on 'Some persons hold that there is a wisdom of the Head, and that there is a wisdom of the Heart' with a rating and help us compile the very best Charles Dickens quotations.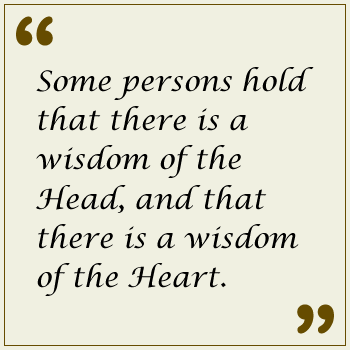 Related.
If you like this, we think you might also be interested in these related quotations:
Discover more.
---