Bell's Life in London was an English weekly sporting paper published as a pink broadsheet between 1822 and 1886. It carried some of the first published works written by Charles Dickens.
History of Bell's Life in London.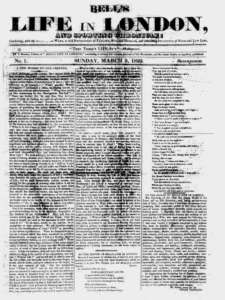 Bell's Life in London was founded by Robert Bell, a London printer-publisher as an anti-establishment general newspaper aimed at the working class. The first edition appeared on Sunday 3 March 1822.
Under the opening piece entitled A Few Words To Our Friends the paper set out its mission as: "[w]e look on it as presumptive evidence, at least, that they were not adept in the art of pleasing; that they knew but little of the business they had embarked in; for, a newspaper, 'What is it, but a map of busy Life?' We know, full well, that some contented themselves with performing the dull and insipid drudgery of mill-track journalists; others fancied that their common-place declamation, and unmeaning rant, would be mistaken for solid argument, and lucid reasoning; while not a few have trusted to sheer impudence and indecent ribaldry. But the day of delusion is past; and the public, turning with disgust from political rhapsodies and gross vituperations of character, now seek amusement aye, and instruction too from REAL LIFE! We shall willingly let others describe their scene of waking dreams, their visions of the brain, where the phantoms of pleasure flit about in mockery of reality; we mean to depict Life as it really is, to 'hold as 't were the mirror up to nature,' and not suffer our friends to be, like Tantalus, up to the lip of enjoyments, without being able to taste them".
Charles Dickens and Bell's Life in London.
Charles Dickens published a series of twelve sketches in Bell's Life in London between September 1835 and January 1836 under the general heading Scenes and Characters. Dickens published them under the pseudonym Tibbs.
1835.
1836.
Some of these sketches would later be published in Sketches by Boz. Dickens published the twelve sketches in Bell's Life in London under the pseudonym Tibbs.