Background.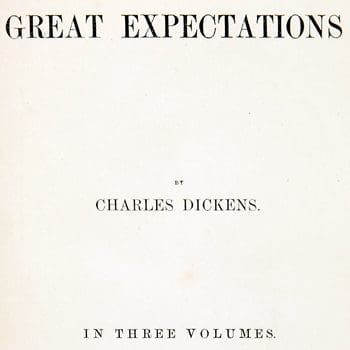 Context.
This quotation is said by Joe Gargery to Pip. describing his cruel and abusive father, who used to hit Joe and his mother with a hammer when drunk.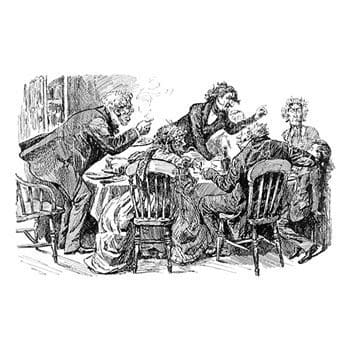 Source.
Taken from the following passage in Chapter 7 of Great Expectations:
I derived from this, that Joe's education, like Steam, was yet in its infancy. Pursuing the subject, I inquired,—

"Didn't you ever go to school, Joe, when you were as little as me?"

"No, Pip."

"Why didn't you ever go to school, Joe, when you were as little as me?"

"Well, Pip," said Joe, taking up the poker, and settling himself to his usual occupation when he was thoughtful, of slowly raking the fire between the lower bars; "I'll tell you. My father, Pip, he were given to drink, and when he were overtook with drink, he hammered away at my mother, most onmerciful. It were a'most the only hammering he did, indeed, 'xcepting at myself. And he hammered at me with a wigor only to be equalled by the wigor with which he didn't hammer at his anwil.—You're a listening and understanding, Pip?"

"Yes, Joe."

"'Consequence, my mother and me we ran away from my father several times; and then my mother she'd go out to work, and she'd say, "Joe," she'd say, "now, please God, you shall have some schooling, child," and she'd put me to school. But my father were that good in his hart that he couldn't abear to be without us. So, he'd come with a most tremenjous crowd and make such a row at the doors of the houses where we was, that they used to be obligated to have no more to do with us and to give us up to him. And then he took us home and hammered us. Which, you see, Pip," said Joe, pausing in his meditative raking of the fire, and looking at me, "were a drawback on my learning."

"Certainly, poor Joe!"

"Though mind you, Pip," said Joe, with a judicial touch or two of the poker on the top bar, "rendering unto all their doo, and maintaining equal justice betwixt man and man, my father were that good in his hart, don't you see?"

I didn't see; but I didn't say so.

"Well!" Joe pursued, "somebody must keep the pot a biling, Pip, or the pot won't bile, don't you know?"

I saw that, and said so.

"'Consequence, my father didn't make objections to my going to work; so I went to work at my present calling, which were his too, if he would have followed it, and I worked tolerable hard, I assure you, Pip. In time I were able to keep him, and I kep him till he went off in a purple leptic fit. And it were my intentions to have had put upon his tombstone that, Whatsume'er the failings on his part, Remember reader he were that good in his heart."
Characters.
Joe Gargery.
Joe is Pip's brother-in-law and the village blacksmith. He lives with his abusive and overbearing, abusive wife, simply known as 'Mrs. Joe'. Pip describes Joe as 'a fair man, with curls of flaxen hair on each side of his smooth face, and with eyes of such a very undecided blue that they seemed to have somehow got mixed with their own whites. He was a mild, good-natured, sweet-tempered, easy-going, foolish, dear fellow,—a sort of Hercules in strength, and also in weakness'.
The brawny smith, who could break a stone with his fist, and whose heart could not harm a fly, is a creation upon which Mr. Dickens has lingered with a loving hand. To set such figures before ten thousand thousand readers, is to do more good in the world than the world is apt to acknowledge.

Lloyd's Weekly Newspaper. Sunday, 21 July 1861. Comment on the character Joe Gargery.
In screen adaptations of Great Expectations, the character of Joe Gargery has been played by such actors as Bernard Miles (1946 film), Joss Ackland (1974 TV movie), John Rhys-Davies (1989 TV mini-series), Clive Russell (1999 TV movie), Shaun Dooley (2011 TV mini-series), and Jason Flemyng (2012 movie).
Have Your Say.
Give your view on 'When he were overtook with drink, he hammered away at my mother, most onmerciful' with a rating and help us compile the very best Charles Dickens quotations.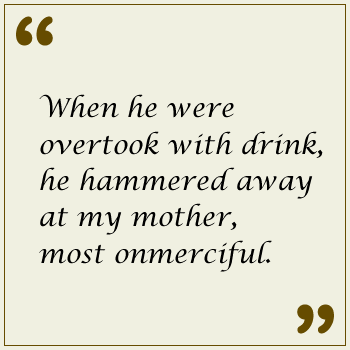 Related.
If you like this, we think you might also be interested in these related quotations: