Background.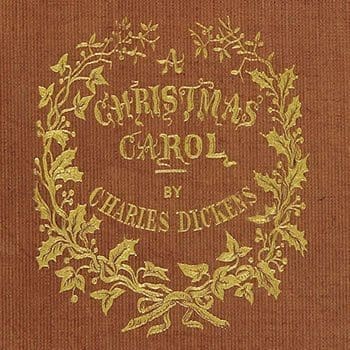 A Christmas Carol is a novella, or short story, written by Charles Dickens and first published in the Christmas of 1843. The allegorical tale tells the story of the transformation of the mean-spirited Ebenezer Scrooge through the visits of the spirit of his former business partner and three ghosts over the course of a Christmas Eve night. It remains a much-loved traditional Christmas tale.
Context.
Quote said by the ghost of Jacob Marley, the former business partner of Ebenezer Scrooge.
Dickens introduces the character of the ghost of Marley in A Christmas Carol to warn Scrooge of the consequences of his selfish life. Marley says he is condemned to wander the world bound by chains, chains he says he forged in life (suggesting to Scrooge that he has a choice).
In this quote, we see Marley expressing his fate, a tormented individual wandering the Earth with 'no rest, no peace. Incessant torture of remorse'.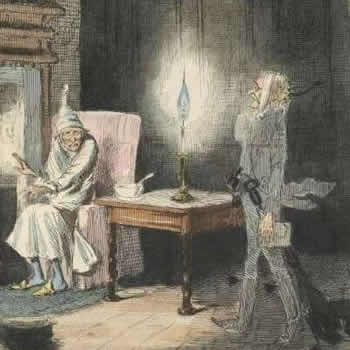 ---
Symbolism in A Christmas Carol: Chains.
In Stave 1 of A Christmas Carol Charles Dickens uses the imagery of supernatural chains as a metaphor for mental imprisonment and torture in the afterlife. Scrooge is visited by the ghost of Jacob Marley, his former business partner who died seven years ago on the same day (Christmas Eve). Scrooge observes that Marley is wrapped in a chain that was long, and wound about him like a tail. The chain is made of cash-boxes, keys, padlocks, ledgers, deeds, and heavy purses wrought in steel, items used to hold or record wealth. Marley explains that during his life on Earth, he created his chain by his own actions, telling him, I wear the chain I forged in life. He warns Scrooge that it is required of every man, that the spirit within him should walk abroad among his fellow-men, and travel far and wide; and, if that spirit goes not forth in life, it is condemned to do so after death. Scrooge is told that he has made for himself an even longer chain that he will wear in death, Marley warning him that his own chain was full as heavy and as long as this, seven Christmas Eves ago. You have laboured on it, since. It is a ponderous chain!. Marley's ghost serves to make Scrooge fearful of afterlife and that his accumulated wealth will become a burden if it is not liberated by sharing amongst those less fortunate. As Marley leaves, Scrooge became sensible of confused noises in the air; incoherent sounds of lamentation and regret; wailings inexpressibly sorrowful and self-accusatory. Looking out of the window he sees the air was filled with phantoms, wandering hither and thither in restless haste, and moaning as they went … every one of them wore chains like Marley's Ghost, some linked together and some who Scrooge recognises from when they were alive. Dickens uses the symbolism of chains to warn Scrooge, and the readers, that the things you prioritise in life will be shackled to you for eternity.
---
Jacob Marley.
In life, Jacob Marley was the business partner of Ebenezer Scrooge. Together, as the firm of Scrooge and Marley, they became successful yet hard-hearted bankers, with seats on the London Stock Exchange. Seven years to the day of his death, on a Christmas Eve, Marley's ghost visits Scrooge. Bound in chains and tormented, the ghost is doomed to wander the earth forever as punishment for his greed and selfishness when he was alive. Marley visits Scrooge to offer him redemption from his own fate, in the hope of changing his mean ways. He tells Scrooge that three spirits will visit that night.
Source.
Taken from the following passage of Stave 1 (Marley's Ghost) of A Christmas Carol:
Scrooge glanced about him on the floor, in the expectation of finding himself surrounded by some fifty or sixty fathoms of iron cable: but he could see nothing.

"Jacob," he said, imploringly. "Old Jacob Marley, tell me more. Speak comfort to me, Jacob!"

"I have none to give," the Ghost replied. "It comes from other regions, Ebenezer Scrooge, and is conveyed by other ministers, to other kinds of men. Nor can I tell you what I would. A very little more is all permitted to me. I cannot rest, I cannot stay, I cannot linger anywhere. My spirit never walked beyond our counting-house—mark me!—in life my spirit never roved beyond the narrow limits of our money-changing hole; and weary journeys lie before me!"

It was a habit with Scrooge, whenever he became thoughtful, to put his hands in his breeches pockets. Pondering on what the Ghost had said, he did so now, but without lifting up his eyes, or getting off his knees.
"You must have been very slow about it, Jacob," Scrooge observed, in a business-like manner, though with humility and deference.

"Slow!" the Ghost repeated.

"Seven years dead," mused Scrooge. "And travelling all the time!"

"The whole time," said the Ghost. "No rest, no peace. Incessant torture of remorse."

"You travel fast?" said Scrooge.

"On the wings of the wind," replied the Ghost.

"You might have got over a great quantity of ground in seven years," said Scrooge.

The Ghost, on hearing this, set up another cry, and clanked its chain so hideously in the dead silence of the night, that the Ward would have been justified in indicting it for a nuisance.

"Oh! captive, bound, and double-ironed," cried the phantom, "not to know, that ages of incessant labour by immortal creatures, for this earth must pass into eternity before the good of which it is susceptible is all developed. Not to know that any Christian spirit working kindly in its little sphere, whatever it may be, will find its mortal life too short for its vast means of usefulness. Not to know that no space of regret can make amends for one life's opportunity misused! Yet such was I! Oh! such was I!"

"But you were always a good man of business, Jacob," faltered Scrooge, who now began to apply this to himself.

"Business!" cried the Ghost, wringing its hands again. "Mankind was my business. The common welfare was my business; charity, mercy, forbearance, and benevolence, were, all, my business. The dealings of my trade were but a drop of water in the comprehensive ocean of my business!"

It held up its chain at arm's length, as if that were the cause of all its unavailing grief, and flung it heavily upon the ground again.

"At this time of the rolling year," the spectre said, "I suffer most. Why did I walk through crowds of fellow-beings with my eyes turned down, and never raise them to that blessed Star which led the Wise Men to a poor abode! Were there no poor homes to which its light would have conducted me!"

Scrooge was very much dismayed to hear the spectre going on at this rate, and began to quake exceedingly.
Have Your Say.
Give your view on 'No rest, no peace. Incessant torture of remorse.' with a rating and help us compile the very best Charles Dickens quotations.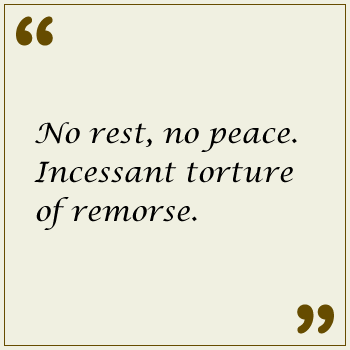 Related.
If you like this, we think you might also be interested in these related quotations: