The extended Chuzzlewit family.
The main characters of the story are the members of the extended Chuzzlewit family.
Seth Pecksniff.
A widower with two daughters, who is a self-styled teacher of architecture. He believes that he is a highly moral individual who loves his fellow-man, but mistreats his students and passes off their designs as his own for profit. He seems to be a cousin of Old Martin Chuzzlewit. Pecksniff's rise and fall follows the novel's plot arc. Seth lives with his two daughters, Charity and Mercy, in Salisbury.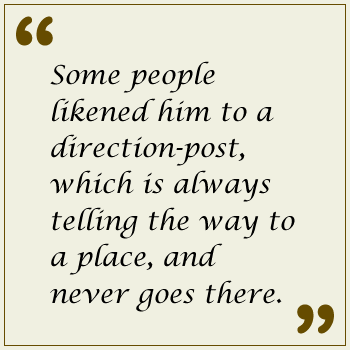 Charity and Mercy Pecksniff.
Seth's two daughters, affectionately known as Cherry and Merry, or as the two Miss Pecksniffs. Charity is portrayed throughout the book as having none of that virtue after which she is named, while Mercy, the younger sister, is at first silly and girlish in a manner that's probably inconsistent with her numerical age. Later events in the story drastically change her personality.
Old Martin Chuzzlewit.
The wealthy patriarch of the Chuzzlewit family, lives in constant suspicion of the financial designs of his extended family. At the beginning of the novel he has aligned himself with Mary, an orphan, to have a caretaker who is not eyeing his estate. Later in the story he makes an apparent alliance with Pecksniff, who, he believes, is at least consistent in character. His true character is revealed by the end of the story.
Young Martin Chuzzlewit.
The grandson of Old Martin Chuzzlewit. He is the closest relative of Old Martin and has inherited much of the stubbornness and selfishness of the old man. Young Martin is the protagonist of the story. His engagement to Mary is the cause of estrangement between himself and his grandfather. By the end of the story he becomes a reformed character, realising and repenting of the selfishness of his previous actions.
Anthony Chuzzlewit.
Brother of Old Martin. He and his son, Jonas, run a business together called Chuzzlewit and Son. They are both self-serving, hardened individuals who view the accumulation of money as the most important thing in life.
Jonas Chuzzlewit.
Mean-spirited, sinisterly jovial son of Anthony Chuzzlewit. He views his father with contempt and wishes for his death so that he can have the business and the money for himself. It is suggested that he may have actually hastened the old man's death. He is a suitor of the two Miss Pecksniffs, wins one, then is driven to commit murder by his unscrupulous business associations.
Mr and Mrs Spottletoe.
Nephew-in-law and niece of Old Martin Chuzzlewit, Mrs Spottletoe being the daughter of Old Martin's brother. She was also once the favourite of Old Martin though they have since fallen out.
George Chuzzlewit.
Bachelor cousin of Old Martin.
---
Other characters.
Thomas (Tom) Pinch.
Former student of Pecksniff's who has become his personal assistant. He is kind, simple, and honest in everything he does, serving as a foil to Pecksniff. He carries in his heart an undying loyalty and admiration for Pecksniff. Eventually, he discovers Pecksniff's true nature through his treatment of Mary, whom Pinch has come to love. Because Tom Pinch plays such a large role in the story, he is sometimes considered the novel's true protagonist.
Ruth Pinch.
Tom Pinch's sister. She is sweet and good, like her brother. At first she works as a governess to a wealthy family with several nasty brats. Later in the novel she and Tom set up housekeeping together. She falls in love with, and marries, Tom's friend John Westlock.
Mark Tapley.
Good-humoured employee of the Blue Dragon Inn and suitor of Mrs Lupin (the Dragon's owner), leaves that establishment to find work that's more of a credit to his character: that is, work sufficiently miserable that his cheerfulness will be more of a credit to him. He eventually joins Young Martin Chuzzlewit on his trip to America, where he finds at last a situation that requires the full extent of his innate cheerfulness of disposition. Martin buys a piece of land in a settlement called "Eden"—which, if not actually underwater, is at least in the midst of a malarial swamp. Mark nurses him through his illness, and they eventually return to England.
Montague Tigg / Tigg Montague.
A down-on-his-luck rogue at the beginning of the story, and a hanger-on to distant Chuzzlewit kin Chevy Slyme. Later, he starts a thriving, sleazy insurance business with no money at all and lures Jonas into the business. (The Anglo-Bengalee Disinterested Loan and Life Assurance Company is in essence a classic Ponzi scheme—founded before Charles Ponzi was born—which paid off early policyholders' claims with premiums from more recent policyholders.)
John Westlock.
Begins as a disgruntled student falling out with Pecksniff. After Tom Pinch's flight to London, John serves as a mentor and companion to both Tom and his sister; he falls in love with and eventually marries Ruth Pinch.
Mr Nadgett.
Soft-spoken, mysterious individual who is Tom Pinch's landlord and serves as Montague's private investigator.
Sarah Gamp (also known as Sairey or Mrs Gamp).
Sarah Gamp is an alcoholic who works as a midwife, monthly nurse, and layer-out of the dead. Even in a house of mourning, Mrs Gamp manages to enjoy all the hospitality a house can afford, with little regard for the person to whom she is there to minister; and she is often much the worse for drink. In her nursing activities, she constantly refers to a Mrs Harris, who is in fact "a phantom of Mrs Gamp's brain … created for the express purpose of holding visionary dialogues with her on all manner of subjects, and invariably winding up with a compliment to the excellence of her nature." She habitually carries with her a battered black umbrella: so popular with the Victorian public was the character that Gamp became a slang word for an umbrella in general. The character was based upon a real nurse described to Dickens by his friend, Angela Burdett-Coutts.
Mary Graham.
Caretaker of old Martin Chuzzlewit, who has told her she will receive nothing from him in his will. The older Martin expects that this will give Mary a strong interest in keeping him alive and well. Mary and old Martin Chuzzlewit's grandson fall in love, thus giving her an interest in the elder Chuzzlewit's death. The two lovers are separated by the events of the book, but are eventually reunited.
Mr Chuffey.
Old man who works for Anthony Chuzzlewit and later Jonas Chuzzlewit.
Jefferson Brick.
War correspondent in The New York Rowdy Journal.
Mr Bailey.
Physically of small build and employed by the fraudster Montague Tigg and has been willing to sacrifice his Jewish beard to be a friend to a local barber, Paul (Poll) Sweedlepipe, let alone buys birds from him. There is such a frolic wonderfulness in his character and mien that even the unscrupulous rascal Montague deeply lamented for him when he was reported to suffer a fatal head injury after he was knocked out of the cabriolet, saying that he would rather lose a large sum of money than lose him. To the barber's relief and joy, he recovers from the injury in the end.
---