Background.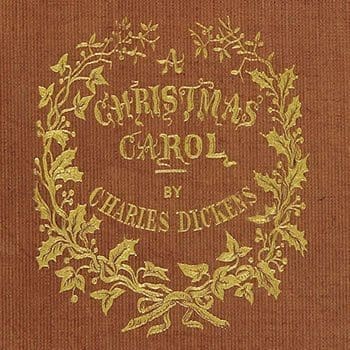 A Christmas Carol is a novella, or short story, written by Charles Dickens and first published in the Christmas of 1843. The allegorical tale tells the story of the transformation of the mean-spirited Ebenezer Scrooge through the visits of the spirit of his former business partner and three ghosts over the course of a Christmas Eve night. It remains a much-loved traditional Christmas tale.
Context.
This quotation forms the first sentence of the novella A Christmas Carol. The first part of the sentence informs the reader that the character (Jacob) Marley is dead, whilst a second part that follows introduces an immediate element of doubt into this supernatural tale.
The quotation is a reference to Jacob Marley, the former business partner of Ebenezer Scrooge. Jacob Marley died seven years prior to the setting of A Christmas Carol, on the same day it is set, Christmas Eve. His ghost visits Scrooge but this quote, and other sentences within the opening paragraph, are used by Dickens to confirm to the reader at the outset of the story that Marley is definitely dead.
Dickens introduces the character of the ghost of Marley into the story to warn Scrooge of the consequences of his selfish life, for example how Marley says he is condemned to wander the world bound by chains, chains he says he forged in life (suggesting to Scrooge that he has a choice).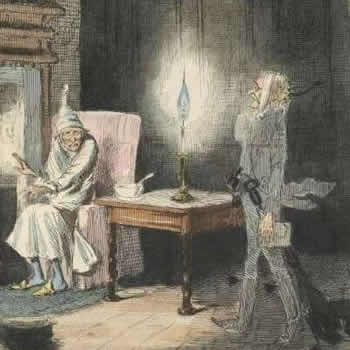 Literary Technique.
This is an example of a colon being used to break up two elements of a sentence. Colons are often used to introduce or contrast a different idea within the confines of a single sentence. Charles Dickens originally used a colon to separate the two parts of the opening sentence to A Christmas Carol with the inclusion of 'Marley was dead: to begin with'. When he came to revise the text, Dickens changed the colon to a comma, and later editions of the novella have the opening sentence appearing as 'Marley was dead, to begin with'. Some more recent texts have changed this colon or comma to a hyphen.
Source.
Taken from the following passage of Stave 1 (Marley's Ghost) of A Christmas Carol:
Marley was dead: to begin with. There is no doubt whatever about that. The register of his burial was signed by the clergyman, the clerk, the undertaker, and the chief mourner. Scrooge signed it: and Scrooge's name was good upon 'Change, for anything he chose to put his hand to. Old Marley was as dead as a door-nail.

Mind! I don't mean to say that I know, of my own knowledge, what there is particularly dead about a door-nail. I might have been inclined, myself, to regard a coffin-nail as the deadest piece of ironmongery in the trade. But the wisdom of our ancestors is in the simile; and my unhallowed hands shall not disturb it, or the Country's done for. You will therefore permit me to repeat, emphatically, that Marley was as dead as a door-nail.

Scrooge knew he was dead? Of course he did. How could it be otherwise? Scrooge and he were partners for I don't know how many years. Scrooge was his sole executor, his sole administrator, his sole assign, his sole residuary legatee, his sole friend, and sole mourner. And even Scrooge was not so dreadfully cut up by the sad event, but that he was an excellent man of business on the very day of the funeral, and solemnised it with an undoubted bargain.

The mention of Marley's funeral brings me back to the point I started from. There is no doubt that Marley was dead. This must be distinctly understood, or nothing wonderful can come of the story I am going to relate. If we were not perfectly convinced that Hamlet's Father died before the play began, there would be nothing more remarkable in his taking a stroll at night, in an easterly wind, upon his own ramparts, than there would be in any other middle-aged gentleman rashly turning out after dark in a breezy spot—say Saint Paul's Churchyard for instance—literally to astonish his son's weak mind.
Characters.
Jacob Marley.
In life, Jacob Marley was the business partner of Ebenezer Scrooge. Together, as the firm of Scrooge and Marley, they became successful yet hard-hearted bankers, with seats on the London Stock Exchange. Seven years to the day of his death, on a Christmas Eve, Marley's ghost visits Scrooge. Bound in chains and tormented, the ghost is doomed to wander the earth forever as punishment for his greed and selfishness when he was alive. Marley visits Scrooge to offer him redemption from his own fate, in the hope of changing his mean ways. He tells Scrooge that three spirits will visit that night.
Have Your Say.
Give your view on 'Marley was dead: to begin with' with a rating and help us compile the very best Charles Dickens quotations.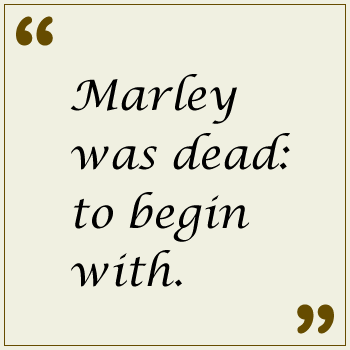 Related.
If you like this, we think you might also be interested in these related quotations: