Background.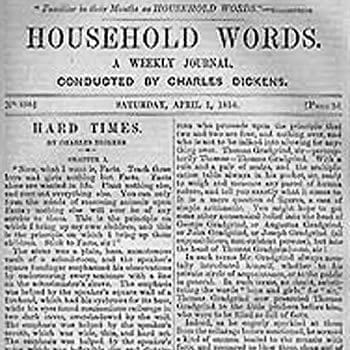 'He had been for many years, a quiet silent man, associating but little with other men, and used to companionship with his own thoughts' is a quotation from Hard Times (Book 2, Chapter 4).
Hard Times – For These Times (more commonly now known as Hard Times) is the tenth novel by Charles Dickens. It first appeared in weekly parts, published in Household Words, from April to August 1854. The shortest of Dickens' novels, the story is set in the fictitious northern English industrial mill-town of Coketown.
Context.
This quote describes feelings of isolation of Stephen Blackpool, the downtrodden mill worker in Coketown.
Book 2, Chapter 4 of Hard Times begins with a union organiser, Slackbridge, addressing a crowd of Coketown workers, urging them to join the union and fight against low wages and poor conditions. When Blackpool says he doesn't want to join, he is ignored by the others. This has deepened existing feelings of his rather solitary life.
The shunning of Stephen Blackpool by work colleagues sets in motion a series of events with tragic consequences.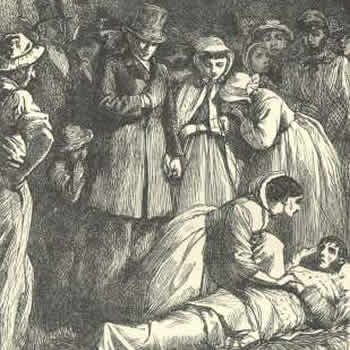 Stephen Blackpool.
One of Charles Dickens's more tragic characters, Stephen Blackpool is a worker at one of Josiah Bounderby's factories in the filthy mill-town of Coketown. Stephen is aged 40 but is nicknamed 'old Stephen' due to his looks from a hard life. He married 19 years previously but is now estranged from his wife due to her drunken behaviour, although she reappears in his life from time to time. Stephen is unable to divorce his wife due to the cost involved, despite being the burden she brings to him. He forms a close bond with Rachael, a co-worker, whom he wishes to marry. After a dispute with Bounderby, he is dismissed from his work and, shunned by his former fellow workers, is forced to look for work elsewhere. While absent from Coketown, he is wrongly accused of robbing Bounderby's bank. On his way back to vindicate himself, a fall down an abandoned mine-shaft has tragic consequences.
Source.
Taken from the following passage in Book 2, Chapter 4 (Men and Brothers) of Hard Times:
Thus easily did Stephen Blackpool fall into the loneliest of lives, the life of solitude among a familiar crowd. The stranger in the land who looks into ten thousand faces for some answering look and never finds it, is in cheering society as compared with him who passes ten averted faces daily, that were once the countenances of friends. Such experience was to be Stephen's now, in every waking moment of his life; at his work, on his way to it and from it, at his door, at his window, everywhere. By general consent, they even avoided that side of the street on which he habitually walked; and left it, of all the working men, to him only.

He had been for many years, a quiet silent man, associating but little with other men, and used to companionship with his own thoughts. He had never known before the strength of the want in his heart for the frequent recognition of a nod, a look, a word; or the immense amount of relief that had been poured into it by drops through such small means. It was even harder than he could have believed possible, to separate in his own conscience his abandonment by all his fellows from a baseless sense of shame and disgrace.


The first four days of his endurance were days so long and heavy, that he began to be appalled by the prospect before him. Not only did he see no Rachael all the time, but he avoided every chance of seeing her; for, although he knew that the prohibition did not yet formally extend to the women working in the factories, he found that some of them with whom he was acquainted were changed to him, and he feared to try others, and dreaded that Rachael might be even singled out from the rest if she were seen in his company. So, he had been quite alone during the four days, and had spoken to no one, when, as he was leaving his work at night, a young man of a very light complexion accosted him in the street.
Have Your Say.
Give your view on 'He had been for many years, a quiet silent man, associating but little with other men, and used to companionship with his own thoughts' with a rating and help us compile the very best Charles Dickens quotations.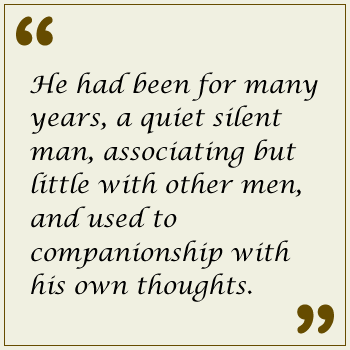 Related.
If you like this, we think you might also be interested in these related quotations: