Background.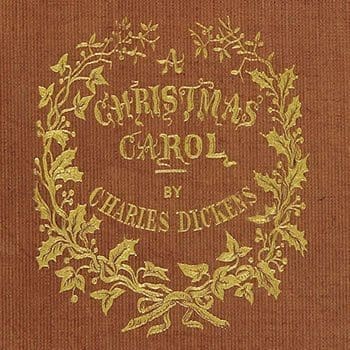 'I will live in the Past, the Present, and the Future! The Spirits of all Three shall strive within me' is a quotation from A Christmas Carol (Stave 5).
A Christmas Carol is a novella, or short story, written by Charles Dickens and first published in the Christmas of 1843. The allegorical tale tells the story of the transformation of the mean-spirited Ebenezer Scrooge through the visits of the spirit of his former business partner and three ghosts over the course of a Christmas Eve night. It remains a much-loved traditional Christmas tale.
Context.
The quotation is said by Ebenezer Scrooge towards the end of A Christmas Carol. After emerging from a night when he is visited by the spirits of his former business partner, Jacob Marley and three ghosts, Scrooge is relieved to wake and find his nightmare is over, and emerges with a newly found passion for life and resolve to do good. He shouts out that the spirits of all three strive within him.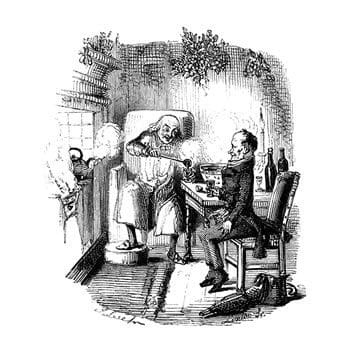 Source.
Taken from the following passage in Stave 5 (The End Of It) of A Christmas Carol:
Yes! and the bedpost was his own. The bed was his own, the room was his own. Best and happiest of all, the Time before him was his own, to make amends in! "I will live in the Past, the Present, and the Future!" Scrooge repeated, as he scrambled out of bed. "The Spirits of all Three shall strive within me. Oh Jacob Marley! Heaven, and the Christmas Time be praised for this! I say it on my knees, old Jacob; on my knees!" He was so fluttered and so glowing with his good intentions, that his broken voice would scarcely answer to his call. He had been sobbing violently in his conflict with the Spirit, and his face was wet with tears. "They are not torn down," cried Scrooge, folding one of his bed-curtains in his arms, "they are not torn down, rings and all. They are here—I am here—the shadows of the things that would have been, may be dispelled. They will be. I know they will!" His hands were busy with his garments all this time; turning them inside out, putting them on upside down, tearing them, mislaying them, making them parties to every kind of extravagance. "I don't know what to do!" cried Scrooge, laughing and crying in the same breath; and making a perfect Laocoön of himself with his stockings. "I am as light as a feather, I am as happy as an angel, I am as merry as a schoolboy. I am as giddy as a drunken man. A merry Christmas to everybody! A happy New Year to all the world. Hallo here! Whoop! Hallo!"
Characters.
Ebenezer Scrooge.
Ebenezer Scrooge is one of the most famous characters created by Charles Dickens and arguably one of the most famous in English literature. The protagonist of A Christmas Carol, Scrooge is a cold-hearted and mean-spirited accountant. His business partner, the equally mean Jacob Marley, died seven years previous and he lives alone, having never married. Through a visit one Christmas Eve by the ghost of Marley and three subsequent spirits, Scrooge is awakened to his meanness and the impact it has on others.
The term Scrooge has entered the English Language to represent a mean person, known as a literary neologism. Neologisms are relatively recent terms, words, or phrases in the process of entering common use. Other examples of Dickens's neologisms include butterfingers (to mean a clumsy person) and doormat (a metaphor for taking advantage of a person).
In screen adaptations of A Christmas Carol, the character of Ebenezer Scrooge has been played by actors that include Alastair Sim (1951 film), Albert Finney (1970 musical film), Michael Hordern (1977 TV Movie), George C. Scott (1984 TV Movie), Michael Caine (1992 musical fantasy film), Patrick Stewart (1999 TV Movie) and Guy Pearce (2019 TV Mini-Series). Michael Hordern had previously appeared alongside Alastair Sim in the 1951 film (titled Scrooge), this time playing the character of Jacob Marley.
Have Your Say.
Give your view on 'I will live in the Past, the Present, and the Future! The Spirits of all Three shall strive within me' with a rating and help us compile the very best Charles Dickens quotations.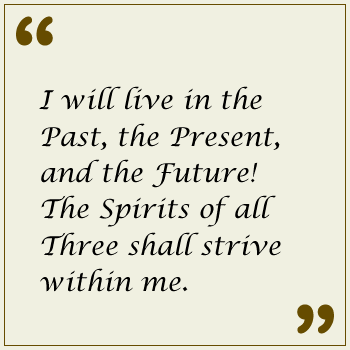 Related.
If you like this, we think you might also be interested in these related quotations: