Introduction.
Set in the 1820's, Little Dorrit is Charles Dickens's powerful story of love, honour, debt and hope. It was serialised between 1855 and 1857 and was the eleventh novel from Dickens.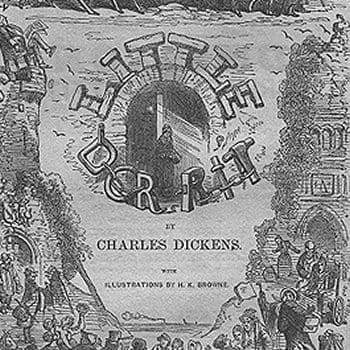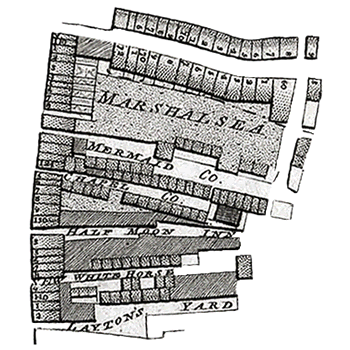 Historical Setting.
In 1824, when Charles Dickens was only 12 years old, his father John Dickens was imprisoned for debt at the Marshalsea prison in Southwark, south London. Forced because of that to leave school for a job in a blacking factory, which he hated, Charles was deeply affected by the effect that debt had on a family, including being forced to work and of visiting his father in the Marshalsea. This can be seen in a number of his works but particularly Little Dorrit where the Marshalsea prison is central to the story and the main character is also a child visiting a father in the prison.

At the time of writing Little Dorrit , Charles Dickens was angry with the government's mishandling of the Crimean War (1853 – 1856) and sought to satirise the incompetence of bureaucracy. In Chapter 10, entitled Containing the whole Science of Government, he parodied the government bureaucracy of the day in the Circumlocution Office, where Arthur Clennam seeks information about William Dorrit, but ends up being passed from official to official.
Story.
A rags to riches story, Little Dorrit centres around the changing fortunes of the Dorrit family. William Dorrit is a long-term inmate of the Marshalsea debtors' prison in London, a proud man who has fallen on hard times. Amy, his kind-hearted daughter and the Little Dorrit of the title, was born at the prison and juggles her time looking after her father and working outside of the prison.

But their fate is transformed by the unexpected arrival from overseas of the benevolent Arthur Clennam, who is determined to solve the mystery of his father's dying words, "Put it right, Arthur." He is sure this phrase is in some way connected to the Dorrits' plight and sets about rectifying the situation and discovers they are sitting on a huge fortune, a windfall which propels the Dorrit family into the upper echelons of society. As the Dorrits meet a variety of characters from rich to poor, a deep bond grows between Arthur Clennam and Amy Dorrit. However a dark villain, Rigaud, threatens to spill a long-held family secret.
Publication.
Little Dorrit was serialised in 19 monthly instalments, published between December 1855 and June 1857. Each edition comprised 32 pages and featuring two illustrations by Phiz (real name Hablot K. Browne), an artist and book illustrator who had worked with Dickens since the start of his writing career. Each instalment cost one shilling. The last edition was a double issue, costing two shillings.

Charles Dickens was a pioneer of publishing his work in installments (usually weekly) before later appearing in volume form. It helped not only to increase sales but for him to gauge opinion to the story, which he would sometimes adjust according to public sentiment. Some commentators say Dickens was a pioneer of the modern soap opera for the way he left readers on a cliff-edge at the end of each installment, wanting to see the next edition.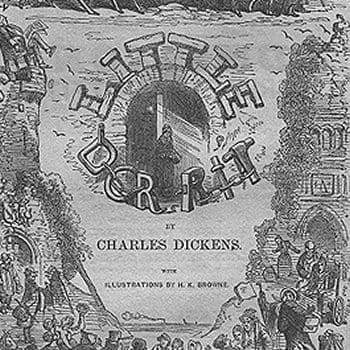 Screen Adaptations.
In 1988, a film adaptation of Little Dorrit was released in two parts of approximately three hours in duration each. The film cast Derek Jacobi as Arthur Clennam, Sarah Pickering as Amy Dorrit and Alec Guinness as William Dorrit. In 2008, Little Dorrit was turned into an award winning 14-episode television series by the BBC. In the United States, it aired in five episodes on PBS in 2009. It cast Matthew Macfadyen as Arthur Clennam, Claire Foy as Amy Dorrit and Tom Courtenay as William Dorrit. The series won seven Emmy Awards, including Outstanding Miniseries.
Quotations.
Discover our fully referenced archive of over 30 Little Dorrit quotations. Read more about the context in which a quotation was written, explore profiles of characters that say them and have you chance to rate each.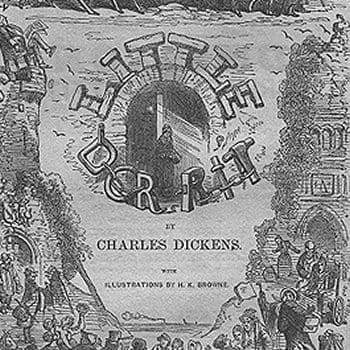 Key Themes.
A number of key themes that run through Little Dorrit include:
Dedication.
Charles Dickens dedicated Little Dorrit to the painter Clarkson Stanfield. A prominent marine and landscape artist, Stanfield was a personal friend of Dickens who worked with him on creating scenery for plays and illustrations for his works.
---