Background.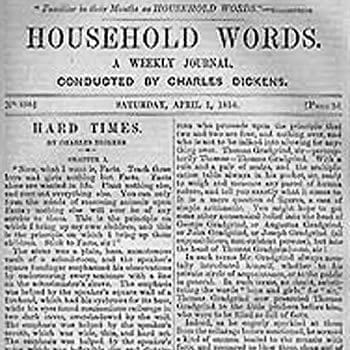 'Little vessels … ready to have imperial gallons of facts poured into them until they were full to the brim' is a quotation from Hard Times (Book 1, Chapter 1).
Hard Times – For These Times (more commonly now known as Hard Times) is the tenth novel by Charles Dickens. It first appeared in weekly parts, published in Household Words, from April to August 1854. The shortest of Dickens' novels, the story is set in the fictitious northern English industrial mill-town of Coketown.
Context.
Quotation said by Thomas Gradgrind, taken from the end of opening chapter of Hard Times.
Chapter 1 of Hard Times is set in a schoolroom in the dirty, industrial Coketown. Thomas Gradgrind is airing his mechanical views of educational tuition to the schoolmaster, reliant on drumming in facts. Both of them, and a third person present, look over towards the children, which Dickens comically, and in keeping with a number of industrial metaphors in the novel, describes as little vessels, waiting to have these facts poured into them.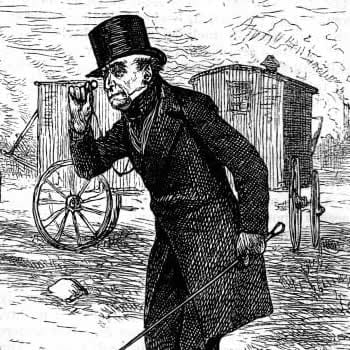 Thomas Gradgrind.
Thomas Gradgrind is the notorious school board Superintendent in Charles Dickens's novel Hard Times who is dedicated to the pursuit of profitable enterprise. His name is now used generically to refer to someone who is hard and only concerned with cold facts and numbers. He is an intense follower of Utilitarian ideas. Gradgrind's obsession with facts and lack of empathy blight the lives of his two oldest children, Louisa and Thomas Jnr. He rises to becomes Coketown's Member of Parliament. When his sees his children's lives fall into disarray he changes his ways.
Theme Analysis: Utilitarianism.
In his portrayal of Thomas Gradgrind, Charles Dickens was parodying followers of utilitarian ideas. Utilitarianism had been pioneered by English philosopher Jeremy Bentham (1748 – 1832). In short, utilitarianism seeks the maximisation of pleasure and the minimisation of pain for the greater good. However the methods in which this is achieved does not necessarily lead to these outcomes at an individual level. In the character of Gradgrind, Dickens highlights his belief that utilitarianism can be seen as selfish, with its rather mechanical approach to weighing up actions. When the lives of two of his own children fall apart, Thomas Gradgrind sees the error of this philosophy. As a result of the characteristics of Thomas Gradgrind, the term Gradgrindian has entered the English language to describe someone having a soulless devotion to facts and figures.
Source.
Taken from the following passage in Book 1, Chapter 1 (The One Thing Needful) of Hard Times:
'In this life, we want nothing but Facts, sir; nothing but Facts!'

The speaker, and the schoolmaster, and the third grown person present, all backed a little, and swept with their eyes the inclined plane of little vessels then and there arranged in order, ready to have imperial gallons of facts poured into them until they were full to the brim.
Have Your Say.
Give your view on 'Little vessels … ready to have imperial gallons of facts poured into them until they were full to the brim' with a rating and help us compile the very best Charles Dickens quotations.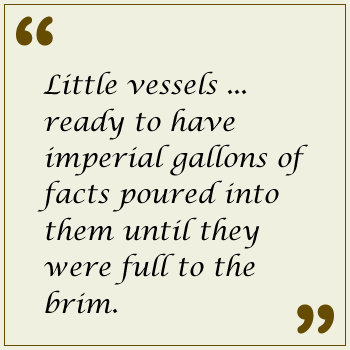 Related.
If you like this, we think you might also be interested in these related quotations:
Discover more.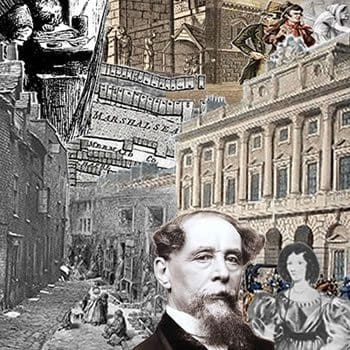 ---