Background.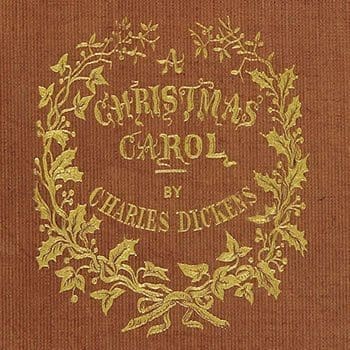 A Christmas Carol is a novella, or short story, written by Charles Dickens and first published in the Christmas of 1843. The allegorical tale tells the story of the transformation of the mean-spirited Ebenezer Scrooge through the visits of the spirit of his former business partner and three ghosts over the course of a Christmas Eve night. It remains a much-loved traditional Christmas tale.
Context.
This quote is a description of the ghost of Jacob Marley. Marley is the former business partner of Ebenezer Scrooge, who died seven years prior to the setting of A Christmas Carol, on the same day it is set, Christmas Eve.
As Scrooge returns home from working in his counting-house on Christmas night, he thinks he sees the face of Marley in the door knocker of his house. Scrooge is disturbed by the vision, which in the poor light Dickens humorously describes as looking like a bad lobster in a dark cellar.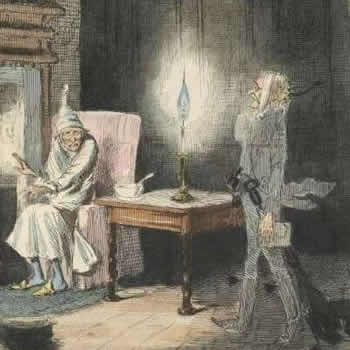 Literary Technique.
This is an example of the figurative language Charles Dickens uses in his works, here using a simile to compare the face of the ghost of Marley to a poorly looking strange creature, a bad lobster. The use of similes helps an author to strengthen a description, and for the reader it helps to better visualize the scene in their heads. Dickens uses a number of such comparisons in Stave 1 of A Christmas Carol, particularly to help describe Ebenezer Scrooge and his attributes, such as hard and sharp as flint and solitary as an oyster.
Jacob Marley.

In life, Jacob Marley was the business partner of Ebenezer Scrooge. Together, as the firm of Scrooge and Marley, they became successful yet hard-hearted bankers, with seats on the London Stock Exchange. Seven years to the day of his death, on a Christmas Eve, Marley's ghost visits Scrooge. Bound in chains and tormented, the ghost is doomed to wander the earth forever as punishment for his greed and selfishness when he was alive. Marley visits Scrooge to offer him redemption from his own fate, in the hope of changing his mean ways. He tells Scrooge that three spirits will visit that night.

Source.
Taken from the following passage of Stave 1 (Marley's Ghost) of A Christmas Carol:
Now, it is a fact, that there was nothing at all particular about the knocker on the door, except that it was very large. It is also a fact, that Scrooge had seen it, night and morning, during his whole residence in that place; also that Scrooge had as little of what is called fancy about him as any man in the city of London, even including—which is a bold word—the corporation, aldermen, and livery. Let it also be borne in mind that Scrooge had not bestowed one thought on Marley, since his last mention of his seven years' dead partner that afternoon. And then let any man explain to me, if he can, how it happened that Scrooge, having his key in the lock of the door, saw in the knocker, without its undergoing any intermediate process of change—not a knocker, but Marley's face.


Marley's face. It was not in impenetrable shadow as the other objects in the yard were, but had a dismal light about it, like a bad lobster in a dark cellar. It was not angry or ferocious, but looked at Scrooge as Marley used to look: with ghostly spectacles turned up on its ghostly forehead. The hair was curiously stirred, as if by breath or hot air; and, though the eyes were wide open, they were perfectly motionless. That, and its livid colour, made it horrible; but its horror seemed to be in spite of the face and beyond its control, rather than a part of its own expression.


As Scrooge looked fixedly at this phenomenon, it was a knocker again.
Have Your Say.
Give your view on 'Like a bad lobster in a dark cellar' with a rating and help us compile the very best Charles Dickens quotations.
Related.
If you like this, we think you might also be interested in these related quotations:
Resources.
We have made our A Christmas Carol quotation slides (seen at the top of each quotation page) available to download for academic or other non-commercial purposes. Available as GIF images, the files can be used for presentation slides, flashcards, handouts etc. Dimensions are 1500 by 850 pixels. We make them free to download and use on the undertanding they are not then sold or used for commercial purposes (and a credit to our site would be nice!).
Discover more.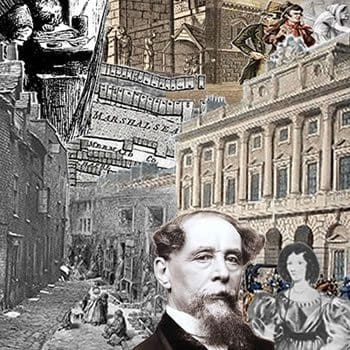 ---