Background.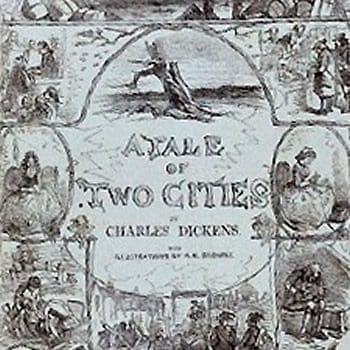 'You have been the last dream of my soul' is a quotation from A Tale of Two Cities (Book 2, Chapter 13).
A Tale of Two Cities is the twelfth novel by Charles Dickens, originally published in weekly installments between April 1859 and November 1859. It is one of two historical novels by Dickens (the other being Barnaby Rudge). The plot centres on the years leading up to the French Revolution and culminates in the Jacobean Reign of Terror.
Context.
Quotation said by the character Sydney Carton who is speaking to Lucie Manette.
In the novel A Tale of Two Cities, Sydney Carton is a drunken lawyer who falls in love with Lucie Manette. However she later gets engaged to the young Frenchman Charles Darnay. Despite this, Carton's love for Lucie is such that he pays the ultimate sacrifice at the end of the story.
Taken from the following passage in Book 2 Chapter 13 (The Fellow of No Delicacy) of the novel A Tale of Two Cities:
She was pale and trembling. He came to her relief with a fixed despair of himself which made the interview unlike any other that could have been holden.

"If it had been possible, Miss Manette, that you could have returned the love of the man you see before yourself—flung away, wasted, drunken, poor creature of misuse as you know him to be—he would have been conscious this day and hour, in spite of his happiness, that he would bring you to misery, bring you to sorrow and repentance, blight you, disgrace you, pull you down with him. I know very well that you can have no tenderness for me; I ask for none; I am even thankful that it cannot be."

"Without it, can I not save you, Mr. Carton? Can I not recall you—forgive me again!—to a better course? Can I in no way repay your confidence? I know this is a confidence," she modestly said, after a little hesitation, and in earnest tears, "I know you would say this to no one else. Can I turn it to no good account for yourself, Mr. Carton?"

He shook his head.

"To none. No, Miss Manette, to none. If you will hear me through a very little more, all you can ever do for me is done. I wish you to know that you have been the last dream of my soul. In my degradation I have not been so degraded but that the sight of you with your father, and of this home made such a home by you, has stirred old shadows that I thought had died out of me. Since I knew you, I have been troubled by a remorse that I thought would never reproach me again, and have heard whispers from old voices impelling me upward, that I thought were silent for ever. I have had unformed ideas of striving afresh, beginning anew, shaking off sloth and sensuality, and fighting out the abandoned fight. A dream, all a dream, that ends in nothing, and leaves the sleeper where he lay down, but I wish you to know that you inspired it."

"Will nothing of it remain? O Mr. Carton, think again! Try again!"

"No, Miss Manette; all through it, I have known myself to be quite undeserving. And yet I have had the weakness, and have still the weakness, to wish you to know with what a sudden mastery you kindled me, heap of ashes that I am, into fire—a fire, however, inseparable in its nature from myself, quickening nothing, lighting nothing, doing no service, idly burning away."
Have Your Say.
Give your view on 'You have been the last dream of my soul' with a rating and help us compile the very best Charles Dickens quotations.
Related.
Click here to see more quotations related to the character Sydney Carton.
If you like this, we think you might also be interested in these related quotations: