Background.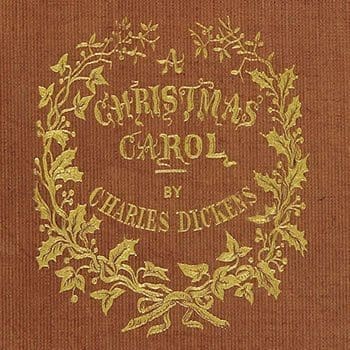 A Christmas Carol is a novella, or short story, written by Charles Dickens and first published in the Christmas of 1843. The allegorical tale tells the story of the transformation of the mean-spirited Ebenezer Scrooge through the visits of the spirit of his former business partner and three ghosts over the course of a Christmas Eve night. It remains a much-loved traditional Christmas tale.
Context.
Quotation said by Fred, Scrooge's nephew.
Fred visits his uncle on Christmas Eve and invites him to a family dinner. Scrooge replies harsly, saying he wants to be alone. Fred, a jovial character in the story, is determined he will stay cheerful, despite his uncle's bitterness during an exchange of words.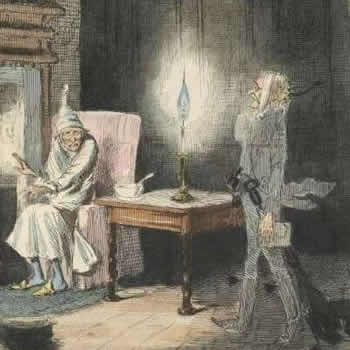 Themes in A Christmas Carol: Christmas.
As reflected in the title the theme of Christmas is central to the novella A Christmas Carol. Christmas is a traditional Christian celebration of the birth of Christ. Occurring around the Winter Solstice (the longest night of the year) has led to traditions from other cultures and religions being incorporated over time including Pagan, Roman and Greek. Dickens incorporates a number of these traditions into A Christmas Carol, such as the bringing together of family and friends, feasting of food, gathering around a fire, the singing of carols, the figure of Saint Nicholas (also known as Santa Claus/Father Christmas), the giving of presents and attending church. At the start of the story we see the miserly misanthropic character Ebenezer Scrooge reject many of these traditions. He represents the opposite of human traits we associate with Christmas such as generosity and compassion. Through his transformation, towards the end of the story we can see Scrooge adopt the spirit of Christmas such as happiness, generosity and kindness.
Fred.
Fred is the nephew of Ebenezer Scrooge, the son of his beloved but now dead little sister, Fran. He is Scrooge's only living relative and also the only person who attempts to pull him out of the miserable isolated world he lives in. Fred is the antithesis of Scrooge in appearance and spirit. He visits his uncle on Christmas Eve and invites him to a family dinner. Scrooge mocks Fred's celebration of Christmas: "What reason have you to be merry? You're poor enough", says Scrooge to his nephew. To which Scrooge's nephew replies: "What reason have you to be morose? You're rich enough"..A jovial character, Fred refuses to let Scrooge's miserly attitude dampen his sprits despite his uncle's rebuttals.

Source.
Taken from the following passage of Stave 1 (Marley's Ghost) of A Christmas Carol:
"Good afternoon," said Scrooge.


"I want nothing from you; I ask nothing of you; why cannot we be friends?"


"Good afternoon," said Scrooge.


"I am sorry, with all my heart, to find you so resolute. We have never had any quarrel, to which I have been a party. But I have made the trial in homage to Christmas, and I'll keep my Christmas humour to the last. So A Merry Christmas, uncle!"


"Good afternoon!" said Scrooge.


"And A Happy New Year!"


"Good afternoon!" said Scrooge.


His nephew left the room without an angry word, notwithstanding. He stopped at the outer door to bestow the greetings of the season on the clerk, who, cold as he was, was warmer than Scrooge; for he returned them cordially.
Have Your Say.
Give your view on 'I'll keep my Christmas humour to the last' with a rating and help us compile the very best Charles Dickens quotations.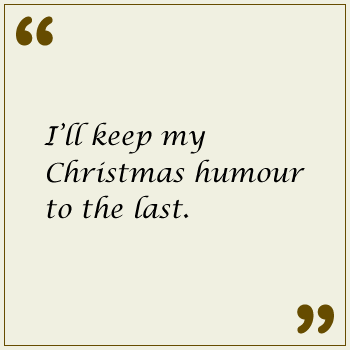 Related.
If you like this, we think you might also be interested in these related quotations:
Resources.
We have made our A Christmas Carol quotation slides (seen at the top of each quotation page) available to download for academic or other non-commercial purposes. Available as GIF images, the files can be used for presentation slides, flashcards, handouts etc. Dimensions are 1500 by 850 pixels. We make them free to download and use on the understanding they are not then sold or used for commercial purposes (and a credit to our site would be nice!).