Background.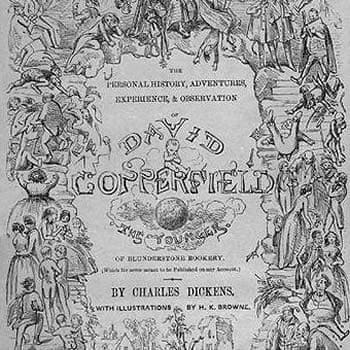 'It's in vain, Trot, to recall the past, unless it works some influence upon the present' is a quotation from David Copperfield (Chapter 23).
David Copperfield was the eighth novel by Charles Dickens, first published between May 1849 and November 1850. The novel, written in the first person, revolves around the character after which the work is named. It follows his life until middle age, with his own adventures and the numerous friends and enemies he meets along his way.
Context.
Quotation by Betsey Trotwood who is talking to David Copperfield about the past. David Copperfield has met up with his great-aunt, Betsey Trotwood (referred to as 'Miss Betsey'), at a London inn. Miss Betsey is accompanied by her servant, Janet. They dine together to talk about David's future.

Character Profile: Betsey Trotwood.
David's eccentric and temperamental yet kind-hearted great-aunt; she becomes his guardian after he runs away from Grinby and Murdstone's warehouse in Blackfriars (London). She is present on the night of David's birth but leaves after hearing that Clara Copperfield's child is a boy instead of a girl, and is not seen until David is older and flees to her house in Dover from London. She is portrayed as affectionate towards David, and defends him and his late mother when Mr. Murdstone arrives to take custody of David: she confronts the man and rebukes him for his abuse of David and his mother, then threatens him and drives him off the premises. Universally believed to be a widow, she conceals the existence of her ne'er-do-well husband who constantly bleeds her for money.
Source.
Taken from the following passage in Chapter 23 (I Corroborate Mr. Dick and Choose a Profession) of David Copperfield:
My aunt finished eating the piece of toast on which she was then engaged, looking me full in the face all the while; and then setting her glass on the chimney-piece, and folding her hands upon her folded skirts, replied as follows:

'Trot, my child, if I have any object in life, it is to provide for your being a good, a sensible, and a happy man. I am bent upon it—so is Dick. I should like some people that I know to hear Dick's conversation on the subject. Its sagacity is wonderful. But no one knows the resources of that man's intellect, except myself!'

She stopped for a moment to take my hand between hers, and went on:

'It's in vain, Trot, to recall the past, unless it works some influence upon the present. Perhaps I might have been better friends with your poor father. Perhaps I might have been better friends with that poor child your mother, even after your sister Betsey Trotwood disappointed me. When you came to me, a little runaway boy, all dusty and way-worn, perhaps I thought so. From that time until now, Trot, you have ever been a credit to me and a pride and a pleasure. I have no other claim upon my means; at least'—here to my surprise she hesitated, and was confused—'no, I have no other claim upon my means—and you are my adopted child. Only be a loving child to me in my age, and bear with my whims and fancies; and you will do more for an old woman whose prime of life was not so happy or conciliating as it might have been, than ever that old woman did for you.'

It was the first time I had heard my aunt refer to her past history. There was a magnanimity in her quiet way of doing so, and of dismissing it, which would have exalted her in my respect and affection, if anything could.

'All is agreed and understood between us, now, Trot,' said my aunt, 'and we need talk of this no more. Give me a kiss, and we'll go to the Commons after breakfast tomorrow.'
Have Your Say.
Give your view on 'It's in vain, Trot, to recall the past, unless it works some influence upon the present' with a rating and help us compile the very best Charles Dickens quotations.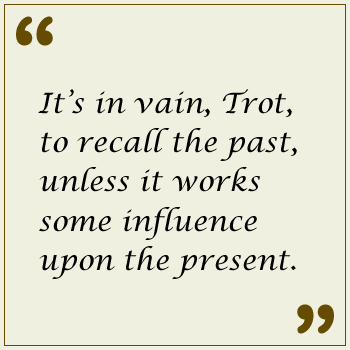 Related.
Click here to see our archive of quotations related to the character of Betsey Trotwood.
If you like this, we think you might also be interested in these related quotations:
Discover more.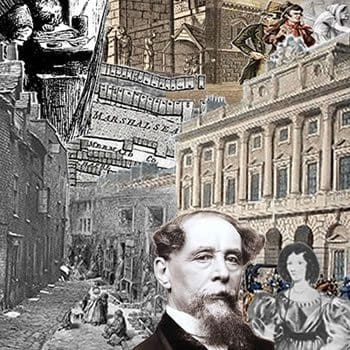 ---