Robert Seymour (1798 – 1836) was one of the most prominent illustrators of the early 19th century but his name has ended up as an unfortunate footnote in the life of Charles Dickens.
Early Life.
Robert Seymour was born in Somerset, England in 1798, the second son of Henry Seymour and Elizabeth Bishop. Soon after moving to London his father died and Robert Seymour was apprenticed as a pattern-drawer. Ambitious to be a professional painter, Seymour's break came when, in 1822, his painting of a scene from Torquato Tasso's Jerusalem Delivered, was exhibited at the Royal Academy.
From 1822-27, Seymour produced designs for a wide range of subjects including: poetry; melodramas; children's stories; and topographical and scientific works. Seymour found more steady employment in 1827 when his etchings and engravings were accepted by the publisher Thomas McLean. Seymour began to specialize in caricatures and other humourous subjects and in 1830 was invited to produce the 1830 caricature magazine Looking Glass.
Charles Dickens and Robert Seymour.
Shortly after the first edition of Sketches of Boz appeared in 1836, the publishers Chapman and Hall approached Charles Dickens with an idea Seymour had proposed. Pleased with the success of his work Squib Annual of Poetry, Politics, and Personalities, Seymour had a new idea revolving around a group of Cockney sportsmen, and the mishaps they get up to. Seymour would illustrate the new work and Chapman and Hall wanted Dickens to write the narrative.
Dickens was interested but suggested that the characters be a group of men travelling the country on adventures and would appear in monthly episodes, an idea that would become The Pickwick Papers. Chapman and Hall liked Dickens' idea and he wrote the first two installments which were illustrated by Seymour.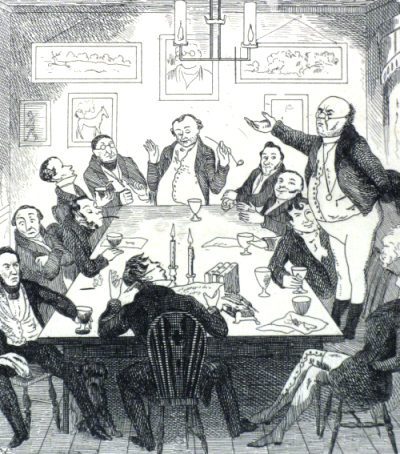 Controversial Death.
Robert Seymour met with Dickens at his lodging at Furnival's Inn on 18 April 1836, whilst working on the third installment of The Pickwick Papers. The meeting was tense and Dickens demanded that Seymour change his illustrations.
Two days later, apparently distressed that his idea had been usurped, Seymour was found dead in his summer-house in Islington. He had shot himself after completing a final Pickwick drawing. His widow, Jane Seymour, claimed Dickens had effectively murdered him.