Daniel Maclise (1806 – 1870) was an Irish history, literary and portrait painter, and illustrator, who worked for most of his life in London, England. Charles Dickens became good friends with Maclise, who would go on to design illustrations for his works and paint portraits of his family.
Early Life.
Daniel Maclise was born Daniel McClish in Ireland on January 25, 1806. The son of a shoemaker, he studied at the Cork School of Art and set up his own portrait studio.
In 1827 he came to London and entered the Royal Academy Schools the following year. In 1829 he won the Silver Medal for drawing and exhibited at the Academy's annual exhibition. Two years later he won the Schools' Gold Medal for a historical painting. In 1835 he became an Associate of the Royal Academy in 1835 began to use the name Maclise instead of McClish. In 1840 he became a full Member of the Royal Academy.
Career Height.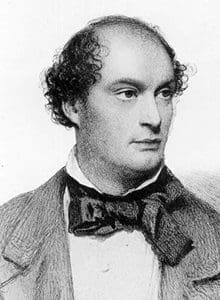 In 1843 Queen Victoria purchased one of his works for Prince Albert on his birthday. Albert, in turn, commissioned Maclise to paint a fresco in the Garden Pavilion at Buckingham Palace. This would be followed by commissions for two frescoes in the new Palace of Westminster, completed in 1848 and 1849.
In 1859 Daniel Maclise began work on two huge frescoes in the Royal Gallery of the new Parliament buildings. Not completed until 1865, the works took their toll on this health. By 1865, when the presidency of the Royal Academy was offered to him, he declined the honour. He died of acute pneumonia on 25 April 1870, aged 64, at his home 4 Cheyne Walk, Chelsea.
Charles Dickens and Daniel Maclise.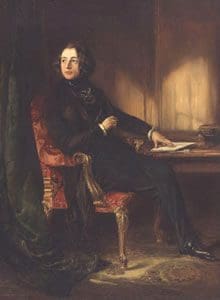 Maclise was first introduced to Charles Dickens by his friend John Forster in December of 1836. Forster and Maclise were already good friends and they helped introduce the twenty-four-year-old Dickens to other important literary figures of the time.
Dickens and Maclise would come good friends particularly through the 1840's. During this period, Daniel Maclise designed illustrations for several of Dickens's Christmas books and other works.
Maclise made a number of portraits and sketches of Charles Dickens and family members throughout their friendship. This included a noted 1839 portrait painting.
Daniel Maclise appears to have had a very high regard for Dickens, almost to the point of hero-worship. In one drawing from December 1844 showing Charles Dickens reading to his friends, Maclise drew 'a corona of inspired genius' around the novelist's head.
Following Maclise's death in 1870, Charles Dickens used a public speech five days later to pay tribute to him. Dickens himself would pass away just over a month later.
Further Reading.