Background.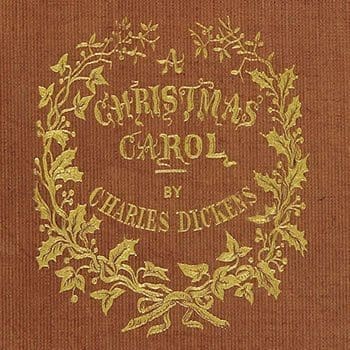 A Christmas Carol is a novella, or short story, written by Charles Dickens and first published in the Christmas of 1843. The allegorical tale tells the story of the transformation of the mean-spirited Ebenezer Scrooge through the visits of the spirit of his former business partner and three ghosts over the course of a Christmas Eve night. It remains a much-loved traditional Christmas tale.
Context.
Quote said by the ghost of Jacob Marley, the former business partner of Ebenezer Scrooge.
Marley, who only appears in Stave 1 of A Christmas Carol, died seven years prior to the setting of the story. We can assume that Marley is as tight and greedy as the character Scrooge when they both worked together.
Dickens introduces the character of the ghost of Marley into the story to warn Scrooge of the consequences of his selfish life, for example how Marley says he is condemned to wander the world bound by chains, chains he says he forged in life (suggesting to Scrooge that he has a choice). In this quotation, we see Marley saying he built the chain during his life by focusing on gaining personal wealth and ignoring the needs of those whom he might have helped with his wealth. Now that he is dead the chains represent the burden of guilt that he must carry with him forever.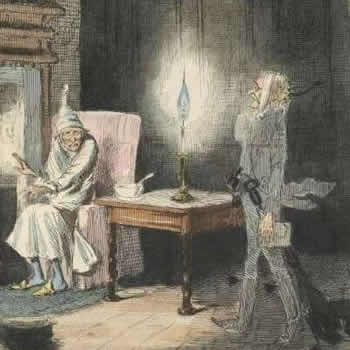 ---
Symbolism in A Christmas Carol: Chains.
In Stave 1 of A Christmas Carol Charles Dickens uses the imagery of supernatural chains as a metaphor for mental imprisonment and torture in the afterlife. Scrooge is visited by the ghost of Jacob Marley, his former business partner who died seven years ago on the same day (Christmas Eve). Scrooge observes that Marley is wrapped in a chain that was long, and wound about him like a tail. The chain is made of cash-boxes, keys, padlocks, ledgers, deeds, and heavy purses wrought in steel, items used to hold or record wealth. Marley explains that during his life on Earth, he created his chain by his own actions, telling him, I wear the chain I forged in life. He warns Scrooge that it is required of every man, that the spirit within him should walk abroad among his fellow-men, and travel far and wide; and, if that spirit goes not forth in life, it is condemned to do so after death. Scrooge is told that he has made for himself an even longer chain that he will wear in death, Marley warning him that his own chain was full as heavy and as long as this, seven Christmas Eves ago. You have laboured on it, since. It is a ponderous chain!. Marley's ghost serves to make Scrooge fearful of afterlife and that his accumulated wealth will become a burden if it is not liberated by sharing amongst those less fortunate. As Marley leaves, Scrooge became sensible of confused noises in the air; incoherent sounds of lamentation and regret; wailings inexpressibly sorrowful and self-accusatory. Looking out of the window he sees the air was filled with phantoms, wandering hither and thither in restless haste, and moaning as they went … every one of them wore chains like Marley's Ghost, some linked together and some who Scrooge recognises from when they were alive. Dickens uses the symbolism of chains to warn Scrooge, and the readers, that the things you prioritise in life will be shackled to you for eternity.
---
Source.
Taken from the following passage of Stave 1 (Marley's Ghost) of A Christmas Carol:
Again the spectre raised a cry, and shook its chain and wrung its shadowy hands.

"You are fettered," said Scrooge, trembling. "Tell me why?"

"I wear the chain I forged in life," replied the Ghost. "I made it link by link, and yard by yard; I girded it on of my own free will, and of my own free will I wore it. Is its pattern strange to you?"

Scrooge trembled more and more.

"Or would you know," pursued the Ghost, "the weight and length of the strong coil you bear yourself? It was full as heavy and as long as this, seven Christmas Eves ago. You have laboured on it, since. It is a ponderous chain!"

Scrooge glanced about him on the floor, in the expectation of finding himself surrounded by some fifty or sixty fathoms of iron cable: but he could see nothing.
Characters.
Jacob Marley.
In life, Jacob Marley was the business partner of Ebenezer Scrooge. Together, as the firm of Scrooge and Marley, they became successful yet hard-hearted bankers, with seats on the London Stock Exchange. Seven years to the day of his death, on a Christmas Eve, Marley's ghost visits Scrooge. Bound in chains and tormented, the ghost is doomed to wander the earth forever as punishment for his greed and selfishness when he was alive. Marley visits Scrooge to offer him redemption from his own fate, in the hope of changing his mean ways. He tells Scrooge that three spirits will visit that night.
Ebenezer Scrooge.
Ebenezer Scrooge is one of the most famous characters created by Charles Dickens and arguably one of the most famous in English literature. The protagonist of A Christmas Carol, Scrooge is a cold-hearted and mean-spirited accountant. His business partner, the equally mean Jacob Marley, died seven years previous and he lives alone, having never married. Through a visit one Christmas Eve by the ghost of Marley and three subsequent spirits, Scrooge is awakened to his meanness and the impact it has on others.
The term Scrooge has entered the English Language to represent a mean person, known as a literary neologism. Neologisms are relatively recent terms, words, or phrases in the process of entering common use. Other examples of Dickens's neologisms include butterfingers (to mean a clumsy person) and doormat (a metaphor for taking advantage of a person).
In screen adaptations of A Christmas Carol, the character of Ebenezer Scrooge has been played by actors that include Alastair Sim (1951 film), Albert Finney (1970 musical film), Michael Hordern (1977 TV Movie), George C. Scott (1984 TV Movie), Michael Caine (1992 musical fantasy film), Patrick Stewart (1999 TV Movie) and Guy Pearce (2019 TV Mini-Series). Michael Hordern had previously appeared alongside Alastair Sim in the 1951 film (titled Scrooge), this time playing the character of Jacob Marley.
Have Your Say.
Give your view on 'I wear the chain I forged in life' with a rating and help us compile the very best Charles Dickens quotations.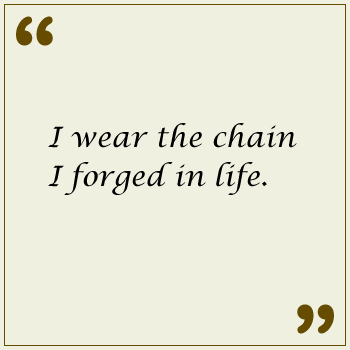 Related.
If you like this, we think you might also be interested in these related quotations: