Background.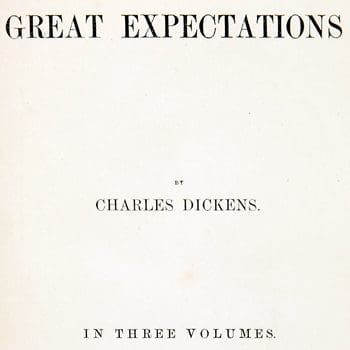 Context.
This quotation is said by Pip, the protagonist, and narrator of Great Expectations, who is describing his personal experiences at the hands of his abusive older sister, Mrs. Joe Gargery. Pip's sister took in the young Pip on the death of their parents. Local blacksmith Joe Gargery later proposed to her, and suggested that Pip live with them both. Despite being family, Mrs. Joe shows no love towards Pip, instead viewing him as a burden.
Mrs. Joe is both physically and emotionally abusive to both her husband and Pip. In Chapter 2 of Great Expectations we see several examples of this, although Dickens uses dark humour to convey them, such as in this quotation in which Pip expresses how he is quite literally thrown between the two married adults who are his guardians.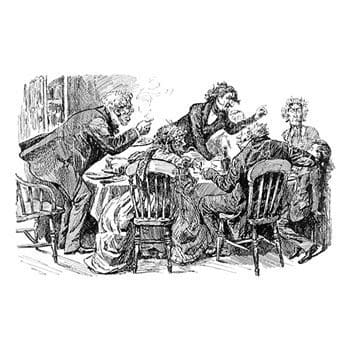 Literary Technique.
This quotation is an example of Charles Dickens using the literary technique of dark humour. Dark humour (also known as dark comedy, or black humour/black comedy), is a way of expressing something serious in a lighthearted manner. It is often used as a literary device to present a difficult situation or a taboo subject in a less distressing way.
Chapter Summary.
Great Expectations Chapter 2.
Chapter 2 of Great Expectations begins with Pip, as narrator, expanding on the home-life he briefly introduced us to in the previous chapter. We learn his sister, Mrs. Joe Gargery, is much older than Pip, that she is 'not a good-looking woman', that she prides herself on having brought up Pip 'by hand', and that she possesses an angry temper. By contrast, Joe is a 'mild, good-natured, sweet-tempered, easy-going' man who displays kindness and concern towards Pip, although is emotionally weak, described as 'a sort of Hercules in strength, and also in weakness'. In the chapter, we witness a display of the emotional and physical abuse Mrs. Joe metes out to Pip and also to Joe.
The chapter goes on to continue the story of Pip returning home from his traumatic visit to the churchyard. He finds Joe alone, warning him that Mrs. Joe is out looking for him and is in a rage. Mrs. Joe angrily returns, using her cane (ironically called 'tickler') to draw out Pip from hiding behind a door before throwing him to the other side of the room, where Joe attempts to shield him from any further harm. She quizzes Pip on his whereabouts before the three sit down to dinner. Pip manages to hide bread down his trousers (to give to the hungry man he has just met in case he is unable to get any other food). Joe notices that the bread has apparently been eaten far too quickly, incurring the wrath of Mrs. Joe who doles out tar-water to Pip as medicine, before administering it to Joe as well.
Being Christmas Eve, Pip helps prepare the pudding but hears distant shots fired. Joe explains that the guns were a warning of another escaped convict from the nearby prison ships (hulks), coming after another escape the previous day. Mrs. Joe. resents Pip asking further questions, telling him to 'ask no questions, and you'll be told no lies', but he continues to ask about the prison ships before being told to go to bed. The next morning, Pip wakes early and steals some food from the pantry, including bread, cheese, brandy, and a pork pie. He also steals a file from Joe's forge. Pip runs off to meet the convict he knows will be expecting him to be at the old battery on the misty marshes.
Bringing someone up 'by hand' was a reference to raising a baby without breastfeeding (a risky practice at the time). However, Pip humorously repeats the term as a euphemism for Mrs. Joe's forceful manner, with her physical beatings and emotional bullying.
Source.
Taken from the following passage in Chapter 2 of Great Expectations:
"Has she been gone long, Joe?" I always treated him as a larger species of child, and as no more than my equal.

"Well," said Joe, glancing up at the Dutch clock, "she's been on the Ram-page, this last spell, about five minutes, Pip. She's a coming! Get behind the door, old chap, and have the jack-towel betwixt you."

I took the advice. My sister, Mrs. Joe, throwing the door wide open, and finding an obstruction behind it, immediately divined the cause, and applied Tickler to its further investigation. She concluded by throwing me—I often served as a connubial missile—at Joe, who, glad to get hold of me on any terms, passed me on into the chimney and quietly fenced me up there with his great leg.

"Where have you been, you young monkey?" said Mrs. Joe, stamping her foot. "Tell me directly what you've been doing to wear me away with fret and fright and worrit, or I'd have you out of that corner if you was fifty Pips, and he was five hundred Gargerys."

"I have only been to the churchyard," said I, from my stool, crying and rubbing myself.

"Churchyard!" repeated my sister. "If it warn't for me you'd have been to the churchyard long ago, and stayed there. Who brought you up by hand?"

"You did," said I.

"And why did I do it, I should like to know?" exclaimed my sister.

I whimpered, "I don't know."

"I don't!" said my sister. "I'd never do it again! I know that. I may truly say I've never had this apron of mine off since born you were. It's bad enough to be a blacksmith's wife (and him a Gargery) without being your mother."

My thoughts strayed from that question as I looked disconsolately at the fire. For the fugitive out on the marshes with the ironed leg, the mysterious young man, the file, the food, and the dreadful pledge I was under to commit a larceny on those sheltering premises, rose before me in the avenging coals.

"Hah!" said Mrs. Joe, restoring Tickler to his station. "Churchyard, indeed! You may well say churchyard, you two." One of us, by the by, had not said it at all. "You'll drive me to the churchyard betwixt you, one of these days, and O, a pr-r-recious pair you'd be without me!"

As she applied herself to set the tea-things, Joe peeped down at me over his leg, as if he were mentally casting me and himself up, and calculating what kind of pair we practically should make, under the grievous circumstances foreshadowed. After that, he sat feeling his right-side flaxen curls and whisker, and following Mrs. Joe about with his blue eyes, as his manner always was at squally times.
Characters.
Philip Pirrip (Pip).
Philip Pirrip, called Pip, is the protagonist and narrator in Charles Dickens's novel Great Expectations. He is amongst the most popular characters in English literature. Pip narrates his story many years after the events of the novel take place, starting as a young orphan boy being raised by his sister and brother-in-law in the marshes of north Kent. The novel follows Pip's progress from childhood innocence to adulthood, where we see a financial and social rise. But these fortunes are offset by an emotional and moral deterioration, which forces Pip to recognise his negative expectations in a new self-awareness.
My father's family name being Pirrip, and my Christian name Philip, my infant tongue could make of both names nothing longer or more explicit than Pip. So, I called myself Pip, and came to be called Pip.

Opening lines of Great Expectations.
In screen adaptations of Great Expectations, the character of Pip has been played by such actors as Jack Pickford (1917 film), John Mills (1946 film), Michael York (1974 TV movie), Ioan Gruffudd (1999 TV movie), and Jeremy Irvine (2012 film).
Mrs. Joe Gargery.
Mrs. Joe Gargery is Pip's much older and abusive sister in Great Expectations. She is named after her mother, Georgiana but generally referred to as simply 'Mrs. Joe' throughout the novel. Mrs. Joe is married to a Kent village blacksmith, Joe Gargery and they live in a house attached to the forge. After the death of his parents, Mrs. Joe is Pip's only family. Mrs. Joe is an angry and forceful woman who resents the burden of bringing Pip up 'by hand'. Her short temper reduces her to being violent towards Pip and Joe. Later in the story, Mrs. Joe is attacked by Orlick during a botched burglary, leaving her severely disabled.
In screen adaptations of Great Expectations, the character of Mrs. Joe has been played by such actors as Freda Jackson (1946 film), Rosemary McHale (1989 TV mini-series), Lesley Sharp (1999 TV movie), Claire Rushbrook (2011 TV mini-series), and Sally Hawkins (2012 movie).
Joe Gargery.
Joe is Pip's brother-in-law and the village blacksmith. He lives with his abusive and overbearing, abusive wife, simply known as 'Mrs. Joe'. Pip describes Joe as 'a fair man, with curls of flaxen hair on each side of his smooth face, and with eyes of such a very undecided blue that they seemed to have somehow got mixed with their own whites. He was a mild, good-natured, sweet-tempered, easy-going, foolish, dear fellow,—a sort of Hercules in strength, and also in weakness'.
The brawny smith, who could break a stone with his fist, and whose heart could not harm a fly, is a creation upon which Mr. Dickens has lingered with a loving hand. To set such figures before ten thousand thousand readers, is to do more good in the world than the world is apt to acknowledge.

Lloyd's Weekly Newspaper. Sunday, 21 July 1861. Comment on the character Joe Gargery.
In screen adaptations of Great Expectations, the character of Joe Gargery has been played by such actors as Bernard Miles (1946 film), Joss Ackland (1974 TV movie), John Rhys-Davies (1989 TV mini-series), Clive Russell (1999 TV movie), Shaun Dooley (2011 TV mini-series), and Jason Flemyng (2012 movie).
Have Your Say.
Give your view on 'I often served as a connubial missile' with a rating and help us compile the very best Charles Dickens quotations.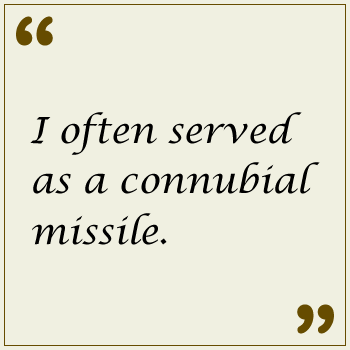 Related.
If you like this, we think you might also be interested in these related quotations: