Background.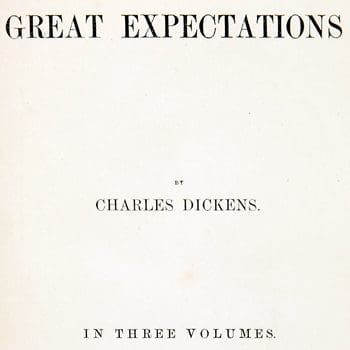 'However fast I went, I couldn't warm my feet, to which the damp cold seemed riveted, as the iron was riveted to the leg of the man I was running to meet' is a quotation from Great Expectations (Chapter 3).
Context.
This quotation is said by Pip, the first-person narrator of Great Expectations, recalling a Christmas Day when he was a boy aged around seven. Pip has sneaked out early from his home on the Kent marshes to take some food and a file he has just stolen from the house and give them to the escaped convict Abel Magwitch, fulfilling a promise he made to him the previous day.
As Pip runs across the marshes, on a cold and frosty morning, damp from the mist seeps into his shoes. It is so cold and wet he cannot feel his feet getting any warmer despite running. Pip compares the persistent damp that 'seemed riveted' to his feet to the iron chain still fastened around the escaped prisoner he is on his way to meet.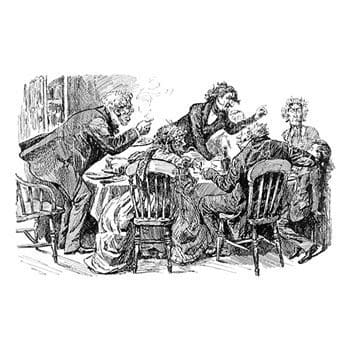 Chapter Summary.
Great Expectations Chapter 3.
Chapter 2 of Great Expectations concluded with Pip having woken early on Christmas Day to steal some food and a file from home to give to the convict who threatened him the previous day (Chapter 1). Chapter 3 opens with Pip leaving the house with the provisions to meet the man at the battery on the marshes. It is a damp, frosty morning and the marshes are misty, obscuring his vision. Pip is wracked with guilt from stealing and imagines he is being judged by the animals he passes. Disorientated in the mist, Pip comes across a ditch he recognizes as being near the battery. There, he stumbles across a man dressed the same as the convict. Believing him to be the man he met yesterday Pip touches him on the shoulder, only to find it is a different man who hits out, unsuccessfully, before fleeing in the mist. Pip finds the battery and the convict waiting for him, 'awfully cold' and looking 'so awfully hungry'. He gobbles the food down, as Pip pities his poor state. Pip tells the convict about the other man he met. The convict initially dismisses the other man, before quizzing Pip on his appearance. The convict rushes to remove the iron chain from his leg, asking Pip which way the other man went as he wants to 'pull him down, like a bloodhound'. With the convict angrily distracted by this news, Pip slips off into the mist, leaving the convict furiously filing away at his shackle.
Source.
Taken from the following passage in Chapter 3 of Great Expectations:
It was a rimy morning, and very damp. I had seen the damp lying on the outside of my little window, as if some goblin had been crying there all night, and using the window for a pocket-handkerchief. Now, I saw the damp lying on the bare hedges and spare grass, like a coarser sort of spiders' webs; hanging itself from twig to twig and blade to blade. On every rail and gate, wet lay clammy, and the marsh mist was so thick, that the wooden finger on the post directing people to our village—a direction which they never accepted, for they never came there—was invisible to me until I was quite close under it. Then, as I looked up at it, while it dripped, it seemed to my oppressed conscience like a phantom devoting me to the Hulks.

The mist was heavier yet when I got out upon the marshes, so that instead of my running at everything, everything seemed to run at me. This was very disagreeable to a guilty mind. The gates and dikes and banks came bursting at me through the mist, as if they cried as plainly as could be, "A boy with Somebody—else's pork pie! Stop him!" The cattle came upon me with like suddenness, staring out of their eyes, and steaming out of their nostrils, "Halloa, young thief!" One black ox, with a white cravat on,—who even had to my awakened conscience something of a clerical air,—fixed me so obstinately with his eyes, and moved his blunt head round in such an accusatory manner as I moved round, that I blubbered out to him, "I couldn't help it, sir! It wasn't for myself I took it!" Upon which he put down his head, blew a cloud of smoke out of his nose, and vanished with a kick-up of his hind-legs and a flourish of his tail.

All this time, I was getting on towards the river; but however fast I went, I couldn't warm my feet, to which the damp cold seemed riveted, as the iron was riveted to the leg of the man I was running to meet. I knew my way to the Battery, pretty straight, for I had been down there on a Sunday with Joe, and Joe, sitting on an old gun, had told me that when I was 'prentice to him, regularly bound, we would have such Larks there! However, in the confusion of the mist, I found myself at last too far to the right, and consequently had to try back along the river-side, on the bank of loose stones above the mud and the stakes that staked the tide out. Making my way along here with all despatch, I had just crossed a ditch which I knew to be very near the Battery, and had just scrambled up the mound beyond the ditch, when I saw the man sitting before me. His back was towards me, and he had his arms folded, and was nodding forward, heavy with sleep.
Characters.
Philip Pirrip (Pip).
Philip Pirrip, called Pip, is the protagonist and narrator in Charles Dickens's novel Great Expectations. He is amongst the most popular characters in English literature. Pip narrates his story many years after the events of the novel take place, starting as a young orphan boy being raised by his sister and brother-in-law in the marshes of north Kent. The novel follows Pip's progress from childhood innocence to adulthood, where we see a financial and social rise. But these fortunes are offset by an emotional and moral deterioration, which forces Pip to recognise his negative expectations in a new self-awareness.
My father's family name being Pirrip, and my Christian name Philip, my infant tongue could make of both names nothing longer or more explicit than Pip. So, I called myself Pip, and came to be called Pip.

Opening lines of Great Expectations.
In screen adaptations of Great Expectations, the character of Pip has been played by such actors as Jack Pickford (1917 film), John Mills (1946 film), Michael York (1974 TV movie), Ioan Gruffudd (1999 TV movie), and Jeremy Irvine (2012 film).
Have Your Say.
Give your view on 'However fast I went, I couldn't warm my feet, to which the damp cold seemed riveted, as the iron was riveted to the leg of the man I was running to meet' with a rating and help us compile the very best Charles Dickens quotations.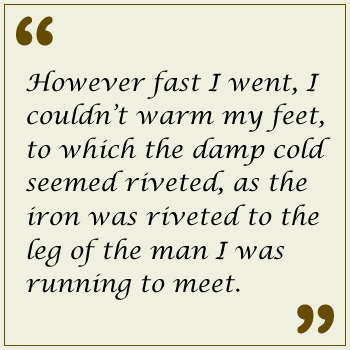 Related.
If you like this, we think you might also be interested in these related quotations: